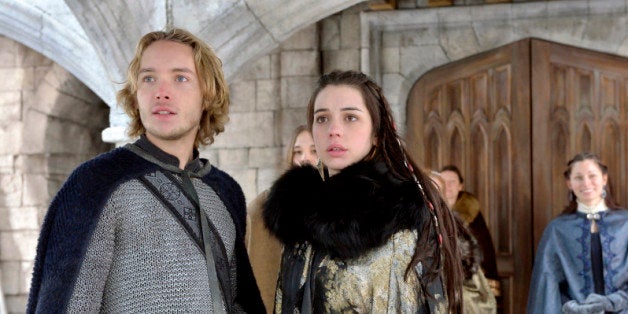 Prepare yourselves, Royals, more death is coming to French court.
This season on "Reign" there've been beheadings, battles and bedding ceremonies, but tonight's final episode is upping the stakes for some of your favorite characters on the show. Adelaide Kane -- who plays fledgling monarch Mary, Queen of Scots -- spilled a few finale secrets to HuffPost TV, explaining that she's very different from the character she plays:
Fans should be ready for a few things before tonight's season finale airs.
Last week's episode saw King Henry finally go full on crazy and Mary team up with Catherine to plan his imminent demise. Things didn't work out too well for the scheming Queens and on tonight's episode, Francis finds himself in danger and Mary might be his only hope. So what's in store for our newlyweds?
"A couple of loose ends are going to be tied up," Kane said. "We're going to resolve some of the open plot threads." And how does the show plan on doing that? Murder, of course. "There's going to be some death, as there is in every episode," she admitted. "Just a casual Thursday in the castle."
But will Mary, who hasn't been afraid to get her hands bloody this season, be involved in the action? Kane certainly hopes so. "I'd love to see her just stab somebody!" the actress joked.
Seriously though, fans should prepare for plenty of pomp and circumstance before the show says goodbye. A festival will be taking place, some jousting and oh yeah, a baby will be born. "Lola goes into labor," Kane revealed. "But there's no baby in the finale so you're going to have to wait until the second season to find out about that."
Don't bother to ask Kane what fans can expect in Season 2.
"They don't tell me anything," the actress said. "I've been asking everybody. I have my little spy network that I bribe with baked goods and hugs, but it never works."
One thing that does work on the show: the clothes.
Apparently, dressing the part of the queen has its perks. Since the pilot episode, critics and fans alike have agreed on one thing and that's how damn good the cast looks while tromping all over the French castle. While we're sure their good genes are to blame, it doesn't hurt that Kane and company have had their choice of designer duds every episode. From Alexander McQueen ball gowns to Gucci mesh tops and everything in between, the costume department on the show deserves a round of applause for the all the hard work they do, and Kane agrees.
"I don't even bother giving input," Kane said. "They don't ask me and they don't need to. They know exactly what they're doing." And while donning couture sounds fun, Kane admits it's one of the hardest parts of the job. "It's very exciting but at the end of a 16 hour day, I want to rip them to shreds, douse them in gas and burn them," the actress said. "You trip over your damn self all the time and going to the bathroom is so tricky."
Since the show is taking a temporary leave of absence, Kane waxed nostalgic on the first season by revealing which scene was her favorite to film.
"I love anything with Megan (Follows) and anything with Toby (Regbo)," Kane said. "I love our fight scenes where we get to scream at each other. It's very cathartic."
Mary has no problem standing up for herself on the show, but Kane isn't anything like her royal alter ego.
On the show, Kane totally embodies her strong and often stubborn character, but the actress want her fans to know, there's a difference between who she plays on TV and who she is when the cameras aren't rolling.
"I hate conflict," Kane said. "I don't like fighting people." Thankfully, back-stabbings and assassination attempts are something the Australian actress doesn't have to deal with in her personal life, but she says it's always better to take the high road in any argument. "I've had my fair share of bullshit to deal with," Kane said. "It's always better to take the upper hand."
The season finale of "Reign" airs Thursday, May 15, at 9 p.m. EDT on The CW.
REAL LIFE. REAL NEWS. REAL VOICES.
Help us tell more of the stories that matter from voices that too often remain unheard.
BEFORE YOU GO