"I liked wrestling," admits Kenny King, "But I never thought once I would do it until I sent in my tape for Tough Enough."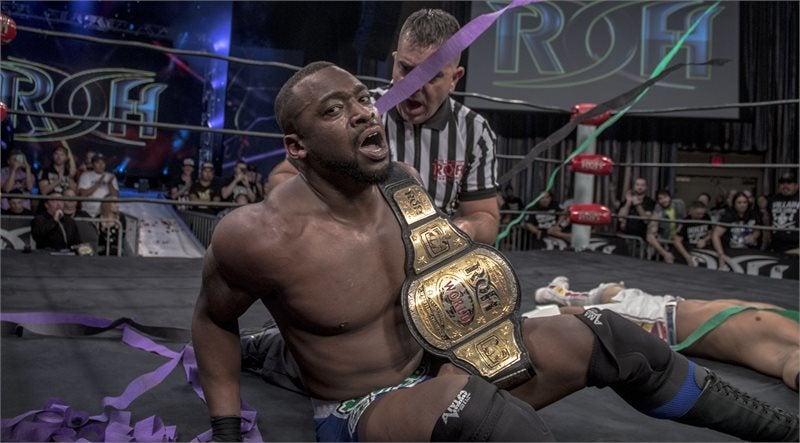 It was really a desire to be on MTV, the Ring of Honor star told Arm Drag Takedown with Pollo Del Mar, which changed his life forever. When King auditioned for the World Wrestling Entertainment reality competition in 2002, he was living in Las Vegas, pursuing a career in collegiate football.
"I saw the first Tough Enough, and these guys who weren't really athletes, and they got the opportunity to be in this ring and do all this stuff," shared King, now a globally-recognized superstar enjoying his first reign as ROH World Television champion.
"When I got the opportunity, I took it," he told the weekly pro wrestling podcast. "It was that experience that really transformed me from wanting to play football for the rest of my life to being bit by the professional wrestling bug."
King has spent the decade-plus since honing his skills in the squared circle. During that time, he has largely bounced between Ring of Honor and Impact Wrestling, claiming championship gold and cutting his teeth against some of the industry's greatest in both companies.
"My very first match under contract with Ring of Honor was against -- I still call him 'Bryan Danielson' – but Daniel Bryan," King reminisced. Booked against the ROH superstar-turned-future-WWE World champion, he recalled: "I was given 15-minutes to go out there and either sink or swim."
King swam! During his initial ROH tenure, he worked alongside such standouts as current WWE superstars Kevin Owens (nee, Steen) and Cesaro (then Claudio Castagnoli, now half of the RAW tag team champions), international sensation Kenny Omega and many more.
"All I'd ever dreamed about was going to Ring of Honor to show what I can do as a singles guy," he noted.
Instead, said King, "the thing with Rhett" Titus "came and went." By that, of course, he means teaming with Titus -- The All Night Express -- in an alliance with ROH superstar, future Impact World champ and WWE competitor Austin Aries. Of the pairing, King said: "It was very successful."
LISTEN: Pollo Del Mar Interviews ROH TV Champ Kenny King, Former WWE Superstar Jack Swagger
With Titus, he captured his first ROH title. They up-ended former WWE tag team champions Charlie Haas and Shelton Benjamin, collectively known as Wrestling's Greatest Tag Team, for the ROH tag straps. Less than two weeks after the victory, though, King left the promotion – and newly won championship – behind.
King made the jump to Impact Wrestling. There he was associated with mega-stars like Samoa Joe, a champion in every major pro wrestling company today, and multiple-time Impact champion Bobby Lashley.
He was also able to finally prove his worth as a solo competitor. King ultimately defeated legendary former WWE, Extreme Championship Wrestling and Impact World heavyweight champion Rob Van Dam to claim the first of two X-Division championships.
"The early X-Division is as important to today's pro wrestling as the cruiserweight division was to 1990s pro wrestling," noted King, a long-time fan of the division, which generally consists of smaller, more agile grapplers whose aerial maneuvering has revolutionized the industry. "The X-Division developed this 'Ring of Honor style' we're in, that we wrestle.
"The [Impact] business model has not always been as sharp as the wrestling, that's always been the problem," he went on to say of the company.
King referenced Impact's rapid turnover in ownership, management and television homes over the last many years. Likewise, the weekly Thursday night broadcast has been plagued by start-and-stop pushes – i.e., storyline advances – for wrestlers, "reboots" to varying degrees and more, all of which have made it difficult for fans to "invest" in the product.
King is much more comfortable with and confident in ROH's "slow-and-steady" advancement. According to the star, parent company Sinclair Broadcasting handles its product in a fundamentally different way than Impact, choosing to grow its product "very incrementally."
"They really take the 'Tortoise' in the 'Tortoise & The Hare' stance – continuously gaining ground, gaining ground, gaining ground. Then, little by little, you get far," he said.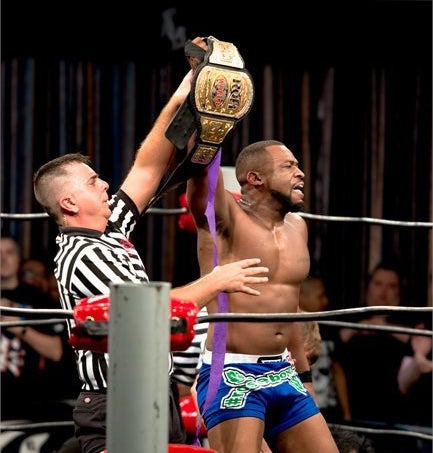 King was under contract to ROH when Sinclair purchased the promotion in 2011. He watched as the broadcast company steadily rolled out its growth plan. Even since returning in 2015, he said, the company's progress has been incredible.
"It's taking one chunk at a time rather than 'Let's throw a bunch of shit at the wall and hope it sticks. Then whatever sticks, let's use it for a minute and then throw some more stuff,'" King went on to say. Describing the process as a "less chaotic" means of building the brand, he opined: "It's a better way to approach the long-game."
Ring of Honor takes the same approach to developing its talent, King said. Through consistent booking with an eye on the long-term, competitors receive opportunities to develop into marketable, bankable stars.
"You always need to have your top talent, but you always need to have new stars waiting in the wings. The only way to do that is consistently build new people," said King.
A reality of pro wrestling in this era, he said, is athletes jump promotions quickly and consistently. He noted: "You always need to have a next person up."
By all indications, King has been tapped as a performer to carry the ROH brand forward. On Sept. 22, he joined the likes of Eddie Edwards, Jay Lethal, Roderick Strong and international powerhouse Will Ospreay by defeating Japanese star Kushida for the World Television title.
"I grew up watching 'championship reigns,'" said King, indicating ROH continues to uphold this philosophy. "That lends to the prestige of all the championships."
Unlike many companies, where King says champions often feel like "'place-holding' or 'flavor-of-the-moment'" decisions, ROH title runs rank among the most significant in the industry today. Even with Ospreay holding the belt for a scant two days in 2016, the average ROH World TV title reign is just under six months.
"We don't 'hot-shot' championships," he continued. "They let each person settle into their reign and pick up steam. That's why each title change is so special and means so much."
LISTEN: Kenny King Talks Ring of Honor, Jinder Mahal & More + Jack Swagger Discusses Upcoming APW Title Match on ADT with PDM.
REAL LIFE. REAL NEWS. REAL VOICES.
Help us tell more of the stories that matter from voices that too often remain unheard.
This post was published on the now-closed HuffPost Contributor platform. Contributors control their own work and posted freely to our site. If you need to flag this entry as abusive,
send us an email
.