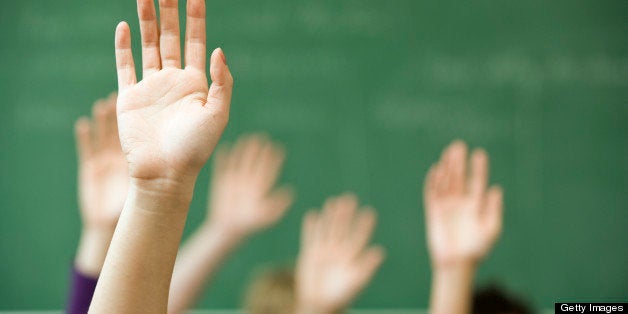 Our education system is failing. Our kids are no longer learning at a pace to keep them competitive in a 21st century economy. There is no hope. We should give up. The sky is falling.
Unfortunately, these are things many hear about today's education system. Don't believe it, not for one minute. Our future is brilliant.
You see, together, we are turning the tide. There is a passionate movement of advocates, teachers, students, parents, business leaders and policy makers championing game-changing innovative education practices designed to engage our children. Many of these community leaders are meeting today in Washington D.C. at the "Reimagining Education: Empowering Learning in a Connected World" summit.
Each day, across this great nation, teachers, parents, mentors and community institutions are winning -- they are igniting students' passions, challenging their minds and illuminating their paths to success. The days of unequal access to high quality educators, schools in crisis and communities feeling powerless to support them are soon coming to an end.
That is the purpose of today's meeting. It's a gathering that brings together the best minds in education to share innovative practices of in-school and out-of-school learning designed to connect learners' interests, their social groups and opportunities for academic and employment advancement, known as "connected learning."
This summit, co-hosted by the US Department of Education and John D. & Catherine T. MacArthur Foundation, is a bold step in spreading these proven approaches to education. We're committed to developing experiences that better connect in- and out-of-school learning; expose students to their passions, peers and communities; and redesign our nation's high schools to skillfully prepare our students for the world.
Three months ago an informal gathering of like-minded education advocates came together at the "Learn.Build.Create" event, co-hosted by i am OTHER to celebrate the importance of connected learning. It was one of those star studded affairs with elected officials such as Mayor Nutter of Philadelphia and Mayor Lee of San Francisco, and VIPs in the education advocacy space such as Rosario Dawson, John Legend and our colleague Astronaut Leland Melvin.
From conversations with Leland, NASA's head of education, to newer education advocates like NBA All-Star Chris Paul who is attending the summit, there is a feeling that a positive perfect storm is brewing for advancing connected learning principles and the importance of STEAM (science, technology, engineering, arts, mathematics). Even the high tech sector sees the business sense, says Information Technology Industry Council CEO Dean Garfield: "...[it] has contributed over $1 billion to arm today's students with the diverse and transferable skillsets they will need to meet tomorrow's challenges."
Working together we can continue to support teachers, students, school administrators and other leaders who want our children to have the best possible opportunities for success. We are excited that within the currently brewing positive perfect storm, in whatever small way we can, we are forwarding a conversation to help our nation's youth learn in an increasingly connected world.
But maybe it's best articulated in President Obama's statement, "I want us all to think about new and creative ways to engage young people... that encourage them to create and build and invent -- to be makers of things, not just consumers of things."
We hope you too can help us continue the conversation and momentum of #ReimagineEd.
Related