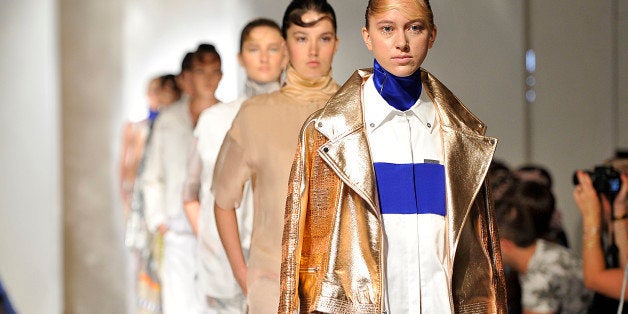 Every season the push for racial diversity during Fashion Week is as much a part of the conversation as what's trending on designer runways. However, spotting models representing all shades and sizes continues to be more of the exception than the rule. In fact, a survey of the Fall 2015 runway shows earlier this year found that 80 percent of the models who appeared at the shows were Caucasian, according to the NYFW Diversity Report. Representation from other racially-diverse groups, on the other hand, barely made a blip on the fashion radar.
This season, whether the industry elects to embrace diversity on the catwalk, or offers us more of the same, the real revolution is taking to the streets, literally. The Street Style movement, which emphasizes individuality above conventional ideals, is reinventing the way we all think about fashion. We see the impact especially with millennials, who are known to crave recognition, want to stand out and appreciate self-expression. For this generation, the streets ARE the new runway, with eclectic style on display everywhere from festivals like Afropunk to our own Street Style Block Party, which takes place this Sunday in Dumbo, Brooklyn. More than 14,000 women have already RSVP'd for the event, which includes runway shows featuring real women, and appearances by celebrities and designers, as well as hair, makeup and skincare pop-up booths for personal consultations.
I personally will enjoy seeing so much personality parading through the city streets. As our own audience of 14.5 million told us recently in our Essence Images study, when asked to name their fashion icon, our respondents most often declared, "Me. I am my own fashion icon." Street Style is a manifestation of our desire to own our unique style and beauty, and to see this uniqueness celebrated. It's also a place where we can seek out fashion inspiration, and revel in the creativity of this year's Street Style Award honorees, including music artist Ciara, actress Gabrielle Union, celeb stylist Jason Rembert, and design star Charles Harbison.
If you can't make it to Dumbo on Sunday, September 13 for our Block Party, you can still catch all the fashion fabulousness by following us on social media using #EssenceStyle. And while you're at it, check out what Huffington Post is doing, too, to keep the fight for diversity on runways on everyone's radar with their hashtag, #NYFW4All. Their mission to ensure that New York Fashion Week is an inclusive event for people of all skin tones, genders, sizes, shapes and personalities is a style statement I hope will resonate long after this year's trends fade away.