To mark National Foster Care Awareness Month in this RaiseAChild "Let Love Define Family®" series installment for Huffington Post Queer Voices, contributing writer and foster/adoptive father, Jared Gee shares insight to a new Southern California effort to reimagine foster parents and their families.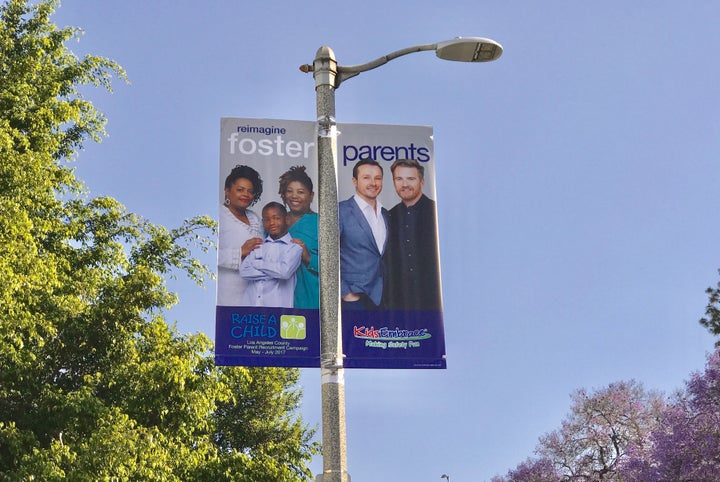 This week, celebrities and civic leaders from across Southern California launch a unique multi-media campaign designed to produce new conceptions of foster parents and family. Rolling out on radio, television, print, and social media, the RaiseAChild "Reimagine Foster Parents™" campaign, co-sponsored by the Los Angeles County Department of Children and Family Services (DCFS), has unfurled 350 streetlight banners across the cities of Los Angeles and Long Beach.
Among those featured in the RaiseAChild "Reimagine Foster Parents™" campaign is actor Jon Cryer and his wife, television reporter and host, Lisa Joyner; Scott Shriner, the bass player for the rock band Weezer, and his wife, author, Jillian Lauren; actor comedian Alec Mapa and his husband, producer, Jamie Hebert; and actress Cleo King and her wife, Camille Thornton.
Photographer Karen Fuchs shot the beautiful banner images while videographer Bernd Reinhardt captured the interviews, edited by Malcolm Garvey. New York fashion houses of Lafayette 148, Peerless Clothing, and Calvin Klein supplied much of the apparel worn by the parents in the campaign.
In addition to DCFS, Banc of California, and KidsEmbrace are co-sponsors of the RaiseAChild streetlight banners to appear across Los Angeles and Long Beach, CA for 90 days from May 1 until July 31, 2017.
John Cryer, actor and co-star of Two and A Half Men, captures the message of the campaign well: "Families can defy convention... it is what you make it." It is just this that the new RaiseAChild campaign seeks to display. By offering the gift of love in the creation of new families, we defy conventions and create new opportunities.
"There is a great need for more good parents to care for foster children from every community," said Rich Valenza, Founder and CEO of RaiseAChild. "Our new campaign reflects our firm belief in acceptance, inclusion, and the value of all types of family formations."
With nearly 35,000 children in the system, Los Angeles County is the largest child welfare agency in the nation. Compared to data provided by the New York State Office of Children and Family Services, Los Angeles County manages a larger caseload of foster children than the entire state of New York.
"DCFS is very excited to partner with RaiseAChild's streetlight banner campaign, reflecting the wide variety of foster and adoptive parents who have positively changed the lives of abused and neglected children," stated Neil J. Zanville of the DCFS office of Public Affairs. "We hope this innovative campaign brings in many more families who are interested in becoming foster or adoptive parents."
According to the U.S. Department of Heath & Human Services' Administration for Children & Families, there are over 425,000 children in our nation's foster care system. More than 108,000 of these children have had parental rights terminated and are waiting to be adopted. Families certified for both foster and adoptive placements are in short supply.
"If you are considering becoming a foster to adopt parent you should educate yourself," stated actor comedian Alec Mapa. "The more my husband and I learned about it, the more it became clear that this was the family building path for us."
Lisa Joyner, co-host of TLC's hit series Long Lost Family, herself adopted and an adoptive parent, offers honesty regarding the process of building a family: "You kind of don't know what you're going to get….but you don't know what you're going to get if you have a biological child."
Raising children is an act of love. It takes desire, motivation, and patience, and every parent knows that there is always some uncertainty in attempting to develop a future for their children. One thing, however, is certain: children in the foster system are without a family, for whatever reason that may be, and what is consistently overlooked is how far love can lead them beyond their current situation. RaiseAChild's new video and streetlight campaign shows just this. The campaign shows parents from all walks of life where each scenario is bound not by standards of what some people say a family is supposed to be but by the gift of love and a belief in the future.
"We want families to know that children need homes," said actress, singer, and foster adoptive parent, Cleo King. "I'm here to say it is a wonderful gift. Let's connect the people and love these children that are already here."
We see this gift when our children, who have so much life ahead of them, flourish beyond expectations, and just sometimes turn back towards us and smile to affirm our guidance. Children who had difficult beginnings receive the gift of opportunity, where continual support and encouragement have lasting effects. When we define families based on love we can think of different kinds of gifts, gifts that too often get overlooked or neglected or taken for granted when we think of children in the foster system.
RaiseAChild is a national 501 (c) 3 nonprofit dedicated to building loving families for foster children. RaiseAChild has engaged more than 3,000 prospective foster and adoptive parents as the nationwide leader in the recruitment and support of LGBT and all prospective parents interested in building families through fostering and adoption.
To learn more about creating a family come out to one of RaiseAChild's free information sessions.
May 16th The Garland North Hollywood
May 17th La Plaza Downtown Los Angeles
May 18th Lois Lambert Gallery Santa Monica
May 20th The Saguaro Palm Springs
May 21st All Saints Church Pasadena
To RSVP and for more information, go to RaiseAChild.org or call (323) 417-1440.
Popular in the Community