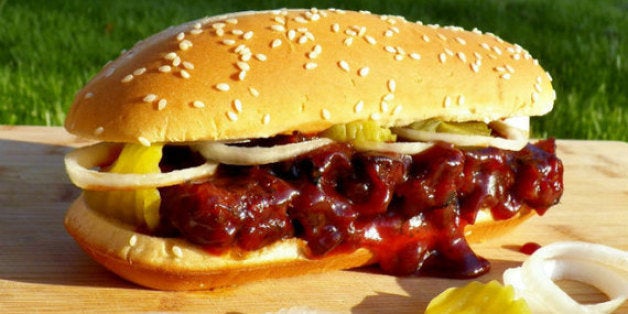 A few weeks ago, Rob Baas--Barbecue Board member, Project Smoke fire wrangler, BBQU alum, and all around master of live fire cooking--had the idea to reimagine the fast food McRib as real barbecue. Challenge met and expectations surpassed. This is one guest blog I can't wait to try out on my smoker.
Like so many other American high school kids who needed gas money, my first job was at the local McDonald's. Had the McRib been on the local menu back then, I might be working there still.

If ever there was a fast food item with a cult following, it is the McRib. It doesn't really make any sense, although scarcity and nostalgia probably play big parts. I might go a year or two without visiting any McDonald's anywhere, but when the "McRIB IS BACK" sign grabs my attention I'll pull the e-brake and slide backwards into the drive-thru line if need be.

The McRib in one word: messy. The mystery meat is slathered in so much sauce that it's hard to keep everything between the lines and even harder to keep everything off your shirt. Somehow it works. The sweet and tangy sauce reminds one of backyard BBQ fare so overly sauced that sauce is all you taste. The contrasting crunch of sliced onions and pickles adds a welcome touch of reality.

The weak link is the meat patty, which is somehow colorless and tasteless at the same time. The only redeeming quality is its shape that resembles a cute little rack of ribs.

What if we could make a McRib sandwich at home by using real smoked rib meat without the bones? One that would look and taste like a BBQ rib sandwich, because it is!
SIGN UP for Steven Raichlen's UP IN SMOKE newsletter to learn more about barbecue!
Steven Raichlen is the author of the Barbecue! Bible cookbook series and the host of Primal Grill on PBS. His web site is BarbecueBible.com.