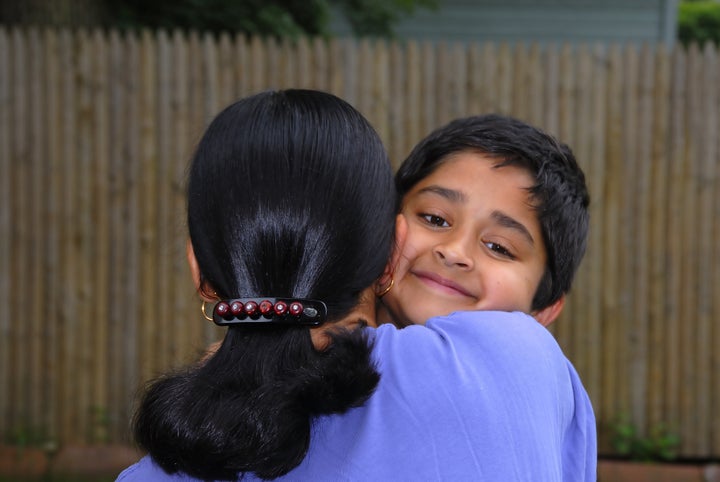 Young people are told that the sky is the limit, but not everyone has the same opportunities. Some youth have to overcome the trauma of neglect. Some have had physical, sexual and emotional abuse fall down on them from the clouds. There's a major contradiction for children in this society, and as a foster care alumnus, I know it all too well.
At 11 months old, I was whisked away from home by social workers, due to the abuse, poverty, and neglect brought on by my mother's drug habit. By nine, I was adopted. My foster/adoptive mother constantly referred to me as the "nigger" or "faggot." She cared more about the check more than she did about me; the refrigerators couldn't be touched, yet I was starved and physically abused on a daily basis. It was hell. It only stopped when I arrived home one day, only to discover she had moved -- with no way for me to reach her. Abandoned, I found myself recommitted to foster care.
I don't share this story because I want pity. I share my story because it is not unique. There are millions of people in the U.S. and around the world whose experiences echo mine. Today I stand tall as a sophomore at Virginia Commonwealth University and a commitment-maker at Clinton Global Initiative University (CGI U) 2013, motivated to affect change for the majority of youth that age out of foster care, who don't end up with such positive outcomes. CGI U 2013 offers a critical opportunity to build awareness and take strategic action to address the struggles that millions of foster youth face.
Every year, 30,000 young people age out of the foster care system with no place to go and no social network for support. For them, the statistics are grim. Less than 3 percent get a post-secondary degree, 50 percent end up homeless, 81 percent of males get arrested, and 70 percent of women end up on public assistance. These negative outcomes for foster care youth who age out cost our society billions of dollars -- and this is a result of states "giving children a better future."
Although slavery was supposed to have ended in the 19th century, women and LGBTQ individuals from foster care are especially at risk for human trafficking. Pimps prey on the vulnerability of foster youth, who have unaddressed trauma and who lack loving families, stable housing, and adequate opportunities for education and employment. In a horrifying example, a social worker and five others were recently arrested for sex trafficking young girls in a group home located in Miami.
To protect our young people from these negative outcomes, youth need the opportunities to build permanent connections, work experiences, stable housing, and access to education. The 2008 Fostering Connection Act granted states funding opportunities to extend crucial foster care services to age 21, but not all states have acted accordingly. In the meantime, we need innovative approaches to create opportunities, such as Rising Tides, a crowdfunding website that helps youth raise money for college needs and matched savings accounts for life after foster care. And Together We Rise has been effectively mobilizing tens of thousands of young people in social media campaigns.
Securing important resources for foster youth is not only a problem in the United States. At the International Youth Summit, foster youth from all over the world recounted struggling through similar experiences. We heard countless horror stories, such as one young person who had moved between 60 different foster homes to orphanages, which only offered food once a day and immediately closed their doors on him when he became a legal adult.
Last summer, Steven, Shadrack, Miranda, Alicia, and I, former foster youth from the U.S., Canada, and Ghana, decided to address the global concern about the lack of opportunities. We created Foster Global Resilience to create opportunities for foster youth to develop international work experience, permanent connections and access to education. Although we are in developing stages, we look forward to starting our work on the ground in different countries.
Our participation in CGI U offers an opportunity to build outside-of-the-box partnerships, learn about personal and organizational development, and absorb the wisdom of leaders from all over the globe. With the help of CGI U's network of change agents and entrepreneurs, we look forward to expansion.
We are also calling on ordinary citizens everywhere to participate in transforming the foster care system. We need more voices advocating for change. We need more citizens to bring awareness by telling their social network about these challenges, and by advocating for laws that create opportunities for foster care youth. Many states in the U.S. foster care system stop serving young people after age 18, but with new federal opportunities brought by the Fostering Connection Act, we encourage you to advocate extending foster care services to age 21.
Together, we can raise awareness and change the negative outcomes for foster youth aging out. We must make sure that no matter what parental circumstances a child is born into, the limit is the sky.
This post is part of a series produced by The Huffington Post and the Clinton Global Initiative in recognition of the latter's CGI University meeting (April 5-7 at Washington University in St. Louis). CGI University gathers top students and youth organizations to create innovative solutions to some of the world's most pressing challenges. For more information, click here.
Calling all HuffPost superfans!
Sign up for membership to become a founding member and help shape HuffPost's next chapter