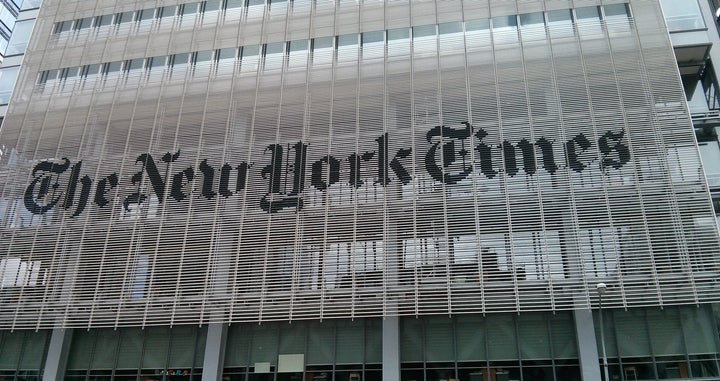 The 'New York Times' is clearly energized. Its journalists, alongside those of the Washington Post, have responded to the election with fearless, essential, and influential coverage that has at times seem to rise above the level of public service to that of public defense.
The newspaper also has a newfound confidence in its transition away from an advertising, and print-driven business model to one defined by subscription, digital coverage. Last year, digital subscriptions surged 514 thousand to 1.6 million. At the same time, it has completed a closely watched internal report that, at its core, seeks to define the future of journalism. The company aims to grow digital revenue by 60% to $800 million by 2020 to finance the "original, time-consuming, boots-on-the-ground, expert reporting the world needs." There's just one problem: the series of initiatives highlighted in the 2020 report - more "visual" journalism, new writing formats, greater openness to freelancers, and crossword puzzles and lifestyle apps -- won't get them there. Four provocative ideas can:
Buy the 'Los Angeles Times'. Yes, one of the best ways to strengthen the newspaper is to double down on newspapers. Advertisers are fleeing newspapers faster than readers and there is every reason to believe that there is a core, valuable reading audience that will long endure - but only at the proper scale. The 'LA Times' is a neglected jewel in awkwardly-named tronc's portfolio. Together with the 'New York Times', it can achieve three ends: first, with 690-955 thousand weekday-Sunday circulation of the LAT's subscribers, it provides a sustainable, national subscriber base that enhances its value to advertisers. Second, it will allow the Times to dominate sophisticated coverage of entertainment and technology as well as the business and politics of the country's largest economy and Greater West. Third, are the inevitable cost synergies. Tronc would be highly unlikely to sell outright, but its hand is weak. Some form of Nissan-Renault-style partnership is possible, with the 'New York Times' taking control of the LA paper in exchange for shares or some form of long-term revenue sharing agreement that can fund tronc's other initiatives.
Do video the right way. The Times has invested significantly to expand its video production and is leading in the experimentation of virtual-reality storytelling. As Rupert Murdoch has long demonstrated, the media industry works best when vertically integrated with low-margin papers doing the groundwork for higher-margin television. The Times can respond to the demand for more video journalism in a way that won't require it to fundamentally transform itself: instead of slowly building its own operation, the Times should buy the best of what's around. Chief among these is the PBS Newshour - the nightly, hour-long news report aired on public television. Averaging 880 thousand viewers per night in 2015, it has lost a significant amount of viewers but with the backing of the New York Times would be poised for a comeback. The program should remain free to air on public television, but its valuable archive would go behind the Times' subscription wall. Similarly, the Times should consider partnering with the BBC, former home of its president Mark Thompson, to bundle the 24-hour BBC News service into its subscription. Couple that with acquiring one essential commentary program - think John Oliver's Last Week Tonight - and the Times has built a video operation that attracts and retains subscribers without compromising its core focus on print journalism.
Refocus international attention. In recent months, the Times has streamlined its international edition while talking up the potential of growing its international readership. The company has invested in a Chinese language website (which is technically blocked in China) and from time to time translates other prominent stories into Spanish and Arabic. The Times' international attention could be better directed. The company should be investing resources to attract readers in regions that meet two fundamental conditions: a high-level of native English and local journalism that leaves room for a sophisticated outsider. Consider India, Pakistan, the Philippines, and Nigeria. They collectively have 400 million in English speakers and Reporters Without Borders rankings between 116th-133rd place. These are the places where the Times could build an influential business while also enhancing its core American readers in understanding these important regions. Indeed, if readers in these countries subscribed at even half the rate of digital subscriptions in America, the company could stand to gain more than 1 million subscriptions, nearly double its current state.
Bring back classifieds. Craigslist helped kill classified advertising. Now, Craigslist itself is overdue for its own undoing for its failure to innovate. Like a potential 'New York Times' - tronc partnership, media companies nationwide should work together, perhaps with a technology partner such as Facebook, to develop a national web and mobile platform that also allows for incremental revenue opportunities for newspapers. An agreement in which a regionally customized page was guaranteed sold at a discounted rate of $100,000 per day would generate a meaningful 2% lift in revenue and even higher boost to operating profit.
The Times should go forward with the confidence that recent events are demonstrating to a new generation the importance of quality journalism. As the Times' 2020 report acknowledges, continued investment in journalists themselves, with greater diversity of voices and skills, must be at the heart of any change. The New York Times has made two major transitions in its recent history, one from a regional to national paper and from paper to digital print journalism. Now, it faces two more transitions: from a national to truly international paper and from a print to all-media journalism operation. One is an opportunity, the other an imperative.
Calling all HuffPost superfans!
Sign up for membership to become a founding member and help shape HuffPost's next chapter
BEFORE YOU GO