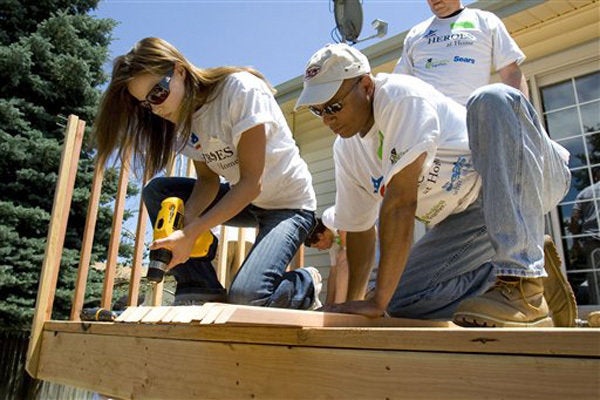 Last night, two hundred students at an "Active Citizens Conference" at the College of William and Mary reminded me once again of the value of national service and our country's investment in it.
One graduate organized students all across America to build Habitat for Humanity homes for low-income Americans. Another student is engaged in service learning to help end slash and burn farming that destroys resources and inhibits growing crops. Students sign up in droves for Teach for America to teach in places that need their idealism and talents most. Still others are taking their service dreams and skills to far corners of the most desperate places on Earth. Service in their minds is a powerful means to solving our toughest problems and a way to connect their own stories to the story of America.
Williamsburg has always been a place for big ideas, so it was no surprise that students and faculty are working together to envision how universities, such as William and Mary, can do much more to ensure that an undergraduate education unleashes the next generation of social entrepreneurs, the backbone of American democracy and prosperity. It is this entrepreneurial spirit -- both for economic gain and social good -- that will determine America's place in the world.

Back in Washington, we are having an unreal "here we go again" moment. Right at a time when Americans want to serve their country, continuing the wave of interest after 9/11, the U.S. House of Representatives is proposing to eliminate the federal programs that make that possible for millions of Americans.
First things first. We have a crippling fiscal crisis and the answer is entitlement reform -- the hard decisions that will put us on a sound fiscal course and avoid the downgrading of U.S. debt and the eventual trauma that our European counterparts have experienced.
Right at a time when government resources are scarce, we need active citizens in local communities stepping up to fill the gaps.

What's more, unemployment remains high. Youth unemployment, particularly for recent college graduates, is at the highest levels in U.S. history. The last time we reached these levels, President Franklin Roosevelt created a national service program on steroids -- the Civilian Conservation Corps -- to put 3 million young, unemployed men into productive work to conserve the nation's public lands.
If AmeriCorps were eliminated, 100,000 jobs would disappear over night -- jobs that provide services and a social safety net to disadvantaged children, veterans, seniors and other vulnerable populations. These are jobs that are literally tackling the high school dropout epidemic with good success. These are jobs that are re-engaging our nation's veterans in service projects on the home front, which significantly improves their transitions home. What's ironic about the proposed cuts are that they harm the very Americans who raise their hands to volunteer to perform some of the toughest jobs for almost nothing, receiving a below-poverty stipend and small education award for their year of national service.
If the Corporation for National and Community Service disappeared from the government books, 500,000 older Americans who tutor needy children, provide support to the elderly, and respond to urgent needs that require the human touch would disappear as well. Service learning projects all across America would end.
In the last Congress that didn't agree on much, bipartisanship soared with the passage of the Serve America Act, which promised to provide up to 250,000 national service slots. Since that time, and long after President George W. Bush had boosted AmeriCorps from 50,000 to 75,000 after 9/11, we have only made very small gains in enabling more Americans to serve their nation.
For those on the right who are acting boldly to cut federal spending, I applaud you and urge you to show political courage by tackling the very programs causing our fiscal disease -- entitlements.

And in the process, read conservative Bill Buckley's book Gratitude, which expresses strong support for robust national service to put Americans to work to meet our toughest problems and to enable us to give back to the country that protects our freedoms. In times of crisis, we need these patriotic Americans more than ever.
Calling all HuffPost superfans!
Sign up for membership to become a founding member and help shape HuffPost's next chapter