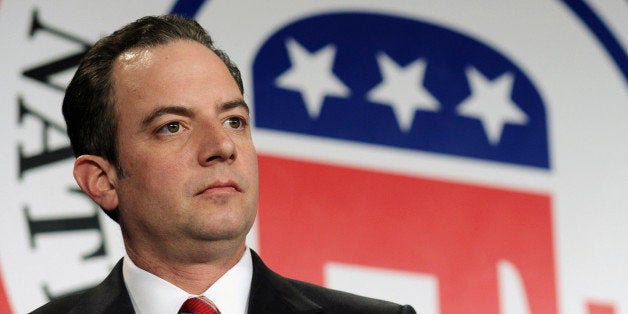 NEW YORK -- ABC News pushed back Friday against Republican National Committee Chairman Reince Priebus' claim that ABC News chief anchor George Stephanopoulos "was never going to moderate a Republican debate anyway," a suggestion that the party could prevent a television network from assigning the journalist of its choice.
"ABC News decides who moderates ABC News debates," a network spokeswoman said. "The GOP primary debate is nine months away. Before George recused himself, we hadn't made any decisions about our debate coverage team."
Though Stephanopoulos donated to the Clinton Foundation to support charitable programs tackling AIDS and deforestation, the failure to disclose those donations while covering the recent Clinton controversy could tarnish a journalistic reputation he's been building since he left politics for ABC News in 1997.
In an interview Thursday on Fox News' "Hannity," Priebus said his concerns about Stephanopoulos moderating stemmed not from the donations, but rather the anchor's previous role as Bill Clinton's communications director during the 1992 election and his first term in the White House. "How can I, as chairman of the national party, have the former employee of the Clintons, who's running on the other side, be the person on the stage deposing our candidate?" Preibus said.
Fox News host Sean Hannity asked Priebus if he'd told ABC that Stephanopoulos shouldn't moderate the debate. "I've said it to everybody," Priebus replied.
Sean Spicer, the RNC's chief strategist and communications director, would not confirm that Priebus had previously expressed concerns about Stephanopoulos directly to ABC News. "We don't publicly discuss the private conversations that we have had with any of our debate partners," Spicer said in an email to The Huffington Post.
Spicer did not respond to questions about whether the RNC has the power to prevent a network debate sponsor from selecting the journalist of its choice.
Priebus has taken firmer control of the 2016 Republican debate process in hopes of avoiding the 20-debate circus of four years ago. In January, the RNC announced that it had sanctioned nine debates and threatened to discipline candidates who buck the party's rules. The RNC is insisting that TV networks partner with conservative media outlets at its debates, but Priebus' suggestion that the political party could overrule its network sponsor's choice of moderator implied a surprising degree of editorial control.
Stephanopoulos came under fire in 2012 for asking Republican candidate Mitt Romney about his views on banning birth control at a New Hampshire primary debate, a question some conservatives argued was out of bounds. Rand Paul, a Kentucky senator and 2016 candidate, once accused Stephanopoulos with colluding with Democrats in posing the question. A Paul spokesman told HuffPost on Thursday that Stephanopoulos should recuse himself from all political coverage with Clinton in the race.
Hannity brought up the contraceptives question during Thursday's interview with Priebus, asking the RNC chairman if he's going to "draw a line in the sand" to ensure that any "known liberals" won't be moderating Republican contests.
Preibus told Hannity that those who "could give a rip about our party ought not be the people moderating our debates."
Watch Hannity's interview below:
This article has been updated and revised throughout to include ABC News' response.
REAL LIFE. REAL NEWS. REAL VOICES.
Help us tell more of the stories that matter from voices that too often remain unheard.