WASHINGTON ― Reince Priebus is out as White House chief of staff after a tumultuous week of clashes within the administration, a departure that adds to the rising upheaval in President Donald Trump's already-fraught inner circle.
Trump announced Friday that he had named John Kelly, the secretary of homeland security, as his new chief of staff.
"It has been one of the greatest honors of my life to serve this president and our country. I want to thank the president for giving me this very special opportunity. I will continue to serve as a strong supporter of the president's agenda and policies. I can't think of a better person than General John Kelly to succeed me and I wish him God's blessings and great success," Priebus said in a statement on Friday.
Sarah Huckabee Sanders, the White House press secretary, said Trump and Priebus had been discussing his role for weeks. She added that Kelly and Trump had also been discussing the job.
In an interview with CNN's Wolf Blitzer, Priebus declined to provide details on why he decided to quit, but said the president thought it was time for a change. He denied that Trump asked for his resignation.
"The president has a right to change direction. The president has a right to hit the reset button," Priebus said. "I think it's healthy."
Priebus said he would be working with Kelly "for a couple of weeks" to help with the transition.
He declined to discuss newly appointed White House communications director Anthony Scaramucci's incendiary leak accusation. "I'm not going to respond to it," Priebus said. "I'm not going to get into the mud on those kind of things."
Priebus flew on Air Force One with Trump on Friday, according to a pool report. Trump waited on board the plane when it returned to Andrews Air Force base, and Priebus initially got into a car with White House aides Stephen Miller and Dan Scavino. They then left his car and got in another one. Some reporters approached Priebus' car as they learned of his dismissal, and the vehicle left Trump's motorcade before the president departed.
Rep. Peter King (R-N.Y.) said Priebus didn't show any signs over being out of a job while riding Air Force One on Friday.
"We didn't even know it. We were sitting right across from him and he kept a poker face," he told reporters. "Good poker face, showed nothing."
Trump also spoke to reporters on Air Force One.
"Reince is a good man," he said. "John Kelly will do a fantastic job. Gen. Kelly has been a star, done an incredible job thus far, respected by everybody. He's a great great American. Reince is a good man."
Sanders released a statement Friday, saying the "entire Administration loves [Kelly] and no one is comparable." House Speaker Paul Ryan (R-Wis.) also weighed in on Priebus' exit, praising the Wisconsin native.
"Reince Priebus has left it all out on the field, for our party and our country. Here is a guy from Kenosha, Wisconsin who revitalized the Republican National Committee and became White House chief of staff," Ryan said in a statement. "He has served the president and the American people capably and passionately. He has achieved so much, and he has done it all with class. I could not be more proud to call Reince a dear friend."
"We didn't even know it. We were sitting right across from him and he kept a poker face."
The shake-up comes after Scaramucci accused Priebus of leaking his personal financial information.
Scaramucci tweeted about the disclosure Wednesday night, and hinted at Priebus' potential involvement by tagging him in the post. Hours later, in a subsequent tweet, Scaramucci denied that he had meant to vilify Priebus. But in a CNN interview Thursday morning, he seemed to place the onus on Priebus to clear his name.
"If Reince wants to explain that he's not a leaker, let him do that," Scaramucci said.
The publication of Scaramucci's financial information, it has since become clear, was not a leak at all. The Politico reporter who first published it said the data she used was publicly available.
On Sunday, shortly after he began occupying the communications director post, Scaramucci promised to "fire everybody" if leaks did not end. The threat ― and a subsequent warning about who was in Scaramucci's crosshairs ― has already prompted a high-profile resignation. White House press aide Michael Short, apparently viewed as a Priebus ally, departed on Tuesday after Scaramucci indicated Short would be his first target when he began to force people out.
Priebus' exit also comes after the sudden resignation of White House press secretary Sean Spicer, who served as the Republican National Committee's communications director when Priebus was its chairman. Spicer left in protest over the news that Trump had appointed Scaramucci as communications director, effectively superseding Spicer with a hedge fund manager with no previous political experience.
There have been signs of Priebus' waning influence and beleaguered job status for months. After the first version of the Obamacare repeal bill collapsed in the House of Representatives in March, the White House sacked Priebus' deputy chief of staff, Katie Walsh, and sent her to Trump's outside political group.
Rather than speak to Priebus' own foibles, however, his departure attests to Trump's willingness to pit even his most loyal aides against each another.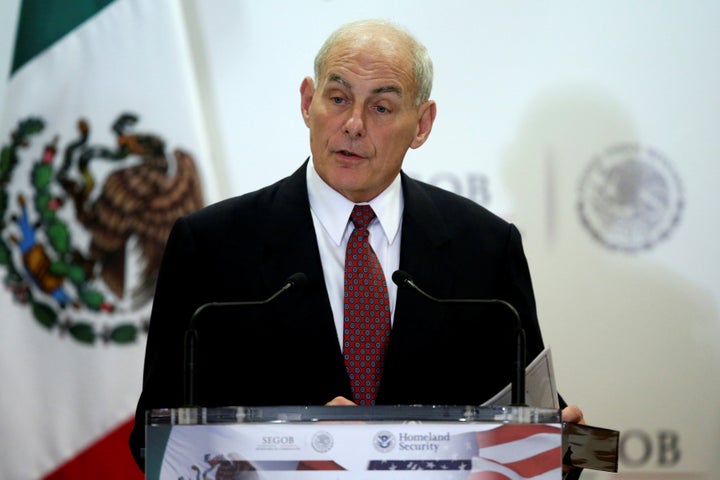 As chairman of the RNC, Priebus' relative neutrality in the 2016 Republican presidential primary and staunch support for Trump in the general election proved crucial. Early on in the presidential campaign, when Trump was drawing scorn and mockery for his xenophobic rhetoric, Priebus was careful, reportedly imploring Trump in July 2015 to "tone it down."
Later, when top Republican officials like former presidential nominee Mitt Romney were publicly lambasting Trump, Priebus refused to join them. He also stood by Trump once he became the Republican nominee, relentlessly defending him in the media.
When The New York Times published a May 2016 bombshell report about Trump's history of mistreating women, Priebus dismissed the revelations. "All these stories that come out — and they come out every couple weeks — people just don't care," he said.
The following month, Priebus helped kill a last-minute bid by so-called "never Trump" Republicans to run National Review writer David French as an independent conservative, dubbing it a "suicide mission." French cited the remarks as a major contributing factor in his decision to withdraw.
Trump rewarded Priebus for his loyalty with the top White House post, enabling Trump to claim a much-needed modicum of respectability with GOP insiders. But from the outset, the Wisconsin attorney and former RNC chairman was undermined by a team of warring White House factions and outsize personalities.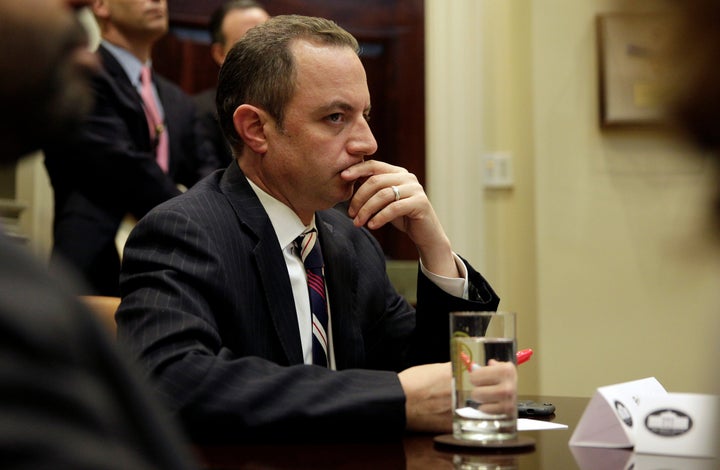 Priebus was the highest-ranking White House representative who came from the Republican Party establishment that newcomers like chief strategist Steve Bannon loathed. Bannon, a self-described "economic nationalist" with a history of racially insensitive comments, has long been suspicious of pro-business Republicans' support for open trade and immigration policies.
From the start, Trump put Priebus and Bannon on a collision course with the creation of a "chief strategist" position that appeared to undercut the normally unquestioned authority of the president's chief of staff. Trump's unconventional decision to name son-in-law Jared Kushner as a senior adviser also created a power center outside Priebus' control.
But if Priebus was frustrated with the treatment he endured, he refused to publicly show it.
When Trump infamously convened his top advisers and Cabinet officials in June to praise his performance before the news media, Priebus' comments stood out for their effusiveness.
"On behalf of the entire senior staff around you, Mr. President, we thank you for the opportunity and the blessing that you've given us to serve your agenda and the American people," Priebus said. "And we're continuing to work very hard every day to accomplish those goals."
Before You Go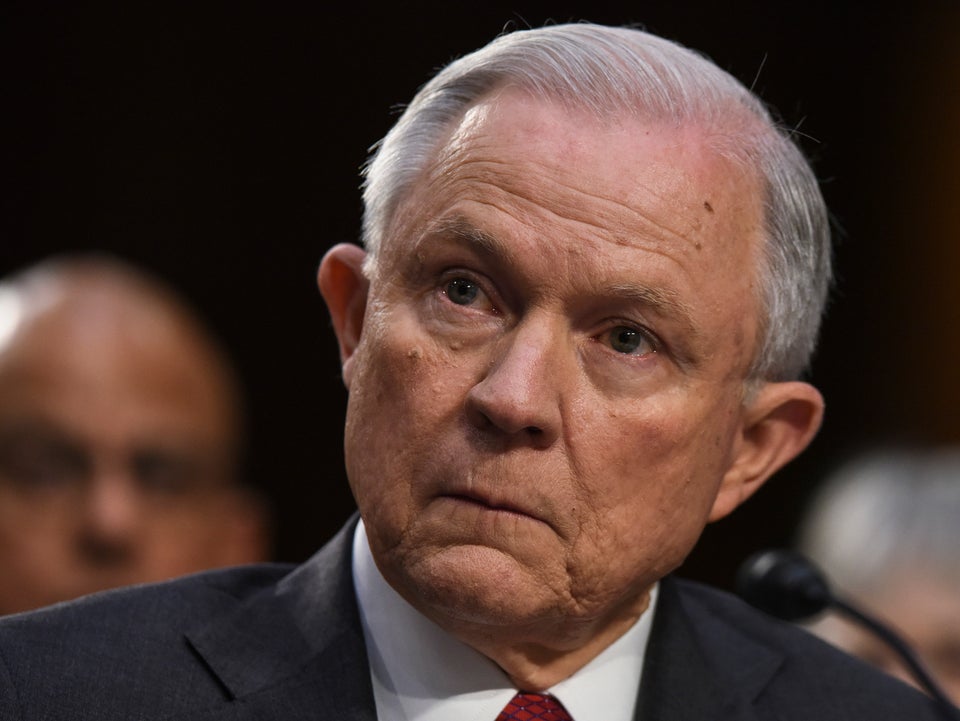 All The People Trump Attacks In His New York Times Interview
Popular in the Community