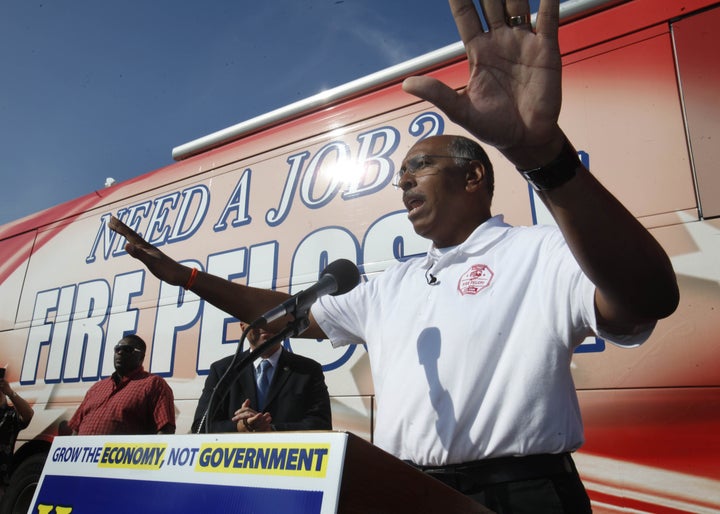 The "anybody but Michael Steele for RNC chairman" movement made a little progress earlier this week when the Republicans putting it into motion named their top candidates to force the ouster.
Included on the list is Reince Priebus, current Wisconsin GOP chairman, Michael Steele confidante and what Hotline once described as "the bridge between RNC members and their chairman."
The New York Times reports on Priebus and his proximity to Steele:
Mr. Priebus had recently warned Mr. Steele that a run for re-election could prove difficult this time around, and advised him to consider leaving the chairmanship at a time when he could point to big Republican gains nationwide.

But Mr. Priebus has made it clear that he is personally uncomfortable with the idea of challenging Mr. Steele directly for the post, given their friendship.
Priebus may also be known to some as the man whose tongue repeatedly slipped during a radio interview last month, resulting in him referring to the "execution" of Obama three separate times on a media conference call (the conversation was about Osama bin Laden, but the letter "s" seemed to allude him).
Leading the charge to find a replacement is Henry Barbour, Mississippi Republican Party committeeman and nephew of Mississippi Governor and former RNC Chairman Haley Barbour.
In an interview with the Times Tuesday, he appeared to address the potential RNC reshuffling as a necessity:
"I like Mike Steele, and I've worked hard to support him as chairman." He told the Times, adding. "I do think we have to make a change, and I have actively talked to some other members in the last week or so and encouraged a few of them to consider running... There's just too much at risk in the next cycle not to make a change."