 WAUSAU, Wis. -- The chair of the Republican National Committee is disavowing a consultant who has been arrested for allegedly throwing out voter registration forms in Virginia, saying there is "no tolerance" for such fraud in the GOP.
"It's wrong," RNC Chair Reince Priebus told The Huffington Post at a get-out-the-vote stop in Wausau, Wis. "If it's true, the guy should be punished. He was fired, and he should have been fired. There's no tolerance for this stuff."
Colin Small, 23, was arrested in Virginia on Thursday for allegedly throwing eight completed voter registration forms into a dumpster. Small worked for Pinpoint, which was hired by the Republican Party of Virginia to register voters. In Virginia and other states, it is a crime to accept a completed registration form and not hand it in.
Small's LinkedIn profile says he is also currently a "grassroots field director" at the RNC. Priebus said that information was incorrect.
"[Small] was not an RNC employee. He was working for a temp agency that was hired by either the state party or the RNC," said Priebus, adding, "But nevertheless, the guy is gone."
Priebus said he wasn't concerned that there could be a wider problem of election fraud among Republican Party operatives, pointing to a comment from the sheriff's office that Small's crime "appears to be limited in nature."
"I think it was stated in the report that it was not a widespread problem we're talking about. It doesn't matter. It's wrong," Priebus said. "If it's true, the guy should be punished. He was fired, and he should have been fired."
But Democrats see a larger pattern, since Small previously worked for a firm called Strategic Allied Consulting -- run by a man named Nathan Sproul -- which was paid $1.3 million by the RNC to do voter registration work this cycle. The RNC fired the firm after reports came out that it had submitted hundreds of suspicious registration forms in Florida.
"Over the course of this election cycle, the Republican National Committee has now been implicated or alleged to have been involved in voter registration fraud in no fewer than three states: Virginia, Colorado and my home state of Florida," Democratic National Committee Chair Debbie Wasserman Schultz (D-Fla.) said in a statement. "It's not hard to connect the dots here -- each of these cases is directly connected to Chair Reince Priebus, who as Chair of the RNC hired a firm headed by Nathan Sproul, a longtime Republican consultant with a known history of alleged voter registration fraud."
Sproul also faced election fraud allegations in 2004. Nevertheless, the Republican Party, candidates and interest groups have paid Sproul and his linked firms $21.2 million over the past nine years.
"It didn't stop the Romney campaign from paying $80,000 to a separate Sproul-run firm," Wasserman Schultz added. "It certainly didn't prevent Karl Rove's American Crossroads PAC from paying nearly $1 million to Sproul's firms for voter outreach. And it has not stopped the RNC from directing millions to Sproul's firm since Reince Priebus became Chair last year. It should come as no surprise, then, that Colin Small – the Republican Party field director arrested yesterday for dumping voter registration forms in the trash – was working under the supervision of RNC officials and was first hired by a Sproul-run firm."
Sproul and his wife have also donated $5,000 to Mitt Romney in the 2012 cycle and have had their photograph taken with the GOP presidential nominee.
Priebus is traveling around the state on Friday with other Wisconsin GOP officials -- including Sen. Ron Johnson (R-Wis.) and Wisconsin GOP Chair Brad Courtney -- as part of their "Commit to Mitt" early voting tour. Early voting begins on Monday in Wisconsin.
Priebus fired up the several dozen activists in Wausau on Friday morning by reminding them about Gov. Scott Walker's (R) victory in winning his recall election over the summer, saying that the Republican Party is getting pretty good at winning in Wisconsin.
He also threw a bit of red meat to the crowd, saying, "This president has a problem with the American dream. He's got a problem with success. Or he's wiling to play that card to divide this country."
The bus' first stop was Wausau, where several dozen people came out on a dreary, rainy day to cram into a field office and get out the vote for the Republican ticket. The bus was also going to Green Bay, Sheboygan and West Bend.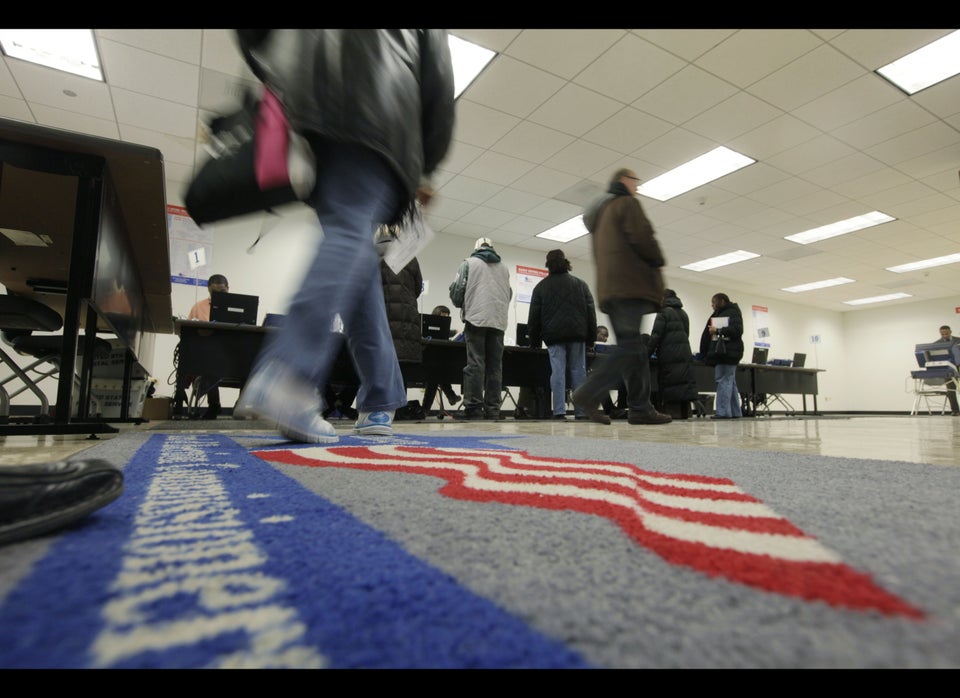 7 Ways You Could Be Disenfranchised
Popular in the Community