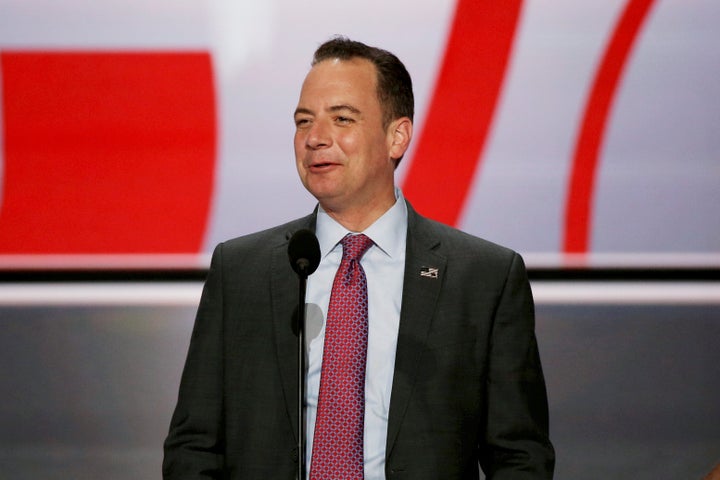 Republican National Committee Chair Reince Priebus on Sunday pushed back against reports that the RNC was hacked in a manner similar to what led to the release of Democratic National Committee emails during the presidential campaign.
The Washington Post and The New York Times reported over the weekend that intelligence officials from the CIA and the National Security Agency concluded Russia had in fact intended to help get Donald Trump in the White House. They based that assessment on the fact that the RNC's computer systems were also compromised, but the hackers did not release the information on those networks.
Asked about the reports during a contentious interview on NBC's "Meet the Press," Priebus, who has been named Trump's chief of staff, denied the cyber intrusion and expressed skepticism over whether it had any impact on the election.
"The RNC was absolutely not hacked," Priebus said.
"Well, it's really simple," he added, when asked to explain the report. "Because when the DNC was hacked, we called the FBI and they came in to help us. And they came in to review what we were doing and went through our systems, went through every single thing that we did."
"I don't know of any employees, on any of their own Gmail accounts, that was hacked," he continued. "So what I'm trying to tell you is the RNC was not hacked, number one."
Priebus also objected to the notion that a foreign agent's intrusion into U.S. entities had influenced the presidential election, telling NBC's Chuck Todd that "you don't have any proof that the outcome of the election was changed."
"Forget about who did the hacking," he added.
Four prominent Democratic and Republican senators issued a statement Sunday calling for an investigation into Russian interference in the U.S. election, maintaining it must not be allowed to become a partisan issue.
"Democrats and Republicans must work together, and across the jurisdictional lines of the Congress, to examine these recent incidents thoroughly and devise comprehensive solutions to deter and defend against further cyber-attacks," Sens. Chuck Schumer (D-N.Y.), John McCain (R-Ariz.), Jack Reed (D-R.I.), and Lindsey Graham (R-S.C.) said in a joint statement.
During a separate interview on "Fox News Sunday," however, Trump once again dismissed the notion that Russia intended to influence the U.S. election.
"I think it's ridiculous. I think it's just another excuse. I don't believe it," he said.
Popular in the Community