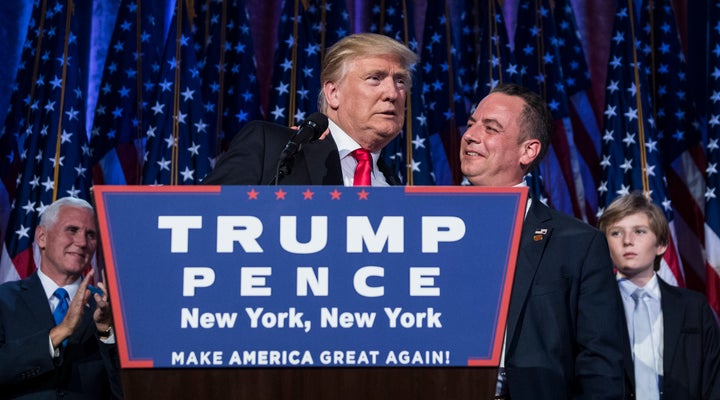 White House Chief of Staff Reince Priebus went after the press Sunday for trying to "delegitimize" President Donald Trump, a man who spent years telling the country that Barack Obama was not constitutionally eligible to be president. 
"I'm saying there's an obsession by the media to delegitimize this president, and we are not going to sit around and let it happen," Priebus said on "Fox News Sunday." "We are going to fight back tooth and nail every day, and twice on Sunday."
Priebus was upset that the press focused so much on the small crowd size at Trump's inauguration compared to the crowds at Obama's gathering in 2009.
Priebus said "Fox News Sunday" host Chris Wallace, who put up the photos and told the chief of staff to look at them, was not comparing "apples to apples" and said the press should focus more on the substance of what Trump said. (Here is more on the substance of Trump's inaugural address.)
The Trump administration has also been furious about a Time magazine reporter's pool report that said the president had removed a bust of Martin Luther King Jr. from the Oval Office and replaced it with one of former British Prime Minister Winston Churchill. The reporter, however, repeatedly apologized for the error. 
Trump, Priebus' new boss, spent years trying to convince the country that Obama wasn't a legitimate president because he wasn't born in the United States. It wasn't until late in his campaign, in September, that Trump finally acknowledged Obama was indeed born in Hawaii. 
Last week, in an interview on ABC's "This Week," Priebus tried to brush over Trump's past when attacking Rep. John Lewis (D-Ga.) for saying he didn't think Trump was the legitimate president because of Russia's interference in the 2016 elections.
"You didn't have Republicans questioning whether or not Obama legitimately beat John McCain in 2008," Priebus claimed, adding, "I think it's incredibly disappointing and I think it's irresponsible for people like himself to question the legitimacy of the next United States president. I think putting the United States down across the world is not something that a responsible person does."
How will Trump's first 100 days impact you? Sign up for our weekly newsletter and get breaking updates on Trump's presidency by messaging us here. 
Want more updates from Amanda Terkel? Sign up for her newsletter, Piping Hot Truth, here.
Calling all HuffPost superfans!
Sign up for membership to become a founding member and help shape HuffPost's next chapter