Republican National Committee Chairman Reince Priebus was named chief of staff for President-elect Donald Trump, the transition team announced Sunday.
Since Tuesday's election, Priebus had been floated as a leading candidate for the post, along with Trump campaign CEO Steve Bannon and former campaign manager Corey Lewandowski.
Bannon, the former chairman of the conservative Breitbart News, was named Trump's chief strategist and senior counselor on Sunday. He was notably listed higher in the press release announcing the two appointments, suggesting that he will play a major role in the Trump administration.
Breitbart promulgated much of the white nationalist and racist rhetoric that served as a foundation of Trump's presidential campaign. Bannon has also espoused white nationalist ― and reportedly anti-Semitic ― views of his own.
"Steve and Reince are highly qualified leaders who worked well together on our campaign and led us to a historic victory," Trump said in the press release announcing the appointments. "Now I will have them both with me in the White House as we work to make America great again."
Sen. Harry Reid (D-Nev.) spokesman Adam Jentleson said Trump's choice of Bannon "signals that White Supremacists will be represented at the highest levels in Trump's White House. "
"It is easy to see why the KKK views Trump as their champion," he added.
The Anti-Defamation League and Southern Poverty Law Center expressed concern over the appointment as well, with the ADL saying Bannon and "his alt-right are so hostile to core American values."
Party leaders were angling for Priebus, given his experience and his potential to help Trump build relationships on Capitol Hill, preferring him over Bannon and Lewandowski, a Trump loyalist.
Trump had previously pledged to bring "outsiders" into his administration, and his campaign adopted the slogan of "drain the swamp," referring to Washington.
Throughout the campaign, Priebus attempted to unite the warring sides of his party: those who pledged to support Trump, and those who opposed him and warned of the dangers of his candidacy. He frequently condemned Trump's incendiary remarks but continued to support his campaign.
"It is truly an honor to join President-elect Trump in the White House as his Chief of Staff," Priebus said in Sunday's press release. "I am very grateful to the President-elect for this opportunity to serve him and this nation as we work to create an economy that works for everyone, secure our borders, repeal and replace Obamacare and destroy radical Islamic terrorism. He will be a great President for all Americans."
This story has been updated with statements from Sen. Harry Reid (D-Nev.) spokesman Adam Jentleson, the Anti-Defamation League and the Southern Poverty Law Center.
Before You Go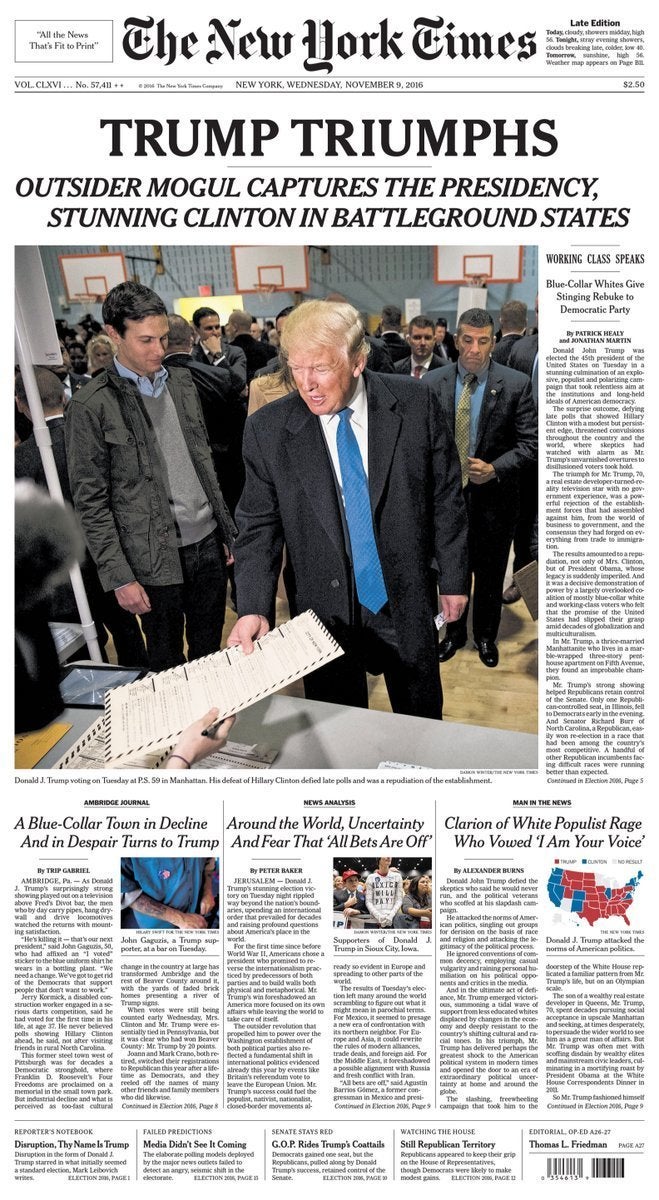 Newspapers React To President Trump
Popular in the Community