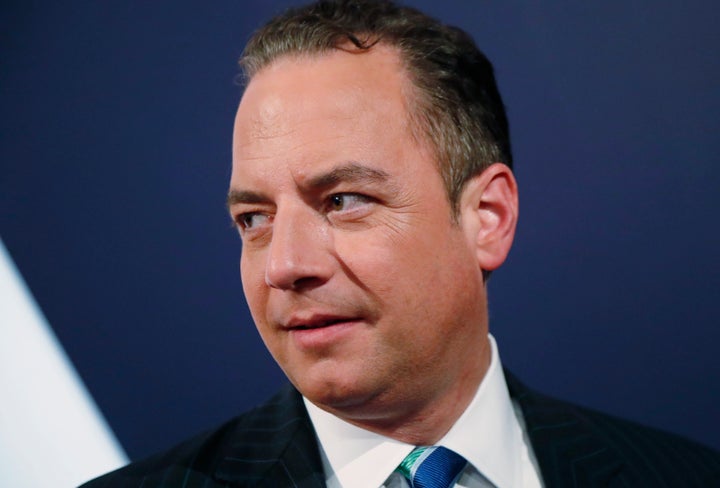 Reince Priebus, the Republican National Committee chair, and scores of other GOP members condemned on Friday derogatory comments that GOP nominee Donald Trump made toward women in 2005. But most of the elected officials indicated they were not withdrawing their support of the real estate mogul.
Trump had claimed he pushed a married woman to have sex with him and said he could grab women "by the pussy" because he was a celebrity. A recording of his conversation with then-"Access Hollywood" host Billy Bush was published by NBC News and The Washington Post on Friday.
"No woman should ever be described in these terms or talked about in this manner. Ever," Priebus said in a statement released that night.
Priebus was scheduled to appear alongside Trump and House Speaker Paul Ryan (R-Wis.) at a fundraiser in Wisconsin on Saturday. Late Friday, however, Trump's campaign announced the nominee would no longer be appearing, and would instead be participating in a debate prep session in New York.
Rep. Cathy McMorris Rodgers (R-Wash.), who chairs the House Republican Conference, also admonished Trump in a statement.
"It is never appropriate to condone unwanted sexual advances or violence against women. Mr. Trump must realize that it has no place in public or private conversations today or in the past," said the highest-ranking Republican woman in Congress, who had previously endorsed Trump.
Other top Republicans also issued condemnations on Friday.
Senate Majority Leader Mitch McConnell (R-Ky.) called on Trump to "apologize directly to women and girls everywhere, and take full responsibility" for the comments. House Speaker Paul Ryan (R-Wis.) said was "sickened" by the remarks.
Former Florida Gov. Jeb Bush, who dropped out of the GOP presidential primary earlier this year, called the remarks "reprehensible" on Twitter.
Ohio Gov. John Kasich, another former Trump primary rival, echoed the sentiment.
Mitt Romney, the Republicans' presidential nominee four years ago, condemned his successor's remarks as "vile degradations."
Sen. John McCain (R-Ariz.), the 2008 GOP nominee, denounced Trump's "offensive and demeaning, adding that the GOP nominee "alone bears the burden of his conduct and alone should suffer the consequences."
Sen. Kelly Ayotte (R-N.H.), who is facing a hotly contested re-election battle, called Trump's comments "totally inappropriate and offensive" in a statement released Friday. The senator did not, however, renounce her support of the GOP nominee. Earlier this week, Ayotte walked back comments in which she called Trump a role model for children.
Sen. Richard Burr (R-N.C.), another vulnerable Republican facing re-election this year, labeled Trump's remarks "completely unacceptable."
Sen. Pat Toomey (R-Pa.), who is fighting to keep his seat this year, went with "outrageous."
Sens. Jeff Flake (R-Ariz.) and Mark Kirk (R-Ill.) also made their feelings known on Twitter.
Sen. Marco Rubio (R-Fla.) called Trump's comments "vulgar, egregious and impossible to justify."
AJ Spiker, a former chairman of the Iowa Republican Party, called on Trump to resign as the GOP's nominee.
Those withdrawing their endorsement of Trump included Utah Gov. Gary Herbert and Rep. Jason Chaffetz (R-Utah.)
This story has been updated with condemnations from Mitt Romney and Pat Toomey.
Popular in the Community