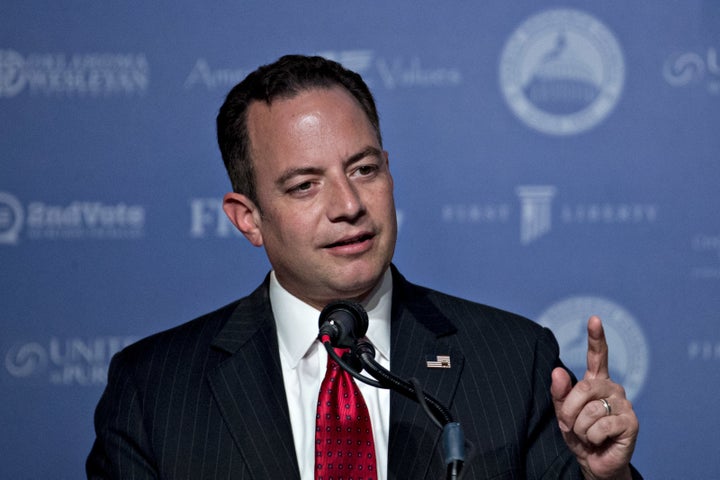 Incoming White House Chief of Staff Reince Priebus appeared to confirm that President-elect Donald Trump would stand by his campaign promise not to cut Social Security and Medicare.
John Dickerson, host of CBS's "Face the Nation," asked Priebus on Sunday whether Trump is sticking to his position of "not touching Medicare."
"I don't think President-elect Trump wants to meddle with Medicare or Social Security," Priebus responded, adding the latter program unprompted. "He made a promise in the campaign that that was something that he didn't want to do."
Trump wants to "shore up Medicare and Social Security for future generations," however, Priebus said. He ventured that if they can get 3 percent to 6 percent growth, "we'll do that."
Priebus' suggestion that higher economic growth could close the programs' funding gaps is similar to claims Trump made as a candidate. In fact, while higher economic growth would boost the finances of Social Security in particular, there is no independent analysis that suggests it is capable of resolving the programs' financial challenges entirely.
Trump's promises not to mess with Social Security and Medicare, unheard of for a Republican presidential candidate, were one of the most distinctive features of his campaign.
He even claimed he was a more reliable defender of the programs than Democratic nominee Hillary Clinton, given her past support for the deficit reduction "framework" of the Bowles-Simpson plan, a bipartisan proposal that cut Social Security.
"We are going to save Social Security," Trump said at an October campaign rally. "She is going to cut your Social Security and your Medicare."
But Priebus' remarks represent the Trump transition team's first official comment since the election about his promises to protect the two popular social insurance programs. The Trump transition team did not immediately respond to a request for confirmation that Trump's determination not to "meddle" with the programs is an explicit promise not to consider benefit cuts, or something more or less comprehensive.
John Hishta, senior vice president of campaigns for AARP, tweeted his approval of Priebus' remarks, warning that the giant seniors group "will fight any attempts by Congress to cut benefits or raise costs for seniors." (The tweet also appeared to mark a change in tactics for AARP, whose election initiative, Take a Stand, insisted that candidates present their proposals for the major programs without regard to whether those plans cut benefits.)
It is unclear whether congressional Republicans intent on transforming Medicare and reducing Social Security benefits will try to challenge Trump's stance. House Speaker Paul Ryan (R-Wis.) has said that repealing Obamacare must include major reforms to Medicare. Ryan has long proposed turning Medicare's insurance guarantee into a voucher program by which the government would give seniors money to purchase insurance.
Rep. Sam Johnson (R-Texas), chairman of the House Ways and Means Subcommittee on Social Security, also presented a plan in December to dramatically scale back Social Security benefits.
Congressional Democrats and the independents who caucus with them have been eager to pounce on the slightest indication that Trump will betray his campaign promises.
Sen. Bernie Sanders (I-Vt.) demanded at a Wednesday press conference that Trump promise to veto any cuts to not only Social Security and Medicare but also Medicaid.
"If he makes that clear to his Republican colleagues, we can save us all a whole lot of time and start getting to work doing what this country desperately needs to have done," Sanders said.
This post has bee updated with comment from AARP.
Popular in the Community