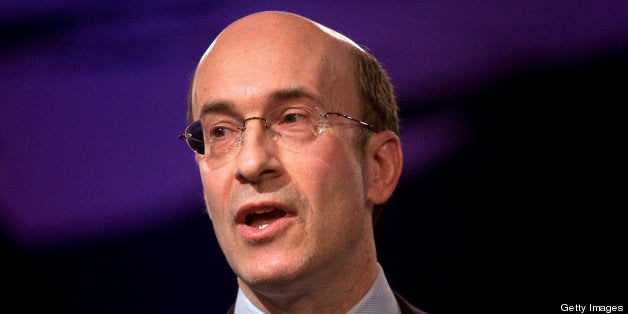 While a barrage of searing political criticism is certainly making them feel terrible, Kenneth S. Rogoff and Carmen M. Reinhart are not backing away from austerity.
That work took a serious body blow last week after students at the University of Massachusetts Amherst revealed several errors in their research. A chorus of economists and writers used the errors to argue that the academic underpinnings of austerity -- the punishing rounds of government cuts and tax increases taking place in the U.S. and abroad -- were now totally discredited.
Rogoff and Reinhart write in the Times that they received hate mail blaming them for punishing job cuts and tax increases made in the name of their research. "As career academic economists (our only senior public service has been in the research department at the International Monetary Fund) we find these attacks a sad commentary on the politicization of social science research," they write, attempting to argue that they are not political actors in the austerity debate. Then, with phrasing that would make any Jewish mother proud, they note: "But our feelings are not what's important here."
With that paragraph, Rogoff and Reinhart argue that although their work has been politicized, they are not political. "We resent the attempt to impugn our academic integrity," they write later on in the three-page appendix.
Founded by Peter G. Peterson, who has spent hundreds of millions of dollars in the past two decades warning about the horrors of the federal government's finances, particularly safety nets like Social Security and Medicare.
Both economists have conducted research with Reinhart's husband, Vincent Reinhart, an economist at the American Enterprise Institute, a conservative think tank, Gongloff notes.
It's hard to underplay just how influential the Harvard economists' work has been in terms of underpinning the growing hunger for austerity in the United States. Indeed Quartz's Tim Fernholz called out a 2011 briefing between Rogoff and Reinhart and 40 senators in which a Republican from Georgia asked Rogoff if they needed to take action to reduce the debt and cut spending:
"Absolutely," Rogoff said. "Not acting moves the risk closer," he explained, because every year of not acting adds another year of debt accumulation. "You have very few levers at this point," he warned.
Judging by Friday's essays, Rogoff would likely make that same argument today. Here's how he and Reinhart conclude their op-ed:
In short: many countries around the world have extraordinarily high public debts by historical standards, especially when medical and old-age support programs are taken into account. Resolving these debt burdens usually involves a transfer, often painful, from savers to borrowers. This time is no different, and the latest academic kerfuffle should not divert our attention from that fact.
Although, in their three page appendix the economists reveal a more complicated argument than their critics would acknowledge: They propose principal reduction in helping resolve the outstanding remnants of the mortgage crisis, in one instance. It's clear Rogoff and Reinhart will continue to sound the alarm on debt and spending. And conservatives hell-bent on austerity will still be listening.

Before You Go

26 Economists You Should Be Following On Twitter
Popular in the Community