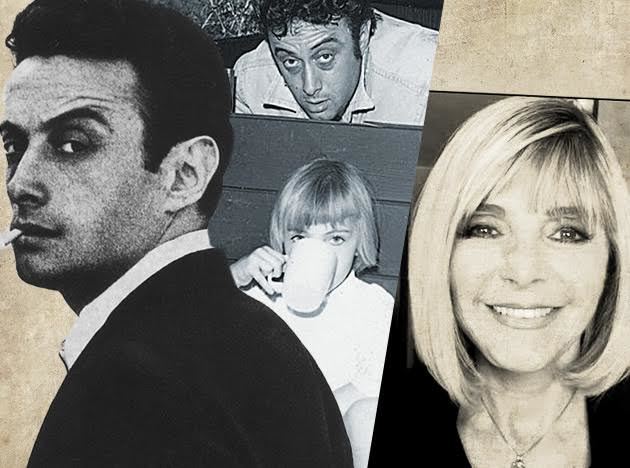 "Let me tell you the truth," Lenny Bruce said, setting up one of his headier-bits. "The truth is what is. And, what should-be is a fantasy."
However Buddhist the notion, the truth, or emmes, as Lenny often chirped in Yiddish didn't assuage his utter despair by 1966. His once swarthy, lean figure and breathtaking wordplay was all but decimated - along with his spirit – by legal problems. Fifteen arrests for narcotics and obscenity in two years, deportation from England and a New York State obscenity conviction (which he was appealing) weighed heavily and exacerbated his already herculean drug habit. Eight months before he fell dead, from a heroin overdose, on the bathroom floor of his Hollywood Hills home The District Court in San Francisco declared him a pauper.
The "what should-be," however fanciful, might have happened but, sadly, never did for Lenny. He never got to enjoy the status of bona fide cultural entity or appreciate that his uncompromising worldview is celebrated, to this day, by innumerable entertainers and fans worldwide. Most tragic is that he never got to see what his then ten-year-old daughter Kitty would accomplish with her life as a trailblazing addiction and recovery specialist, saving lives while, simultaneously, honoring her father's legacy.
"My father was so loved and loving," said Kitty Bruce on the phone from her home in Pittston, Pennsylvania. "He had a way, on-stage and off-stage that made people think. It made people laugh, and made people wonder."
This has been an exciting year for Kitty. August marked the 50th Anniversary of her father's death and De Capo Press reprinted Lenny's autobiography, How to Talk Dirty and Influence People: An Autobiography. And, a two-day symposium at Brandeis University titled, "Comedy and the Constitution: the Legacy of Lenny Bruce," recently kicked-off the opening of the Lenny Bruce collection of archival material, as part of the Robert D. Farber Archives and Special Collections. Both milestones are the culmination of Kitty's decade-long search to find a publisher and the right repository for her father's papers, photographs and letters.
"My whole mission is, 'Let's introduce him to a new generation.' Everything my father was talking about back in the day isn't much different than nowadays. We still have racism, political correctness, indifference. The only thing that has changed is the faces and the new technology."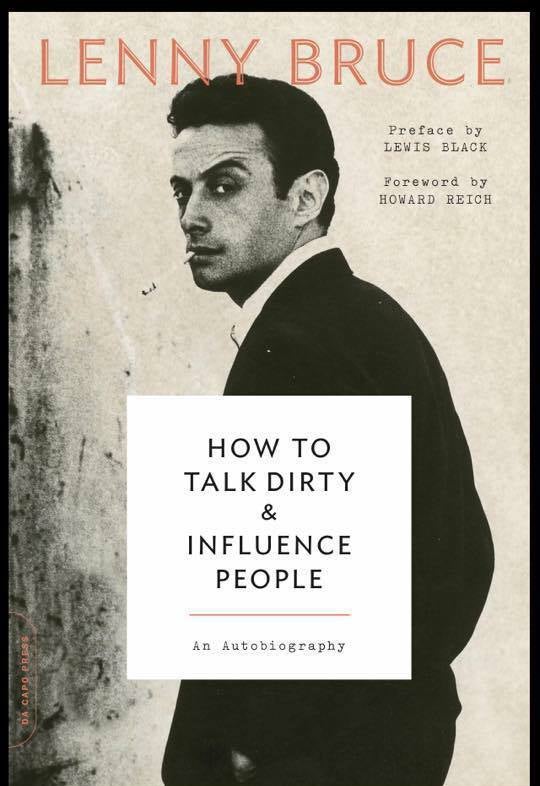 There has never been a shortage of praise from the pantheon of legendary comedians who critic Ralph Gleason claimed "rushed through the doors Lenny opened." Actor/comedian Richard Lewis became a life-long fan after hearing the recording Lenny: Live at Berkeley. "He struck every nerve in my body," wrote Lewis in his autobiography The Other Great Depression. "His language and style, spoken almost in jazz like riffs, at once became my favorite musical. It was bold and truthful and hip and fearless and brilliant and provocative and unlike anything I had ever thought comedy could be."
But the many colorful adjectives and elevated language writers have invariably used in their portraiture of Lenny – the warrior/martyr for free speech - have focused only on his legacy as it pertains to the First Amendment. All of that is true, of course, but few have given us a sense of Lenny the son, father, friend, or that he was even funny. Fortunately, now we have his autobiography and his loved ones and friends to provide a more human side to his story.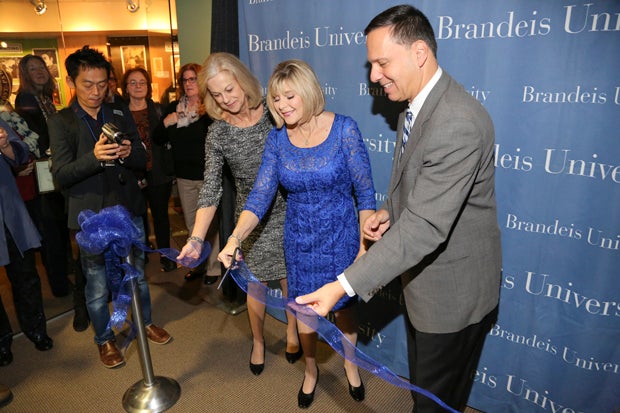 "When I first read How to Talk Dirty and Influence People it really made me laugh," Kitty said. "I found ideas and thoughts of a man who lived an extraordinary life. It's by far the hippest book and it takes you away, like you're on a mini-vacation. I would highly recommend it even if I wasn't related to him."
Lenny began his show business career after serving in WWII. He won first prize on Arthur Godfrey's Talent Scouts in 1949 but was years away from finding his true voice. Burlesque was Lenny's proving ground; MC'ing in nightclubs, up and down both coasts, he cultivated the incantatory patter that put him at a level above his peers. But, at first, he delighted in making the band laugh. Their approval provided a barometer of what bits worked and what didn't.

"That's what did it for me," Lenny wrote in How to Talk Dirty, "every night, doing it doing it, doing it, doing it, getting bored, doing it different ways, no pressure on you."
As a comedian, Lenny's watchword was "get a laugh every 15 to 25 seconds," make money for the club owner, and, "If he can upgrade the moral standards of his community and still get laughs, he is a fine craftsman." And he was a fine craftsman. It was, however, his controversial act and liberal use of four-letter-words (tame by today's standards) which attracted the big audiences and the label "sick comedian."
"He made a lot of people very uncomfortable in his day," said Kitty. "You didn't talk about the Church, you didn't talk about drugs or homosexuality."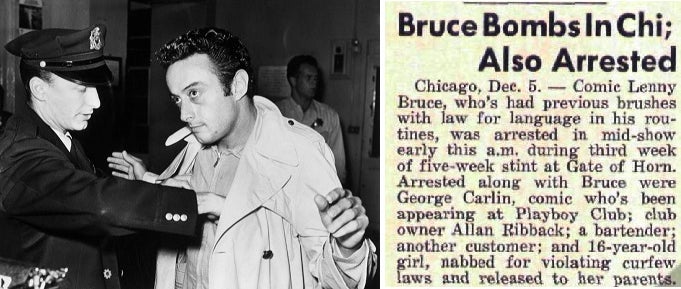 Paul Krassner, a comedian and publisher of the satirical magazine The Realist first met Lenny in 1959, through their mutual friend, television personality Steve Allen (perhaps Lenny's greatest champion). They were already fast friends when Playboy Magazine hired Krassner to edit How to Talk Dirty and Influence People.
"The rapport was instant," remembers Krassner. "Whenever he came to New York he would call. And when we were working on his book, we'd go to different cities. We had a lot of fun together because we were in-sync with irreverence. We went to a Chinese restaurant once where he turned to me and said, 'this is where all the Chinese truck drivers go.'"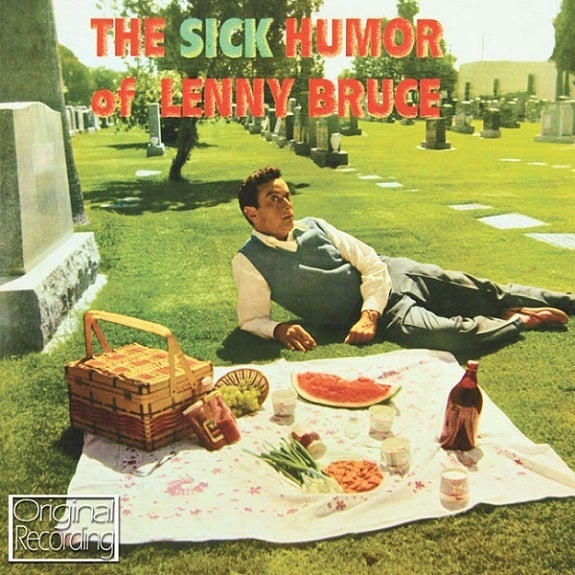 Leonard Alfred Schneider came into the world on October 13th, 1925. His mother Sadie Kitchenberg, or Sally, was an aspiring entertainer who divorced Lenny's father Mickey a few years into their ill-suited nuptials. Lenny's childhood in Bellmore, Long Island was itinerant. Sally cleaned houses, taught dancing, and waitressed while Mickey worked long hours selling shoes and attended pharmacy school at night. Lenny's first ten years were spent living with different relatives.
"My childhood seemed like an exodus from aunts and uncles and grandmothers," Lenny wrote. "Their dialogue still rings in my ears. 'I have enough tsooris with my own kids.' The plan was I would stay with relatives till my parents 'could get straightened out.'"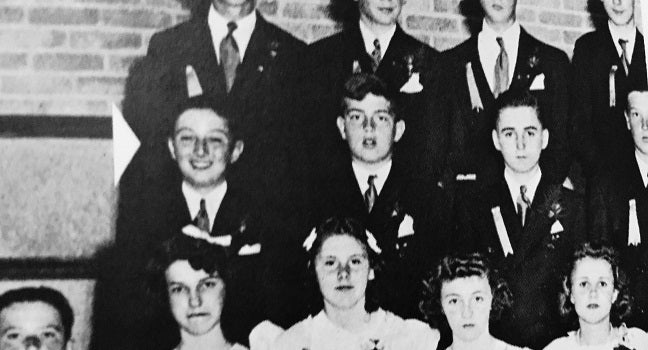 Even as a boy, Lenny caught hell for his intense curiosity. He typically bore the brunt of his Aunt Mema's heavily Yiddish accented histrionics, squawking "like a Jewish myna bird," if she caught him playing with her portable bidet (a large red rubber bulb with a long black nozzle), or if he asked her, "Why does the talcum powder stick between your nay-nays?"
"If Bruce loved anything it was chaos and disorder," said Lenny's friend, the author Barry Sanders at a 2010 Humanities Festival in Chicago. "He once told me, 'When I was in junior high I prayed for all the toilets to back up at once, sending a tsunami of drek roaring down the halls. I wanted desperately to see my teachers, out of control, screaming and running wildly.'"
Hollywood movies and the high-drama of his day's radio shows provided an escape from family tumult. His off-the-charts ability to approximate the mannerisms and dialogue of movie stars eventually became a hallmark of his stream-of-consciousness vignettes.
His fascination with sex evolved, as did its natural counterpart, "whacking," as Lenny called it in How to Talk Dirty and Influence People.
"An older kid conducted a school and five of us graduated about the same time. I had a copy of National Geographic, with pictures and naked chicks in Africa. I was propped up in bed, taking care of business. I was so involved; I didn't hear the door open. 'Leonard, what are you doing?' My heart stopped. I froze. 'It's not only disgusting, what you're doing. 'But, goddamnit, in my bed!'"
Lenny never made it past the ninth grade and at fifteen ran away to a farm, operated by a salt of the earth, married couple named Dengler. They welcomed the Jewish teenager into their home and put him to work as a farmhand. Lenny delighted in his daily tasks, weeding or jarring produce, and driving the Dengler's old truck while imagining himself "a young Henry Fonda."
"There were no lavatories in the fields," he recalled, "but the itinerant day-workers – six Polish women – had a relaxed attitude toward the performing of their natural functions. To this day, I insist that all my vegetables be washed thoroughly."
Above all was Lenny's overwhelming gratitude for the Dengler's hospitality. "I would wait for an opportunity when Mr. Dengler was having a good laugh, and then I would catch him unawares and give him a big hug. Mrs. Dengler called me a 'kissing bug,' but she never rejected me. They said I would probably end up being a politician."
Lenny volunteered for the U.S. Navy days after his seventeenth birthday. A photograph taken upon arrival at Naval Training Station Newport, Rhode Island for Boot Camp captured the image a pudgy faced, barely pubescent recruit seemingly years away from shaving. Lenny later joked, "I was 5'2, weighed 120 pounds and had a heavy beard that needed removing about once every six months."
Popular culture has perpetuated a myth that Lenny was a mischievous sailor, prone to garish shenanigans, entertaining his shipmates in drag and feigning homosexuality to get out of the service. The latter was true but occurred only after the war ended and his ship was already docked state-side.
"He didn't dress up as woman, let's get that straight," Kitty said. "He wanted to see his mother and started telling the ship's shrink that he had 'urges' and kept up the ruse enough to where he got discharged."
A U.S. Navy crew-log dated December 15th 1942 lists SCHNEIDER, Leonard A, S2c, reporting for duty aboard the USS Brooklyn CL-40. The Brooklyn, a light cruiser, carried a crew of 1300 men. A forward turret shell-passer, the gunners mate manned the ship's 5"/38 guns throughout the major landings and bombardments of Sicily, Salerno, Anzio, Nettuno, Formia, and the invasion of southern France. For over three years the ship's loudspeaker sounded General Quarters, jolting Lenny and his shipmates from their hammocks, sprinting to their battle-stations. "I'd scramble up the ladder," wrote Lenny, "just in time to get my helmet knocked off and my nose bloodied from the concussion vacuum created in the hatch cove."
He told Paul Krassner that his life was influenced, among many things, by "the smell of spent shell powder at Anzio and Salerno." That abstract reference, however, did little justice to what Lenny experienced during the war, especially in the four month Anzio campaign that killed 29,200 allied servicemen. Another New Yorker aboard the Brooklyn, a radioman named Martin Griggs, wrote about the Brooklyn's initial battle-run into Anzio harbor: "How can I describe Anzio? How can a man describe Hell? We were trapped by [German] bombers. Our destroyer was torpedoed. To my right, the British cruiser Penelope was sunk. And to my left, the British cruiser Spartan went down. Ahead, a hospital ship was burning. All day they had been loading her with wounded. How many died, only God could tell. Another hospital ship steamed seaward, her hull cherry red from her flames."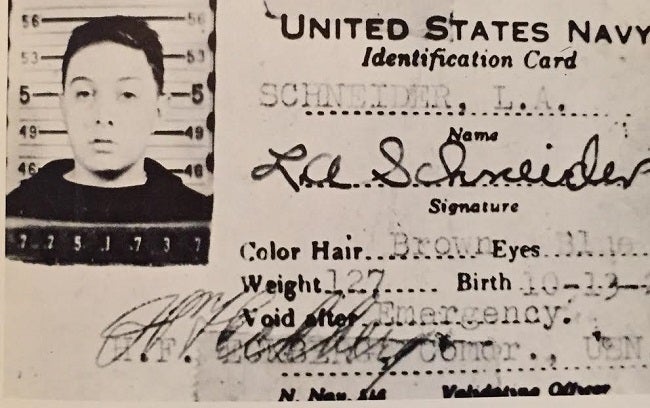 Lenny would reference the war later on in his act, declaring, "I think I've been in more invasions than anyone in this audience. I made six. I was in some real daddies." It was his way of claiming that he'd earned a right to air his views on the world. One can only wonder, had he lived to old age, what the self-described semanticist would have thought of the assignation "Greatest Generation"? As a Jew fighting in the war against Hitler he certainly knew what was at stake but, at the same time, he wasn't asking for sainthood. And, at the time he incorporated service anecdotes into his performances the war had only been over a little more than a decade — not long enough to look back at through rose-colored glasses.
"You know why they hate Americans? Because, we fucked all their mothers for chocolate bars and don't you forget that, Jim," barked Lenny on the Sex is Dirty concert record. "You don't think those kids have heard this since 1942? 'You know what those Americans did to your mother? They lined her up, those bastards. Your father had to throw up his guts in the kitchen while some master sergeant schtuped your mother for our chocolate and cigarettes.'"
"I will tell you that when he came back from fighting and saw a 'Whites only' or 'Coloreds only' signs in diners it absolutely infuriated him," Kitty said. "He saw black blood spilled, white blood, Latin blood spilled. 'It's all blood,' he thought, 'we're all humans.'"
Lenny was discharged from service "under honorable conditions," and enjoyed the full-benefits of the GI Bill.
He actually returned to sea over the next five years, crewing on Merchant Marine vessels (even after winning Arthur Godfrey's Talent Scouts) traveling sometimes as far as Japan. In fact, when he met and fell in love with Kitty's mother Harriett Jolliff – an in-demand stripper called Hot Honey Harlow - the courtship was short-lived because he had to ship out.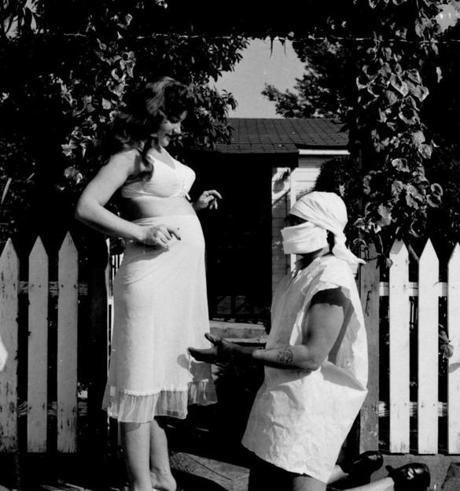 He married Honey in 1951 and they settled in Miami.
Being wed to a stripper tormented Lenny and he thought of ways to keep her out of burlesque. First, they performed together as a duo but made far less than Honey earned as a stripper. He even contemplated a change in careers but, instead, devised some bizarre, quick money-making schemes, including impersonating a priest.
"I knew, of course, that becoming a rabbi or a priest would be a slow process. Churches and synagogues were probably hard to come by. I've never seen one for rent and they don't seem to ever go out of business. The amazing thing about churches and synagogues is that they never complain about a bad location. I suppose they have a lot of walk in trade."
Lenny combed the affluent neighborhoods of Miami Beach, wearing a clergyman's shirt and clerical collar he'd stolen from a rectory. Introducing himself as Brother Mathias, he ingratiated himself with housewives who donated generously to the "Brother Mathias Foundation," his faux organization established to sustain a leper colony in Guyana. The scam netted $8,000 but he was arrested when the Miami Police Department caught wind of it. The charges were eventually dropped.
After a brief stay in Pittsburgh the couple relocated to Los Angeles in 1953. Honey returned to stripping and Lenny began his tenure in strip-clubs all over the San Fernando Valley. He made some inroads into motion pictures and wrote and acted in some very low-budget films. One particular picture, Dance Hall Racket's cast included Honey and his mother Sally. Thanks to his friend Buddy Hackett, Lenny found work punching up scripts at 20th Century Fox.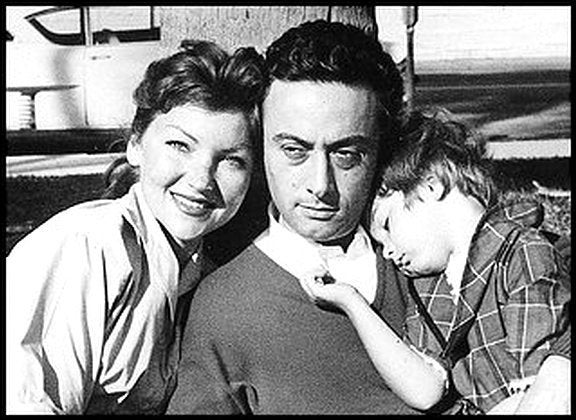 Lenny and Honey's only child Kitty was born in 1955 but their but the marriage fell apart and they were divorced in 1959. The New York Times once described their six year marriage as "Ozzie and Harriet as re-imagined by William S. Burroughs. [Honey] sewed outfits for Bruce. They shopped for wallpaper. They injected heroin. She served jail time for marijuana possession." It isn't far from the truth but when Lenny wrote his autobiography, post-divorce, he reflected warmly on their courtship and early marriage: "Honey and I were always laughing, kidding, teasing, and loving each other. I had never enjoyed sleeping as much as when I slept with Honey. She just seemed to fit so nice, and I would really sleep soundly."
In many ways Kitty's formative years mirrored her father's. With Lenny's career taking off he was constantly on the road and since Honey was in jail Kitty rarely saw her parents.
"Kitty was essentially raised by her grandmother, Lenny's mother Sally," remembers Krassner. "Sally was a compassionate mother and wife and very loyal to Lenny and Kitty.
Nevertheless, Lenny did his best to be a presence in Kitty's life whenever he was home. Kitty fondly recalls their outings together.
"He was a people watching person who loved characters and people that were different. We used to call it 'digging people,' just seeing what they're doing."
"When she was little," Krassner said, "I remember he told me that they took showers together because he didn't want her to grow up thinking there was something dirty about the human body. Lenny really loved Kitty and often told me how much he missed her, especially with all of the traveling he did."
Kitty was six when Lenny got arrested the first time for obscenity in San Francisco for uttering "cocksucker" during his performance. That same year he was busted for narcotics in Philadelphia and then in Los Angeles, a West Hollywood undercover policeman overheard Lenny say "schmuck," and arrested him. He was hauled off the stage at The Gate of Horn in Chicago, a Roman Catholic town, whose predominantly Irish and Polish police department offended easily by his diatribes about the Church. And, in 1964 two New York Criminal Court judges concluded that his performances "were patently offensive to the average person in the community," and he was convicted.
Lenny had spent more time in police cars, jails, and courtrooms that, by 1965, his obsession with the legal system was absolute. Obsessed that he never got a fair trial, he worked round-the-clock on letters and appeals, rarely leaving his typewriter. His home was littered with tape recordings, court transcripts, and Photostats.
In an interview for The Realist Lenny told Krassner that he had been teasing Kitty and pretended not to believe whatever she was telling him and that he delighted in his eight-year-old daughter's clever response, 'Daddy, you'd believe me if it was on tape.'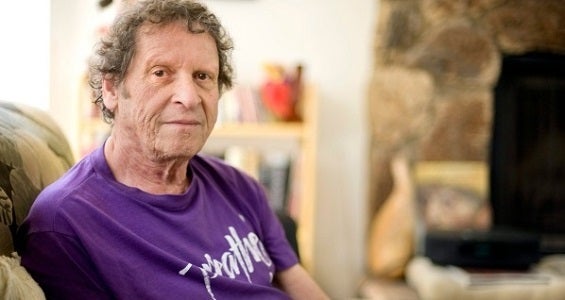 San Francisco was the last place Lenny could find club owners and kindred spirits, sympathetic to his cause, among the town's burgeoning pockets of counter-culture. In addition to City Lights Bookstore owner, poet Lawrence Ferlinghetti, he also befriended members of the politically-driven improvisational comedy group, The Committee, which included future TV star Howard Hesseman, director Alan Myerson, and Jaws screenwriter Carl Gottlieb, to name only a few. Original cast-member, actor/director Larry Hankin recalls Lenny's visits to The Committee's theater in North Beach.
"Lenny was just this cool, curious guy that seemed to fit right in with us. One day, he hung out for a while, asked a lot questions about what we did and then split. A couple of nights later a group of us went to his midnight show at Basin Street West. He was so funny I had tears in my eyes and fell off my chair. We all did. The guy was just fuckin' funny, period. The best. Another time he walked into the theater and I was there alone for some reason. Since he had a half hour to kill we walked and talked around the North Beach neighborhood. I just remember trying to keep up with his references. Half were coming too fast and the others were mostly about how the more and more frequent busts right off the stage were eating into his ability to pay rent and lawyers, and that we were lucky to have our own theater while he was at the whim of nightclub owners and the local police. You could see it was too much for him."
Twenty-plus years of shooting amphetamine and heroin took its obvious toll on Lenny's health and his appearance had deteriorated. Bill Graham, the legendary concert promoter who booked Lenny's final performances at his Fillmore Auditorium, six weeks before his death, told biographer Robert Greenfield, "He had these incredible circles under his eyes. He looked puffy. Everything about him was puffy. What people saw was a person who had been fucked with for a very long time. It was the living death of a genius. He took on the law and he lost."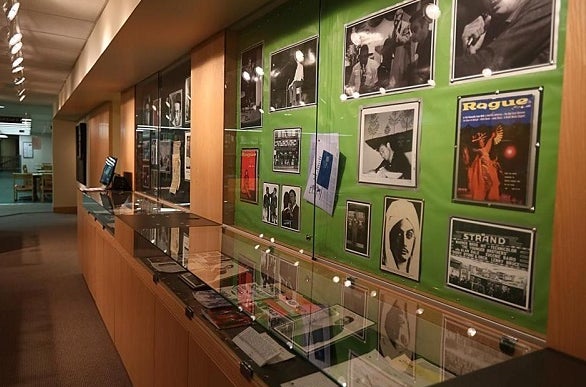 Lenny's final performances focused almost entirely on his lawsuits and, even on stage, were his law books, law journals, and legal briefs in case he wanted to reference some criminal law or penal code. A film-crew captured one of those performances at Basin Street West in San Francisco. Hankin was present there that night in the audience.
"Knowing the cameras were there, he began pleading his case for posterity and weaving it in to his act - sometimes succeeding in making it funny or at least entertaining, while cops were in the back of the club, 'listening.' We all watched and tried to laugh and not even the great Lenny Bruce could make it funny."
Lenny's girlfriend at the time, the late comedienne Lotus Weinstock told her friend, the filmmaker Robert Weide, "In the last months he had two very clear messages that he was giving himself. One was his plan to live and one was his plan to die. One Friday night, he said to me, 'I just need to air something and I don't want you to have a dramatic reaction. I feel I'm gonna die this year.'"
On the evening of August 3, 1966 Lenny was home typing in his office when he paused mid-way through some legalese and got up to go to the kitchen. He most likely would be right back to finish his thoughts and left the electric typewriter running. His decision to "fix" at that moment was nothing unusual, even if the kettle of water on the stove was beginning to boil. If he was any more panicked than usual after receiving a foreclosure notice on his home that morning we will never know. There was still the heroin Sally's husband Tony had given him and it was just a matter of time before heading to the bathroom to cook and shoot up.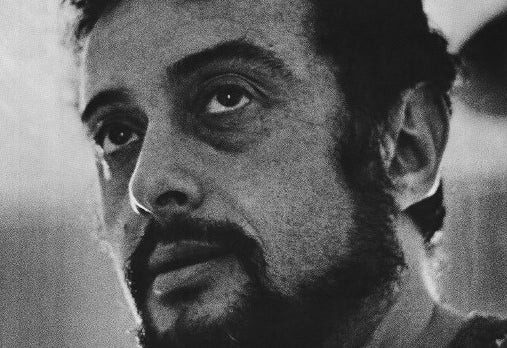 Lenny was buried in Eden Memorial Park, a Jewish cemetery in the San Fernando Valley, in a grave not far from the mausoleum Groucho Marx's remains were interred a decade later. His grave marker's epitaph reads: "Beloved father – devoted son/Peace at last."
"It's a shame he had to die to get peace," said Kitty. "That's obscene to me, that my father had to die to have peace."
Krassner sadly could not attend the funeral but was glad to hear that John Judnich, Lenny's roommate and sound-man, lowered a microphone into the grave as mourners shoveled dirt atop his dear friend's casket. Krassner, now 84, went on to form the radically youth-oriented political party The Yippies with Abbie Hoffman and Jerry Rubin, and is the author of several books. In 2005, he received a Grammy Award nomination for "Best Album Notes" for his essay on the 6-CD package Lenny Bruce: Let the Buyer Beware.
"When he died it was a real loss to the culture and to me as a friend, Krassner said. "I kept thinking, wondering 'what would Lenny be thinking about this or what would his take be on that?' I knew in my heart that I was just talking to myself but it was as if I was channeling. Then one day I imagined him telling me, 'Come on Paul, you know you don't believe in that shit, channeling,' and that ended it. No more channeling Lenny."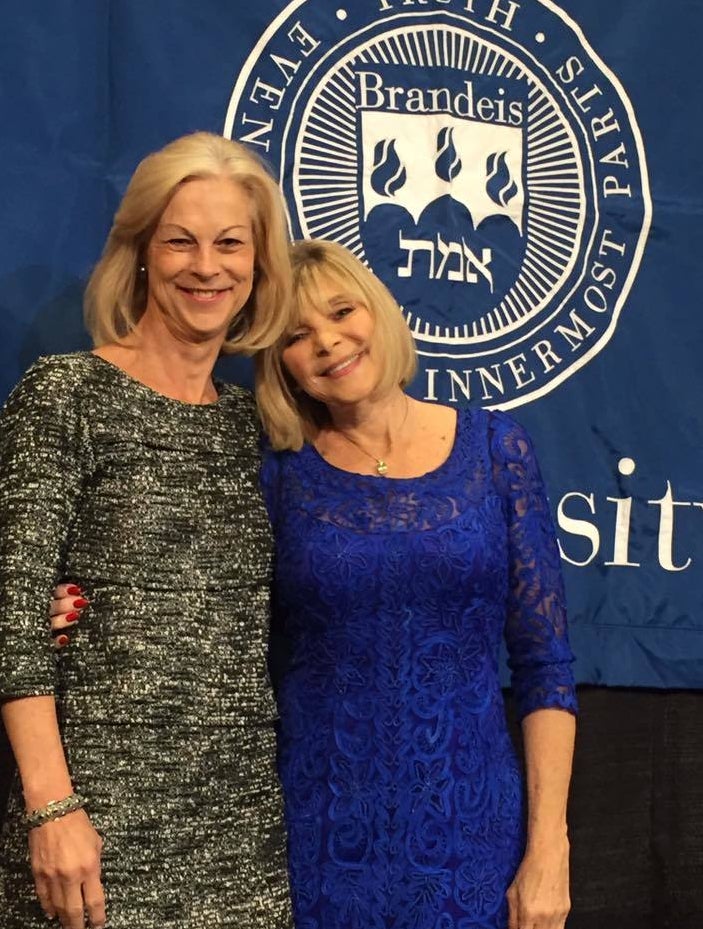 Interest in Lenny has grown exponentially over the years. Filmmaker Robert Weide's remarkable documentary, Lenny Bruce: Swear to Tell the Truth received an Academy Award nomination for Best Documentary. A campaign to overturn the 1964 obscenity conviction, led by Ron Collins and David Skover (authors of The Trials of Lenny Bruce), Kitty and her late mother (Honey died in 2006) inspired then New York Governor George E. Pataki to pardon Lenny in 2003. And then two years ago, the Hugh M. Hefner Foundation stepped forward with a generous gift making it possible for Brandeis to acquire and preserve Lenny's papers which Kitty kept in her home. The De Capo Press re-print of How to Talk Dirty and Influence People: An Autobiography includes new blurbs from comic legends Penn Jillette, Richard Lewis, a preface by Lewis Black and new forward by Chicago Tribune Jazz critic Howard Reich.
But if ever there was a triumphal postscript to the Lenny Bruce story, it involves his daughter's work in the addiction and recovery field. In 2008 Kitty started The Lenny Bruce Memorial Foundation.
"I wanted to honor my father's life, not with a plaque on the wall but something that would represent my father in his name and change lives."
The foundation, a 501(c)(3), non-profit was set up to help women in early recovery. Having been in recovery herself, Kitty designed a successful program module based on data she collected at six different treatment centers in Paris, Belize, and Los Angeles. She put her home up for collateral and bought a sixteen room house in Pittston, Pennsylvania for women dealing with addiction to go after their stint in rehab. She created the necessary marketing materials, hired treatment specialists, and then opened "Lenny's House."
"I wanted the women to come and learn how to live and navigate the clean and sober world because their minds are used to dealing with three thoughts: 'where can I get more, do I have enough, and when am I going to get it.' And when decision making comes into play it causes a great deal of stress. I decorated all the rooms and wanted each room to be different kept everything low stressed.
"They had passes to go to the gym three times a week, yoga once a week, all their food was supplied, sober fun was supplied, outings, classes in self-esteem, body language, communicative skills, and had to balance out AA meetings and NA meetings with work, and sober mothering. I can't tell you what it meant to me to see these mothers sober mothering there. They'd have their kids for the weekend and it was such a beautiful experience that really pinged off me because my mother was in prison when I was a baby."
In addition to accommodating paying clients Kitty created scholarships for those unable to afford treatment or a recovery house. And, when news of her efforts reached local court houses, district attorneys and public defenders began asking if their clients could max out their prison sentences in her facility. "Yes, of course," was always her answer.
"One time the doorbell rang and this little girl, who couldn't have been more than eighteen, had chains around her feet, waist, and around her wrists. The PO's unlocked her and I said, 'Very nice to meet you, welcome to Lenny's house.' I decided I was going to have her share a room with a bank president - the point was there is no better than or worse than, everybody gets treated with love and respect. When they get clean and sober they are women of honor and dignity. And they didn't have to know who my father is. All they had to do was just show up and suit up."
Despite earlier fundraising efforts to keep Lenny's House operational (the heating bills alone were $3000 a month) it had to close its doors. The foundation, however, is still going strong, providing scholarships and education based on the Lenny's House module. Kitty continues to work closely with sober houses and treatment programs, and works with approved facilities. Most of the proceeds from the new edition of How to Talk Dirty and Influence People will go to the foundation.
"We're in full-tilt fundraising mode. It is my hope that there will be other Lenny's houses that can be self-sustaining and go on with the successful module. I want there to be a Lenny's House in every state my father got busted."
Click here for more information on how to contribute to The Lenny Bruce Memorial Foundation.
Related
Popular in the Community