'Change almost never fails because it's too early. It almost always fails because it's too late.' - Seth Godin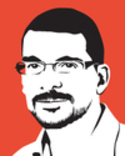 Dr. Alexander Osterwalder (Twitter: @AlexOsterwalder)
Large companies today don't always understand their current business model very well, let alone be thinking of what the next one will be, yet according to Osterwalder it is the ability to both execute on the current business model while thinking of the business model of tomorrow that will ultimately be the difference between a company that is a one hit wonder and one that is here to stay. To address the fact that very few companies are able to do both at the same time without a tool to help them, Osterwalder invented the "Business Model Canvas," a strategic management tool to design, test, build and manage business models.
How to develop a business model for today and tomorrow:

1. All master craftsman have the right tools - On Twitter (@alexosterwalder), Dr. Osterwalder says that he won't rest until senior executives and entrepreneurs operate as surgeons. He tells us to think of having to go through heart surgery and here comes your surgeon with one tool in his hands - and it's a Swiss army knife. Scary thought. Just as a surgeon needs a variety of tools to perform specific operations, company executives need business tools that are practical and go beyond SWOT analysis. This idea was the inspiration for his book and company, Strategyzer. At the heart of the book, Business Model Generation, is a tool called the Business Model Canvas, which allows companies to visualize their business model using 9 building blocks to develop a one-page blueprint of their strategy and tell the story of how they are creating, storing and delivering value.
There's a reason why in the competitive business book market (where 250,000 books exist already and another 11,000 come out each year) why one million copies of Business Model Generation have already been sold. Osterwalder attributes the success of the book to fact that it differentiates itself from the others by being very visual and helping to simplify a complex thing like business models. "The Business Model Canvas enables companies to get out of the world of blah, blah, blah and into the world where strategic conversations are mapped to something more tangible and concrete," says Osterwalder.
2. Design, search, iterate and rinse and repeat - The Business Model Canvas is very simple, yet the implications of the Canvas are deep. In fact, it's the foundation of a Stanford University course taught by Steve Blank, seasoned entrepreneur and Harvard recognized "Master of Innovation". "In the next meeting where you have to talk about the business model or strategy, get everyone around a canvas to sketch it out," recommends Osterwalder. "You may think that everyone is on same page, but that is not always the case."
The goal is to be able to sketch out a Business Model Canvas and throw it away in the next minute. Sketch it and test it immediately by getting out of the building and talking to customers to determine if the pains you think your customer has are really there. If they are not, it's back to the drawing board - an iterative process that Osterwalder calls design and search, where you prototype a Business Model Canvas and throw it away until you have actual evidence that it is going to work. The Business Model Canvas is the tool that is shaping the idea, and the search is giving the evidence that it is going to work.
An iteration process is an important element of business model design. With an initial idea there is a larger degree of uncertainty, which is why Osterwalder recommends doing cheap tests, such as talking to customers or giving customers a link to go to for more information and then tracking if they actually clicked through, that allow companies to learn. As uncertainty is gradually reduced, companies can increase spending on experiments until they have enough evidence. The more they know, the more they can invest. The next step is to turn the evidence from the market into execution; this is where companies can switch from the search mode into execution mode where they can scale the idea.
3. Business plans are a waste of time; execute today while inventing for tomorrow - If you are a large company, the Business Model Canvas can help you to better execute on your existing business while at the same time allowing you to create a playground to think about the business models of tomorrow - essential for reinventing your company in the face of constant disruption. Osterwalder says that a lot of successful companies today are applying their logic from their existing business plan onto the business models of tomorrow, but because you don't know what's going to work, the answer cannot be found within their four walls. So are business plans a waste of time? Osterwalder and Chuck Blakeman, founder and owner of The Crankest Group think so. Steve Blank's view on business plans is that they do not serve a useful purpose, and he, like Osterwalder, proposes a business model instead.
"Tools like the Business Model Canvas help to leverage a process that companies are already doing but in a better way," explains Osterwalder who says it is more important today to have such a tool because companies need to change their business models more frequently and having a tool can take the pain out of the process. People are struggling with the fact that their old business models are expiring. If you compare Kodak and Fugi, two companies whose core business was disrupted by digital, Kodak went bankrupt because they were incapable of reinventing themselves, while Fugi succeeded because they were able to successfully reinvent themselves.
4. Hire a Chief Corporate Entrepreneur - CEOs apply the principles of execution to the search of new business models, which according to Osterwalder, does not work because they don't test the business models and the business plan. Today in large companies, Osterwalder is calling for a second job title that operates at the same level and in close partnership with the CEO (Chief Execution Officer). The new title that Osterwalder is proposing, the Chief Corporate Entrepreneur, would be tasked with inventing the future of the company, whereas the CEO is tasked with running the existing business that is financing the future. The idea behind the new role is that companies run by entrepreneurs are able to reinvent themselves. Osterwalder points to Apple, a company that demonstrates proactive reinvention by introducing new products that make existing ones obsolete (iPhone disrupts the iPod, etc.). In addition, he says that the number of business models that Amazon is running today is spectacular and they are able to build on the business models that are already running while diversifying.
5. Articulate your customer value proposition - The Business Model Canvas allows companies to describe how they are creating value for their company. In his new book, Value Proposition Design, Osterwalder provides a new tool for companies to describe how they are creating value for their customer. The tool allows companies to visualize in a concrete way how products and services are creating value for their customers, something which many companies are currently unable to articulate. The tool zooms into two boxes on the Business Model Canvas, the value proposition and the customer segment being targeted, and provides a visual map to describe how products and services are creating value for customers. It allows companies to connect products and services to the pain relievers and gain creators of customers, and provides them with a shared language to make strategic things more tangible and to be explicit about how they are creating value for customers.

Value Proposition Design will be available for purchase on October 20th, but you can get a sneak peek of 100 pages for free on Osterwalder's website.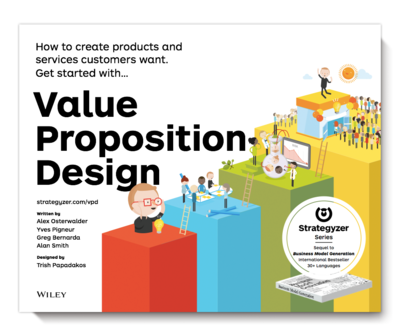 6. Make the business model everyone's responsibility - Everyone in the company is responsible for the business model and the value proposition says Osterwalder, who paints a future where these kinds of tools will replace the current broken strategic planning process and offer a social system and living tool that everyone will understand, have visibility into and use to contribute to the corporate strategy.
"If the large company wants to survive they will need to drastically change. Continuous reinvention will be the new normal. Companies who think it's enough to have one great business model are disposable; they will get big and then disappear. The ones that continuously reinvent themselves will be around for the long haul." - Dr. Alexander Osterwalder.
You can watch the full interview with Dr. Alex Osterwalder here. Please join me and Michael Krigsman every Friday at 3PM EST as we host CXOTalk - connecting with thought leaders and innovative executives who are pushing the boundaries within their companies and their fields.
Related