Timber. Maple Syrup. When asked of Canadian exports, you'd be forgiven if pulses didn't also spring to mind. Yet Canadian farmers are one of the biggest producers of pulses, the edible seeds of the legume family, such as peas, chickpeas and beans. In 2014, exports were valued at over $3 billion, shipping to more than 150 countries around the world each year.
But why don't Canadians make more use of this key crop in our own country?
There are many reasons why we should. Obesity rates in Canada tripled between 1985 and 2011. Pulses offer a food source that is not only high in protein and fibre, but remarkably low in fat. Furthermore, these plants require much less water and fertilizer to grow than other crops, making them a sustainable choice for farmers who wish to protect our natural resource base, and minimise agriculture's global greenhouse gas emissions.
We believe Canadian consumers are not enticed to put more pulses on their own plates, due to a lack of product innovation. A competition that has run across the globe this year, as part of the United Nations' International Year of Pulses, seeks to change that.
It inspired me and my teammates Austen Neil and Chandré van de Merwe to create BiotaGelata, a non-dairy gelato made from fermented bean milk. It has all the creaminess of a milk product, but instead of being high in fat, is high in protein. The flavours - maple walnut, dark chocolate cassis, raspberry lemonade, and passion fruit, would rival any traditional ice cream in a taste test.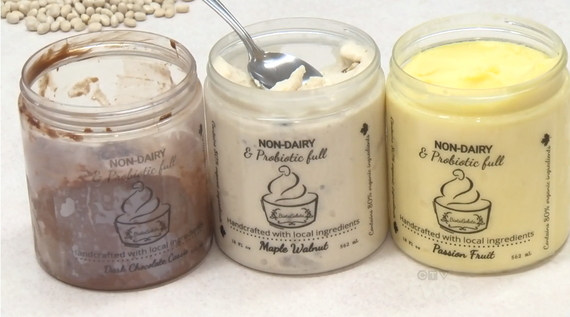 Not only did we want to find an innovative new use for a crop that Canada has in abundance, we wanted to create a product that would tap into the recent consumer trend towards dairy and soy alternatives. Around 16 per cent of Canadians would class themselves as lactose intolerant. That is why we have seen a rise in milks, yogurts and even ice creams that cater to this market.
However, the sugar content in alternatives can be high. BiotaGelata, on the other hand, contains less sugar than other dairy free items that often use soy as a base, as raw kidney beans contain 2.2 grams of sugar per 100 grams versus 7 grams per 100 grams for raw soybeans. The probiotics in the gelato, which are created in the fermenting process, also provide bacteria that are good for our guts. We have found that consumers are increasingly looking for this type of fermented products because it's a healthy alternative to dairy yogurt.
This month, we took our innovation to Chicago, to the Institute of Food Technologists Expo. We pitched the product to a host of potential investors and retailers, in the hope that BiotaGelata could be coming to a freezer section near you soon.
Alberta's agriculture is much more diverse than people realise - and we think it is time we began to make the most of it through new products Canadians can get excited about.
Related