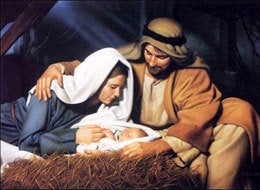 To say things are different in America is perhaps the greatest understatement of the year. Things are different all right, good-different and bad-different both. The change we can believe is underway, but not without many preceding transformations which were an inevitable outcome of stagnation, ignorance and apathy. In making way for the new, the old must always fall first.
So I watch with a sense of placid calm and silent, budding joy how Christmas in America has changed this year. Many would most certainly argue that for them it has changed for the worse. They find themselves in a place of lack, loss, or desperation when they are accustomed to security, if not abundance. Others find themselves on a precipice of uncertainty, wondering if the job they depend on for survival will be there in 2009 and if it isn't, wondering what - if anything - will take its place. Still others find themselves in a place of quiet reassessment, a space of cautious consideration of the potential adjustments they'll need to make in both personal and work lives as the result of multitudes of unknown influencing factors. They take a "wait and see" attitude, silently contracting into a conservative and rational stance at least when it comes to money and opportunity.
It seems the blacker the cloud, the more brilliant the silver lining. This year, Christmas has at long last become about less rather than more. The economic crisis - that great equalizer - has forced millions even while worrying about themselves to simultaneously think outside themselves. It has granted a much needed shift in viewpoint: it has given us perspective. For from without, we can see not only how much worse it could be for us, but more importantly, how much all of us as Americans have to be grateful for.
More than that, we can see with pinpoint clarity just how extreme the excesses of the past have become. Did we really need to spend $250 per child on Christmas gifts when the kids were toddlers and were more interested in tearing wrapping paper off boxes than possessing new toys? Did we really have to send 100 custom photo-printed hand-assembled craft Christmas cards that cost three times as much to produce per piece as to mail? Did we really need the new 10 ft. pre-lit Christmas tree to replace the 7 ft. artificial seasoned sapling, or the traditional natural pine? And what about the three new lawn inflatables (the neighbors have them you know)? The $100 cashmere sweater to wear at the office party? The $500 holiday dinner? The last minute shopping because the presents wrapped and sitting under the tree seemed too few? The conspicuous consumption because the sales are too good to pass up?
The obvious answer is, of course, no - we never needed any of it and still don't. This year for many the given excesses of the past have become impossibilities. For many more, the same excesses have at least become options, questioned rather than assumed (as they should be). Impossible or optional, either way we are now conscious of our ability to chose. In forcibly or optionally going without, we see how unnecessary most of our conditioned Christmas behavior was in the first place, and how fueled by capitalism it has incessantly been.
Stores are not jammed packed this year. Products are not flying off the shelves (there are plenty of Wii systems and Wii Fit modules still available). Retailers are, quite obviously, slashing and burning prices in a flurry of all but giving away merchandise. Plentiful parking is still available outside your local mall, Walmart or Target. Homes are not decorated to the hilt inside or out, and fewer holiday lights adorn the trim and shrubbery on our homes. Most people I know are planning to celebrate the holiday in small groups of immediate family and friends with a simple, lovingly prepared meal rather than with armies of family or marathon parties. Some are going away completely - vacationing as couples or in small family units to detach from the usual hustle and bustle of their lives.
Which brings me to the irony of the situation. (If the universe as teacher has a theme, irony must certainly be it.) Only in stripping away the commercialization of Christmas do we come anywhere remotely close to experiencing the true meaning and genuine gift of the holiday. Could it be that without the temporary happiness rush delivered by material aquisition, we have discovered the source of true and lasting happiness to be something entirely different, permanent and accessible to all?
The need for charitable donations and services has never been greater in recent years than it is this year. Despite financial downturn in the air, those with resources still intact (and/or incredibly generous hearts) have foregone traditional Christmas spending on themselves and instead have utilized the same money or physical resources to help others. The Secret Santa gift exchange at the office has instead become a group donation to adopt a cause or family in need. Time spent baking, shopping or socializing has been channeled into volunteer ministries to feed and clothe a growing number of people from every walk of life.
Necessity truly is the mother of invention. Like our government, our economy, and ourselves Christmas in America is being reinvented. And I, for one, hope this is just the beginning. Call me an incurable optimist, but I prefer to focus on the upside of what we've learned this year.
In the spirit of the season let us rejoice that we have been granted the gifts of courage, awareness and vision. Let us revel in our rediscovered pragmatism, reason and social responsibility. Let us give thanks for the preceding decades of physical abundance and overproduction which will supply those in need now with the goods and materials they currently lack. Let us reside in gratitude for how far we've come as humans rather than consumers, and measure our progress in the extent to which we do for others rather than the extent by which we compare to our neighbors. Last but not least, let us not forget the gifts and lessons of 2008 but instead build on them to continue reinventing this holiday, bringing it full circle back to its humble and sacred origins. I'm all ears waiting to hear your newly-imagined and inspired socially conscious Christmas traditions and am confident America is finally ready for them. Peace.