Nearly half of all U.S. undergraduates are enrolled in community colleges. As a nation, we must both support these institutions and challenge them to improve their record of student success if community colleges are to fulfill their potential as drivers of economic growth and social mobility.
The Aspen Prize for Community College Excellence was created to both recognize and challenge community colleges. A year-long process of research and analysis has enabled our expert selection committees to identify powerful examples of how the best community colleges are helping reinvent the delivery of higher education. Today we celebrate the 10 finalists for the 2015 prize, with special attention to four distinguished community colleges.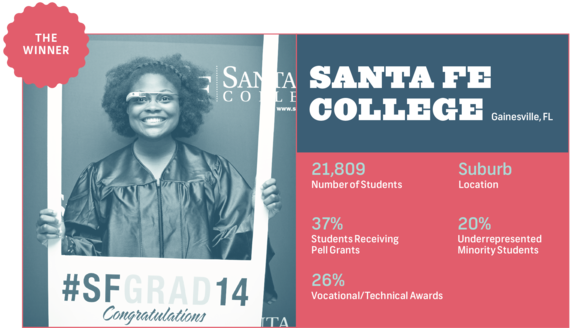 The 2015 winner, Santa Fe College in Gainesville FL, shows how completion and transfer outcomes can be transformed. When students first enroll in community colleges, the degree they most aspire to is one the community college typically cannot deliver: a bachelor's degree. In the end, fewer than one in five students who enter a community college ever receive a bachelor's. The 2015 Aspen Prize winner Santa Fe College, in Florida, shows how a community college can help students transfer to a four-year school and receive a bachelor's degree at a rate more than double the national average. Santa Fe has created clear, rigorous pathways to degrees at nearby University of Florida (UF). In addition to receiving strong advising and experiencing a highly visible UF presence on the Santa Fe campus, students are aided during class registration by unique technology that enables them to align their course choices with transfer requirements (and avoid missteps along the way).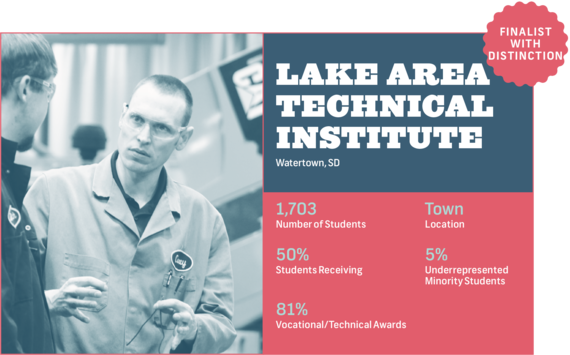 Finalist with distinction LATI leads the way in graduation rates and success in the workforce. While some community college students graduate into good jobs, far too many flounder. Lake Area Technical Institute in South Dakota -- a 2011, 2013 and 2015 finalist-with-distinction -- stands out for achieving strong employment outcomes for its students, 73 percent of whom graduate or transfer. This rate is higher than a vast majority of four-year colleges, and is largely attributable to the college's highly structured, block-scheduled programs that feature hands-on learning.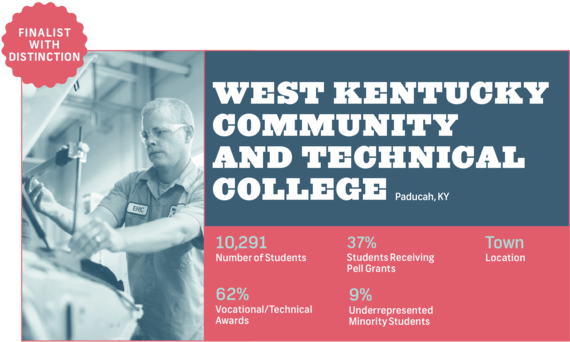 Finalist with distinction West Kentucky has developed remarkable systems to improve teaching and learning. As community colleges strive to improve completion, so too must they work to ensure that teaching and learning in the classroom align to what students will need after they graduate. West Kentucky Community and Technical College is a national leader in developing strong faculty practices around learning assessment and developing culture in which faculty regularly share learning outcomes and learn how to become better instructors. Among the results: student reading scores have dramatically improved campus wide, graduation and transfer rates are 8 percent above the national average and there is no graduation gap for minority students.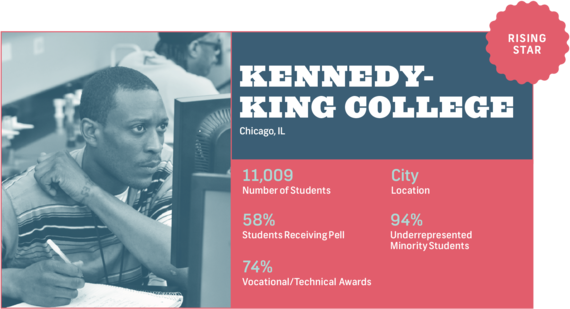 Rising Star award winner Kennedy-King College shows how rapid improvement can be achieved. Part of the City Colleges of Chicago's Reinvention effort, Kennedy-King has tripled its graduation rate in just a few years. How is such a transformation possible? By providing students much clearer degree pathways coupled with wraparound services that shepherd them from entry to graduation.
Typically, community colleges are praised for their mission of broad access and criticized for low levels of student success. The 2015 Aspen Prize winners, and dozens of other top contenders, belie this dichotomy. They show that America's community colleges have the potential to be beacons of access AND achievement.
And that's good news for all of us -- especially for the millions of students who are counting on their local community colleges to give them the tools and knowledge they need to succeed in college and in the workplace.
Related
Popular in the Community