The Jewish Museum's Reinventing Ritual exhibit features 58 artists imagining religiously ordained commandments and age-old customs in light of current cultural and political realities. Curated by Daniel Belasco [full disclosure: a former Heeb Magazine associate editor], the exhibit very much reads much like a good magazine, combining the weighty with the light, embracing tensions and contradictions rather than attempting to reconcile them and provoking -- not for provocation's sake, but for ends that are not always easily ascertained in one viewing. While the works in the show were produced from the 1990s to present day, the exhibit harbors larger intentions than merely reflecting the latter period.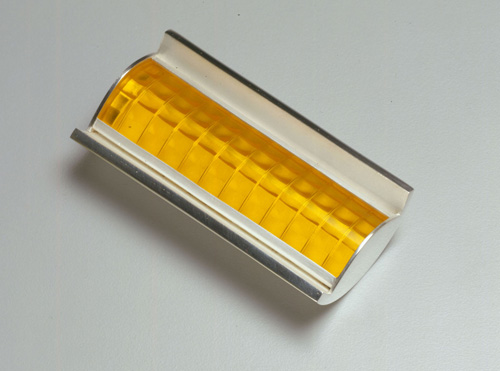 Alix Mikesell (American, b. 1966), Embrace, 2003, silver and plastic reflector. The Jewish Museum, New York, Purchase: Contemporary Judaica Acquisitions Committee.
Nearly every artistic medium is accounted for in this exhibit -- a collection ranging from comics to installation to sculpture to film to jewelry. Many of the pieces -- such as a menorah made out of metal piping by Joe Grand, or a set of mezuzahs made from recycled materials by Alix Mikesell -- tend toward the typically twee Jewish object art. Others such as "Mouth to Mouth," a collection of thousands of ingestible gel caps each containing passages from Leviticus, are more obfuscating. While artists Johanna Bresnick and Micheal Cloud may pass their gel caps off as a metaphor for the "assimilation of spiritual knowledge through the flesh," it's hard to look at their piece without also thinking of phenomena like placebo effects and Münchausen syndrome.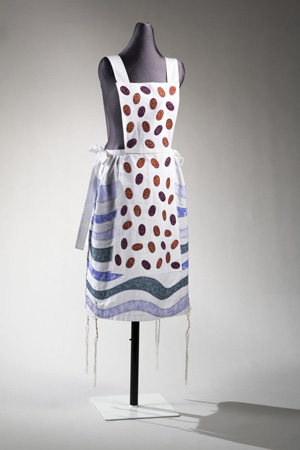 Rachel Kanter (American, b. 1970), Fringed Garment, 2005, cotton fabric, cotton thread, cotton floss, fusible webbing. The Jewish Museum, New York, Purchase: Dr. Joel and Phyllis Gitlin Judaica Acquisitions Fund.
In "Fringed Garment," Rachel Kanter weaves a prayer shawl from a kitchen apron. Kanter's piece is less an indictment of the custom of wearing the prayer shawl than a reinterpretation that she feels more comfortable in. "When I wore Tallit for the first time, it felt uncomfortable, as if I were wearing my father's overcoat," the artist explains in an accompanying video. "If I wanted to wear a tallit, it should be made just for me."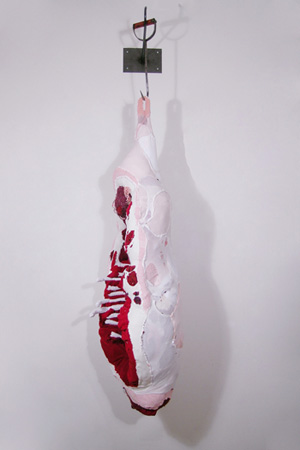 Tamara Kostianovsky (Argentinean, b. Israel 1974), Unearthed, 2007, clothing, embroidery thread, metal hooks. Courtesy of Black and White Gallery, New York.
Aesthetic efforts like these resonate nicely with more dissonant moments like "Clothed," a full-scale, butchered cow carcass by Tamara Kostianovsky, which was made from the artist's own clothing. Because Kostianovsky uses clothes, the markers of culture and style, in lieu of flesh, the animal takes on a new persona. Kostianovsky elaborates in the exhibition catalogue: "My hope is that the reflection and careful examination of the act of animal killing will instill a visceral empathy that will in turn make us question current military approaches, social injustices and the way 'fleshy clothed bodies' are treated around the world."
With one eye always fixed on the outside world, the exhibit is hardly an insular exercise in aesthetics. The works seem to suggest ways that religious ritual may increasingly come to interact with a more sustainable and harmonious future, where identity is increasingly connected to action. Reinventing Ritual is a bold conversation about the Jewish future. Who would have thought it would have happened on the Upper East Side?
"Reinventing Ritual" will be on view from now to Feb. 7, 2010, at New York City's Jewish Museum.
Related
Popular in the Community