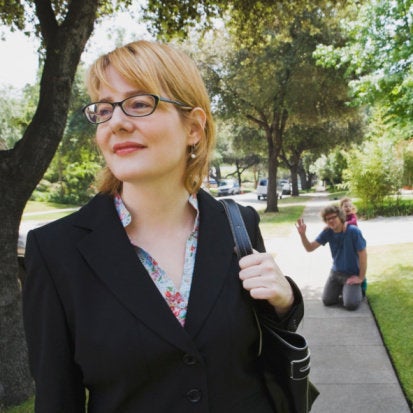 When Al and Tipper Gore announced their separation after 40 years of marriage, the blogosphere was filled with emotions, ranging from alarm ("this was the last marriage we thought was in trouble") to nonchalance ("so what else is new?"). Most discussions led to a similar conclusion: even good marriages are hard to sustain for a lifetime as our lives extend well into our 80s and 90s. For the Gores and couples in their 60s, four decades together is a good amount of time for love, marriage, career-building and child-rearing. At midlife it may be time to look somewhere over the rainbow rather than feel over the hill.

So as the shock waves receded, the discussion broadened to focus on the new opportunities that separation at 60 offered. A relationship expert on CBS morning show encouraged newly divorced women to think of "60 as the new 20." She suggested they go on Facebook, tap into the girls they once were and reinvent themselves. Hopeful and proactive advice, to say the least, but as a psychologist who has worked with many women at midlife, I find that this phase of life is for many, well, complicated.
Some women see 50 and beyond as a time to enjoy greater freedom from responsibility and for increased opportunity for pleasure and leisure. But many others feel anxious and depressed as they anticipate all the changing that aging brings. Below are three key emotional components that distinguish these two groups. I call them 'the three R's for reinventing yourself.' If you want to be psychologically prepared to make the most of the next phase of life, keep these in mind.
Resilience: Reinventing yourself requires the ability to rebound from the challenges you face. It is important to assess how resilient and resourceful you feel before inviting major changes in your life that go beyond those that naturally come your way. Whether it be making a change to your career, leaving your husband or taking on something new and different, women who have internal resources are better equipped to rise to the challenge of change. 'Out with the old and in with the new' takes energy and effort. Those who move forward feeling enthusiastic about their future find resilience very important. Those who feel scared and depressed feel empty. The ability to be resilient is key in finding new ways to cope with, and even enjoy, new beginnings.

Reliance: Women tell me that making major changes at midlife can leave them feeling very alone, at least for a period of time. Looking forward may be a positive move, but it almost always requires leaving behind what is familiar and comforting. The ability to rely on others and ask for help is important while a transition is made to new dependable sources of comfort. If you don't have the ability to rely on family and friends, reinventing yourself can be difficult and excruciatingly lonely. Assess realistically who you have around you that you can trust to be supportive and evaluate your ability to rely on them. Taking the risk to reinvent yourself requires a combination of independence and dependence, finding a balance between self reliance and the ability to rely others.
Renewal: To successfully reinvent yourself, it is important to be flexible, to be able to renew and refresh how you view yourself in your life. Remember, old roles that you may want to leave behind -- as wife, mother, daughter -- have been part of your identity for years. Some women get stuck, afraid to let these old roles go. They may want to leave them, but don't feel the flexibility in their self-definition. For example, when a woman sees herself as successful only if she is working, it is difficult to leave her job. Women who have spent years in a bad marriage, but are afraid to be alone, can't see themselves as single. Women who get stuck on feeling attractive only when they appear youthful are unable to age gracefully. These women may want to reinvent themselves, but get stuck. Women who have flexibility can revitalize their lives as they age, looking forward to an ongoing renewal of who they are and who they will become.

Before you jump at the chance to reinvent yourself (at any age!) you may want to consider whether you are psychologically ready to take advantage of the new opportunities that present themselves. Look before you leap -- from the neighborhood where you lived, a long-term marriage or a career of many years. You might just want to prepare your self with the three R's.
Copyright 2010 Vivian Diller Ph.D., author of Face It: What Women Really Feel as Their Looks Change
Related