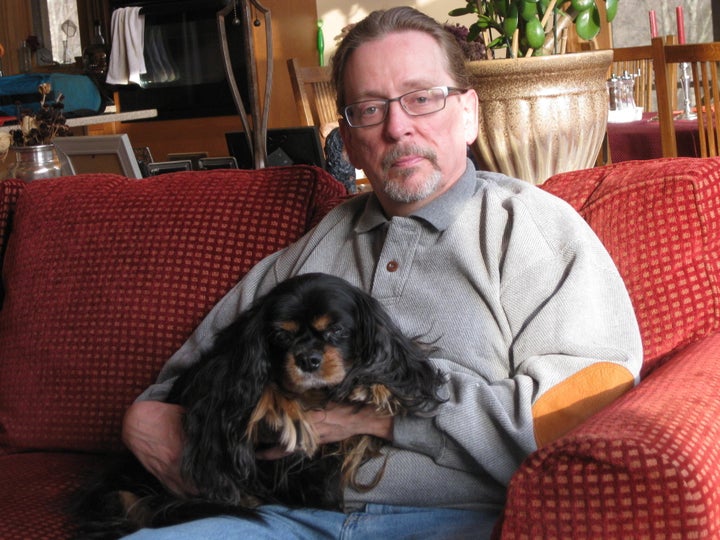 Gray Basnight, now 59, vividly recalls the day three years ago when, as part of a massive layoff, he lost his job of 14 years as a Bloomberg business radio reporter. Right next to him, a single mother who had just been handed her notice wept uncontrollably -- she had only weeks earlier bought a home and committed to a mortgage. "I thought they were going to have to bring in psychological help for her," Basnight recalled, "It was an awful time."
And yet his reaction to his own situation was out-of-sync with the grief that surrounded him. Yes, his job was ending, but he also saw a chance to pursue a dream of becoming a published novelist. "[My wife and I] had often talked about my taking a work sabbatical to finish the novel but didn't welcome the idea of cutting our income or losing what was then good health insurance coverage for such a long shot," he said. The layoff meant he would be able to work eight hours a day on the Civil War novel he had been trying to write for years on weekends.
Launching an encore career can be a difficult proposition, according to a MetLife Foundation and Civic Ventures survey of 2,500 people who made the leap. Respondents said it took an average of 18 months to make the transition, and more than two in three experienced gaps in personal income during the process.
Kerry Hannon, personal finance writer and author of the new book "Great Jobs for Everyone 50+," says there are two key elements to consider before you bail out of the salaried workforce to fly solo: the shape of your finances and your tolerance for risk.
Instead of tapping retirement savings to fund your venture, make sure you have a year's worth of savings to cover your household and professional expenses, Hannon advises. Take a close look at your other obligations, such as a mortgage or college expenses for the kids, and how you'll pay for health insurance. Basnight was fortunate that he not only owned his home, he had a wife with a full-time job, with a health policy that would cover him. He also had few financial responsibilities -- no children, no aging parents for whom he was financially responsible -- and his severance package would carry him for a year or more.
Hannon also suggests looking for ways to downsize your lifestyle –- a necessity if you anticipate zero income for a period of time. One-quarter of those surveyed by Civic Ventures and MetLife said they earned no money during their career transition. Nearly four in five of those respondents experienced a gap of six months or more; 36 percent said their income gap lasted more than two years.
Basnight and his wife, for instance, cut their spending by about one-third, and live month-to-month without saving or making regular retirement contributions. They haven't taken a vacation in three years, stopped eating out, began doing laundry and housekeeping themselves and gave up dry cleaning. No cut is too small because they add up, Hannon said. She profiled a Hawthorne, N.J., man who opened a bookstore and found one major expense he could cut: He quit smoking.
But career transitions involve much more than finances. Here are Hannon's other tips for those contemplating going it alone:
• Know there is a market for what you want to do.
Just because you like knitting and want to teach people to knit doesn't mean your community is clamoring for a knitting store that offers classes. Do your research first. Hannon knows a single mom in Greenville, S.C., who was laid off from a L'Oreal sales job. Biking was always her thing, and she got a minimum-wage job at a local bike shop. "It became clear to her that there was a huge need for women who loved biking to have a shop to come to that didn't have a big macho thing going on," said Hannon. The woman sought out development loans and got aid from the Small Business Administration; she now runs her own successful bike shop for women.
* Get yourself trained.
Hannon recalls a Wall Street investment banker who had an epiphany after 9/11: He didn't want to raise his kids in New York, and he longed for the simpler life of his hometown Pittsburgh. He and his wife fancied themselves gourmet cooks, and his dream was to open his own Italian restaurant. He stepped up when a buyout package was offered from his banking job and spent several months working in Pittsburgh restaurants -- doing everything from waiting tables for minimum wage to working in the kitchen. "He tried it first and learned what he needed to learn," said Hannon. Today, he and his wife run a successful "red sauce" restaurant in Pittsburgh, and the whole family works there, including the kids on school breaks. Hannon suggests taking courses at community colleges and getting the skills you need before you walk the plank alone. She recommends the Senior Entrepreneurship Works website as a first stop.
• Before you embark on this course, make sure your family is on board -- especially if one spouse is becoming the sole breadwinner. Spell out what the goals are and set a deadline to meet them. Have a monthly family meeting to check in –- situations like this are "ripe for resentments," Hannon said. When one person stops producing income, even if for a short while, everyone has to be on board with the plan.
• Practice positivity.
Hannon finds it helpful to have a board of mentors -- "people who believe in me." She consults with her board to kick ideas around and for feedback on how she's doing. Working as an entrepreneur is a very solitary process, and many people are used to working in a group environment. The other problem some entrepreneurs have is that they come from a work environment where they were top dogs. They are newbies in the business they are trying to create -- and this can be discouraging at times.
After Basnight complete his Civil War novel, he learned that historical fiction is a hard sell for an unpublished author. Committed to the writer's life, he turned out another novel -- "The Cop With the Pink Pistol" -- in six months, and it was published in March to positive reviews. With one published novel under his belt, he was able to get an agent committed to helping him publish the historical book.
• Ask yourself the BIG question.
Do you feel this in your gut? "I've never met a successful person who wasn't 100 percent certain, 100 percent confident, that they were going to be successful," Hannon said. Successful people always know the course they take is the right one for them -- even when it means they are working more hours than they ever worked when they had corporate jobs.
For Basnight, "failure is not an option. While this isn't adding much to our retirement fund, it has added to my self-esteem in knowing that I achieved a lifelong dream of becoming a published novelist. Even if the historical novel never sees print — the next manuscript, or the next manuscript, or the next manuscript — will!"
PHOTO GALLERY
Gray Basnight
REAL LIFE. REAL NEWS. REAL VOICES.
Help us tell more of the stories that matter from voices that too often remain unheard.