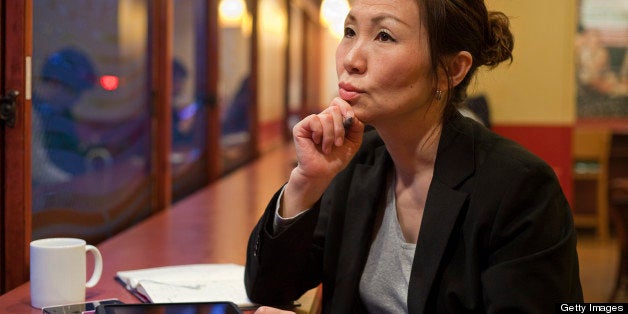 I know a thing or two about reinvention, and if you're a boomer, you probably do too. For college professors, the mantra was "publish or perish." For us, it's "re-invent and survive."
In my first invention I was an antique and art appraiser. I traveled all over the United States with a team of experts -- there was no way I could authenticate a Pre-Columbian sculpture! My clients were lawyers, insurance companies, and even the IRS (you'd be amazed at how many people donate something on December 31st for about ten times what it's worth -- but hey, if you don't get caught, it's a great tax write-off!).
After many years, I became disenchanted with how many people defined themselves by the value of their "stuff." Some people want a high appraisal so they can brag to their friends how much their "stuff" is worth. I remember one client who was very upset that I appraised her "stuff" using auction house values because her "stuff" was available there. She told me in no uncertain terms that she only shopped in Beverly Hills, never at auction houses. I told her I could make a case for evaluating in Beverly Hills, but her premiums would be much larger. That was fine with her. She could brag to her friends that her "stuff" was worth...
In the winter of my disenchantment, I opened two yoga studios and left the world of antique and art. I traveled throughout the world, conducting workshops and certifying teachers. After several years, my husband was drafted into politics, became a City Councilman, and then went on to Sacramento, California as an Assemblyman and Senator. When he went to Sacramento, I decided a photograph on a campaign "hit piece" of me standing on my head was probably not in the best interests of my marriage. Time for reinvention!
During the years leading up to Sacramento, I was also a Girl Scout Leader, soccer mother, baseball mother, chauffeur, etc. The empty nest and Sacramento arrived simultaneously. Now it was time to become a political wife. During the twelve years my husband was in Sacramento, I entertained Governors, Congressmen, lobbyists and politicians of every persuasion. I became somewhat of a gourmet cook and was fortunate to study cooking in Portugal, Italy, France, and numerous places in the United States. It definitely helped. I remember at one fund-raising dinner at our home one of the guests asked my husband who had catered the dinner; that he'd like to hire them for his next event!
During the end of my husband's term, a couple of things happened which led me to my next reinvention. The first one occurred when we were in Palm Springs for a wedding. Our son was the best man and the wedding party and guests stayed at an old renovated downtown hotel.
I'd always wanted to write, but like so many, I didn't feel I had the credentials to do it. I hadn't been to writing camps, and I hadn't participated in groups that analyzed and critiqued one another's writing. My husband read a review of Stephen King's 10-year-old book, On Writing, and suggested I read it. It was just what I needed. Stephen pretty much said, "Just Do It. You don't need those credentials." How freeing! Now, what to write?
It was 106 degrees in Palm Springs. The air-conditioner silently hummed, and to this day I'll never know why, but I turned to my husband and said, "Wouldn't it be interesting if somebody put a feel-good drug in the air-conditioner, and everyone felt good all the time?" He pointed his finger at me and said, "There's your book!" At dinner a large priest wearing a cross sat at the table next to us. He became a character in the book. I was seated next to a couple from Brazil who owned gold mines at the wedding dinner. They became characters in the book. And so it went. We had lunch at the Blue Coyote Restaurant. The book title became the Blue Coyote Motel. I started writing and never stopped -- on an iPad!
While I was editing Blue Coyote in Sacramento, we went to a political dinner and I was seated next to the most conservative, biased, bigoted person I'd ever met. I couldn't believe what he was saying. In a true moment of serendipity, I was seated next to him again the next night at a dinner. Tea Party Teddy, the book Sacramento politicians said shouldn't be written, resulted from those two evenings.
And now I'm a novelist with two published books and a lot more on the way. Every time you reinvent yourself, you're forced to learn something new. And a mind that's engaged in learning is a young mind. So what's your reinvention story?
PHOTO GALLERY
10 Great Ideas For Retirement Jobs
REAL LIFE. REAL NEWS. REAL VOICES.
Help us tell more of the stories that matter from voices that too often remain unheard.