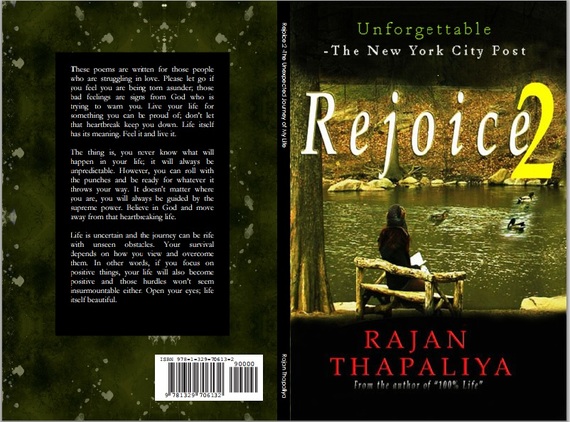 The idea behind the book is that once you understand the basic rules of life and only then can you progress to higher understandings. You can even achieve the impossible. Mr.Thapaliya believes that we should not run from the struggle because a way to success is through struggle and struggle leads to victory. The struggle is what makes life worth living and it makes the victory all the better. Examining my own life, I found that in many areas I wasn't living my life the way I expected to. This forced me to check upon my values, morals and my day to day activities because that's what makes me who I am, and ultimately by the means of law of attraction, I attract just what I am. Fortunately, I wasn't too late before making few corrections that otherwise could have huge repercussions in my career and legacy. The whole purpose of my book is thus to force the readers to examine the life they are living and make necessary changes to reach the destination of their choice
These poems are written for those people who are struggling in love. Please let go if you feel you are being torn asunder; those bad feelings are signs from God who is trying to warn you. Live your life for something you can be proud of; don't let that heartbreak keep you down. Life itself has its meaning. Feel it and live it.
Book Details
ISBN - 9781329706132
Copyright - Rajan Thapaliya (Standard Copyright License)
Edition - First (paperback edition)
Publisher - Lulu Press
Published - November 22, 2015
Language -English
Pages -122
Binding -Perfect-bound Paperback
Interior Ink -Black & white
Weight -0.52 lbs.
Dimensions (inches) -6 wide x 9 tall
The thing is, you never know what will happen in your life; it will always be unpredictable. However, you can roll with the punches and be ready for whatever it throws your way. It doesn't matter where you are, you will always be guided by the supreme power. Believe in God and move away from that heartbreaking life.
Life is uncertain and the journey can be rife with unseen obstacles. Your survival depends on how you view and overcome them. In other words, if you focus on positive things, your life will also become positive and those hurdles won't seem insurmountable either. Open your eyes; life itself beautiful.
The path we describe in this book is a path which will lead you to a life greater than just of material success and happiness. It is a path as lived by Jesus Christ and Lord Krishna. It is a path that causes a spiritual revolution in every human being and causes them to find the Supreme Being in themselves. This book is a map parallel to the teachings of Bhagavad Geeta, Bible and Koran. The application of the principles described in this book will lead one to a life of great fulfillment both materially and spiritually,
Popular in the Community