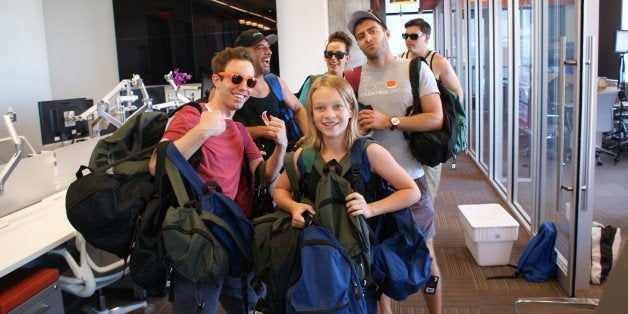 One of Chris Hooley's favorite ways to pass the time on hot, Arizona summer days with his 11-year-old daughter Kaylee is to skim their social media news feeds for the latest viral videos. When he came across TrueStoryASA's YouTube video "Make The Homeless Smile – Worldwide" last year, he knew he couldn't wait to share his find with her. But he had no idea how much it would inspire her next steps.
After coordinating and participating in frequent outreach events for the homeless, Kaylee managed to turn her service efforts into a charitable organization of her own. ReKindle, her way of helping those less fortunate and inspiring others to do the same, officially launched this summer and has continued to grow at an incredible rate.
It all began less than 24 hours after Kaylee and her father watched the video about helping the homeless, both of them choking up by the end of it. Feeling moved to follow its example, the Phoenix natives created a MeetUp.com event to gather volunteers for their first attempt at helping the homeless in their city.
"We had no idea what we were doing," Chris Hooley, 37, told The Huffington Post. "We were just like, 'We're going to go out and help people out in the street who are having a tough day.' It was really hot out, so we brought cold Gatorade."
He didn't realize Kaylee was videotaping the entire event with her iPod camera until she transformed the footage into her first YouTube video a couple hours after they returned home that day.
"When we said we should totally do this, she took it very literally," he said. Soon they were hosting similar street events any time they had donations to give away, from food to clothing to medical supplies to backpacks. Kaylee continued filming them and posting them on YouTube, hoping to inspire others to perform similar acts of kindness. The events evolved organically, and as more and more volunteers joined in the movement, they realized the potential of the work they were doing and decided to organize.
Hooley, a freelance web marketer by trade, designed the reKindle website, and set up the organization's social media accounts late this spring as Kaylee's efforts continued to gain momentum. As Facebook likes accumulated, so did the number of volunteers requesting to help.
One of the breakthrough moments for reKindle occurred during a short outreach trip in Chicago. Hooley and a few volunteers had several hours to hand out backpacks and supplies to the city's homeless before catching a flight, and his Go-Pro caught a wonderful interaction with a homeless person in need. When they met Albert, the man in the video below, they had no idea that it was his birthday or that their assistance would leave such a powerful impact both on him and themselves.
This video, their most successful to date, has nearly doubled the number of YouTube views of the video that inspired their efforts in the first place. And the more videos they post, the more donations they receive.
"When you're going the right direction in life, people just kind of jump in and help guide and push you that way," said Hooley.
ReKindle gives out items purchased by Hooley, and many of its necessities are donated by volunteers, local businesses and charities. It even has taken on national supporters, like KIND. Since launching reKindle, Hooley has left his marketing work to manage the organization full-time. Their 501(c)(3) status is currently pending.
"My whole life I've been on the 'go-getter' side, pretty successful in business," said Hooley. "In the past couple of years, I felt like I was taking from the world, and I was looking for something that made me feel better and leave a legacy. This is my path in life, and it took my 11-year-old daughter to help me figure it out. I didn't even know, but I've never been so sure of anything."
As for Kaylee, the amount of personal growth she has experienced in just a year's time is remarkable. As a child, she always dreamed of being on television, and her father told her she first needed to do something worth sharing with the world. Now, local news affiliates and ABC News are sharing her story of rekindling kindness across the country.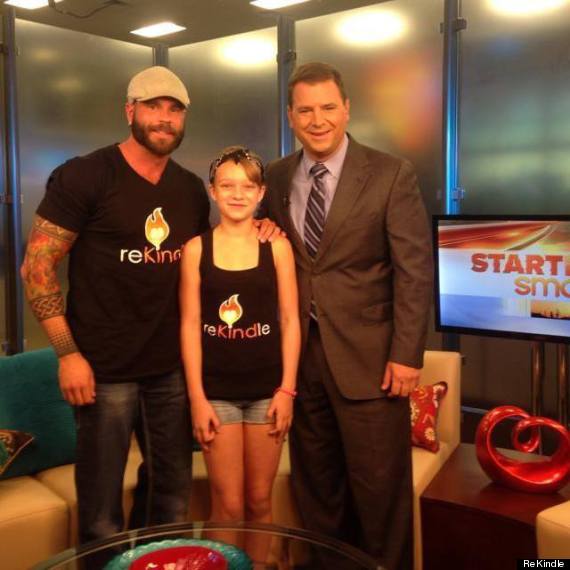 Kaylee (center) and Chris Hooley (left) at the CBS5 Studio with Pat MacReynolds
"She's a different person," said Hooley. "She's got this confidence about her now. … She was always worried about what other people thought of her, and this year with all the new attention and being on the news and people coming up to her giving her pats on the back telling her how awesome she is, all of a sudden she has all this confidence. It's been so good for her in so many ways -- the positive reinforcement, the fact that she loves doing this stuff, she's gets to be on TV like she's wanted ever since she was little, she's had all of these experiences. I can't even explain how life-changing it's been for the both of us."
This article is part of a series produced by The Huffington Post highlighting the contributions of Go-Givers -- people who are looking beyond a "Go-Getter" approach to success and redefining success to include the importance of giving back. To nominate a Go-Giver of the Week, email gogiver@huffingtonpost.com.
Calling all HuffPost superfans!
Sign up for membership to become a founding member and help shape HuffPost's next chapter
BEFORE YOU GO
PHOTO GALLERY
Kids Making A Difference