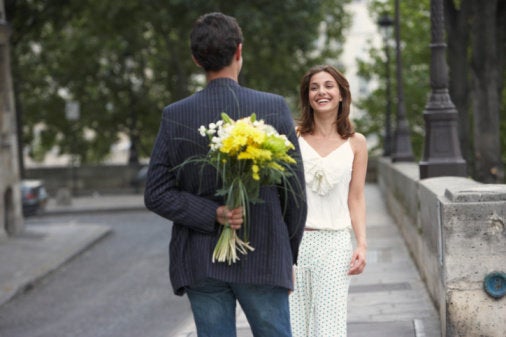 This post is part of the "Modern Male Brains & the Young, Powerful Women Who Love Them" series compiled by Dr. Louann Brizendine, neuroscientist and author of the recent book, The Male Brain. The series explores how the next generation of women relates to love while balancing complex, stressful lives.
Early on, I was one of those women who didn't believe that "powerful, successful women" could find a partner, so I was content with the idea of working most days and nights and dating intermittently. At the same time, I didn't have too much faith in relationships. As a product of a divorced home, I thought love meant you showed vulnerability and that vulnerability was met with pain and betrayal. So, for me, vulnerability equaled weakness.
My grandparents had been married for over 50 years, so the idea of love and relationships wasn't completely esoteric, but it was more like a fairytale that wasn't likely to happen. I knew and believed that I had the right to strive for greatness as a professional, as a mother, as a woman and as a wife, without having to sacrifice one for the other. I had the right to chase that. This idea was ingrained in me by many trailblazers before me. But practically in the world in which I lived, and in the culture I was navigating, there were few examples of women who effectively translated that right into reality.
I entered a friendship in college that eroded my cynical ideas about relationships, trust and love. He challenged me intellectually, spiritually and personally. I can remember sitting on the phone with him all night debating whether the invisible hand of the market or government policy were better suited to help solve some of the day's most pressing problems. He challenged me to think comprehensively about the world and not just though one prism; I challenged him to be focused.
It was an interesting philosophical debate and an even more interesting budding relationship. My intellect, aggressive nature and passion were nurtured and appreciated rather than seen as a threat. We began dating after he graduated college; he was one year ahead of me. As I began to figure out what I wanted to do with my life, faced with many options and opportunities, I realized I relied on his input more and more. He had become one of my closest friends and my greatest supporter.
When offered the opportunity to serve the mayor of Indianapolis for a short time, my new beau encouraged me to take the opportunity because it was a once in a lifetime chance to work on charter school education. He was right. His input was a small act, but the fact that he was interested in me pursuing my dreams began to re-frame my idea about what was possible in the right relationship. His support of my dreams would not end -- later he would encourage me through graduate school, work opportunities with Mayor Bloomberg and currently with Mayor Booker.
We grew closer and soon my idea of passing on relationships, or at least this one, seemed unfounded. We shared our hopes, dreams and insecurities, and we challenged each other to overcome them. I overcame my biggest fear -- falling in love -- on May 21 2005, when I said "yes" to Brian Bell on the top floor of a beautiful restaurant overlooking the Grand Canal, where only he and I dined, in Italy. Today, I challenge the notion that powerful, ambitious women can't discover happiness with a partner. I believe they are out there.
Today, he and I balance our lives together. I am a mother, wife and a professional. It is not easy, as each day is an acrobatic challenge of juggling schedules and priorities. However, with a partner who believes in me, and believes in us, we have been able to transform what was for me only the stuff of fairytale into tangible reality.
Related