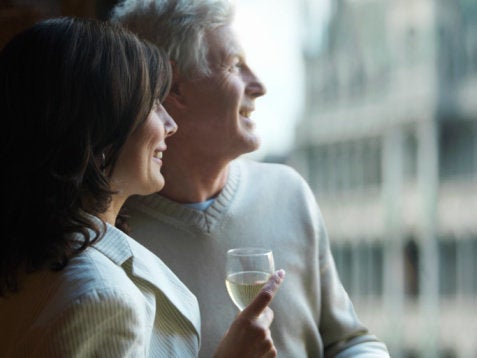 Whether it's your boss, the kids, a friend or your partner, relationships take time and energy. What caused the sleepless night, or the emotional high (then low), or what's gotten under your skin so you've been agitated all week?
Regardless of the duration, relationship struggles and surprises -- both good and bad -- can be energy zappers on par with any nutritional deficiency or energy challenging habit. Thus, no energy makeover would be complete without ongoing coaching from a relationship expert. Enter Heide Banks, relationship coach and Huffington Post blogger who began meeting with Marissa over a month ago to help her navigate relationships for optimal energy. For more on Heide's advice and how it's helped Marissa, check out their blogs as well as the recent Good Morning America Health segment where we all met to get a recap of Heide and Marissa's initial month together.
As work has heated up, Marissa continues to fit it all in. But this month she's made some adjustments, so that getting it done on one front -- like nutrition -- doesn't mean she has to sacrifice in other areas. She is doing evening yoga at home, which means that her home practice is more of a relaxation than an energizing morning practice. That leaves time in the morning to have breakfast with her son and also use the skincare regime that she learned last month.
However, during the work day, the limitations of a new office set up (no blender) mean that she's switched from her energy smoothies to a fruit and nut or nut butter combination. As we discuss this, I remark that I am proud of Marissa for passing on the less nutrient dense snacks at the office which likely abound. We discussed the possibility that -- as the 'Total Energy' makeover continues -- perhaps I will be able to help her makeover the office kitchen. In the past, I've done "kitchen makeovers" for corporate offices as well as for the AKA Craft Services Makeover project on television and film production sets in LA and NYC. It's something to consider because it benefits everyone when we ditch anything with artificial ingredients and replace them with organic ones; it also allows for the company to vote with its dollars for the environment as well as the health of its employees.
I am really excited to check in with Marissa as the month continues as she will be meeting with Joy Pierson at Candle Cafe in NYC to learn how to make some different organic, vegetarian fare and possibly to arrange for some lunch and midday eating occasions to be delivered to the office on days when Marissa can't leave or when they are having guests in to the office.
Stay tuned to see what these two cook up.