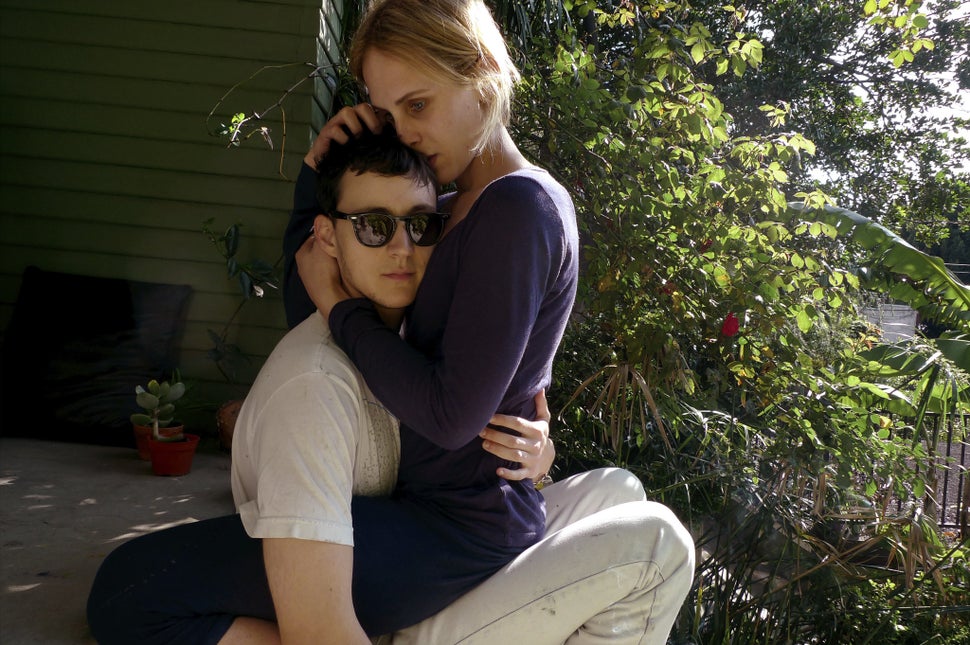 "Whatever I am, or have since become, I know now that slipperiness isn't all of it," Maggie Nelson writes in her poetic memoir The Argonauts. "I know now that a studied evasiveness has its own limitations, its own ways of inhibiting certain forms of happiness and pleasure. The pleasure of abiding. The pleasure of insistence, persistence. The pleasure of obligation, the pleasure of dependency."
The book is an undulating ode to her relationship with the gender-fluid artist Harry Dodge. In writing about their courtship and marriage, Nelson embraces the freeing act of casting off gender norms, while also pledging allegiance to a committed relationship.
She's a fitting writer, then, to contribute to a book of photos and writing about a couple like any other -- a couple that leaves loves notes scrawled on napkins, snaps pics while eating watermelon, and hangs out on their beige couch -- except that neither person adheres to gender binaries and each is in the midst of undergoing a transition.
"It's become something of a lazy commonplace that gender is best understood as a relation we have with ourselves, whereas sexuality is essentially relational," Nelson writes in Relationship, which chronicles the offhanded photos taken by a trans/trans couple, artists Zackary Drucker and Rhys Ernst, in the throes of love.
The photos capture Drucker and Ernst lounging on wrinkly sheets, gripping peeled oranges on stoops, slouching by pools aside full ashtrays. Each image is a lo-fi slice of life. To flip through the book's images is to scroll through a couple's iPhone photos, scanning through the posed, the casual, and the intimate.
Rhys explains the project in the books introduction, writing, "Had we met at another point in our lives, we might not have been so driven to document ourselves. But we were in the unflattering throes of yet another puberty ... each learning from the other's gender history."
Collectively, the images project the idea that gender is only a performance insofar as any relationship is. There are moments of pure individuality, and moments where your private self curls up against someone else's private self, giving each other shape.
Calling all HuffPost superfans!
Sign up for membership to become a founding member and help shape HuffPost's next chapter
BEFORE YOU GO
PHOTO GALLERY
Trans Men Portraits