It used to be so simple. You'd be filling out some kind of form (probably for tax purposes) and come to the line that asked for your marital status. There were only two choices: "Single" or "Married."
How times have changed! Today we have open relationships and bicoastal marriages. With social media allowing members more leeway in how they choose to define themselves, it has become commonplace to see people who describe their relationship status as "It's Complicated."
The above film (starring Meryl Streep, Alec Baldwin, and Steve Martin) is a fairly vanilla affair compared to what happens in today's United States.
Instead of the proverbial "sailor with a girl in each port," there are frequent flyers, airline personnel, and road warriors who maintain relationships in multiple cities (even while they remain married).
It's no surprise to encounter widowed seniors who are "living in sin" because remarrying would cause them to lose significant financial income.
More people are starting to experiment with sex parties, polyamory, and throuples.
Nor is it shocking to learn about dominants who "own" their submissives.
Years ago, a Bay area physician told me about the time he was having lunch with some fellow doctors at a local hospital when the discussion turned to their respective marriages. Although the physician and his male partner were notorious horndogs, he didn't hesitate to remind his colleagues that his open relationship was far more stable and had lasted longer than any of their heterosexual marriages.
Two recent dramatic experiences depicted relationships that were far more complicated than anything that might be tracked for demographic purposes. One took ventriloquism to new heights; the other dealt with undead souls who, rather than acting like brain-starved zombies, were temporarily stuck in a form of limbo.
Based on a novel by Kazumi Yumoto, Kiyoshi Kurosawa's film, Journey to the Shore (which was screened during the 2016 San Francisco International Film Festival) starts off as a young Japanese woman, Mizuki (Eri Fukatsu), is giving a piano lesson to a less than gifted child (whose doting mother thinks Mizuki should take a different approach to teaching piano). Later, as she shops for groceries in a local supermarket, Mizuki impulsively purchases a bag of flour.
The flour turns out to be one of the key ingredients in a Japanese pastry (a boiled bun which contains a sweet filling). As she works in the kitchen, Mizuki hears an unusual noise and turns to see her husband, Yusuke (Tadanobu Asano), standing nearby. Tall, handsome, and quiet, Yusuke is happy to chow down on his wife's home-made pastry.
A former dentist, Yusuke drowned at sea three years ago. He calmly explains to Mizuki that his body was completely eaten by crabs and there is nothing left of his former self. While most wives might start screaming at the sight of their dead husband re-entering their home, Mizuki 's reaction is surprisingly matter of fact (making one wonder if she hadn't expected that, at some point, Yusuke would return for a visit). She reminds him to take off his shoes. Later, when he suggests they go on a trip and visit some exciting places (something like a second honeymoon), she agrees to join him.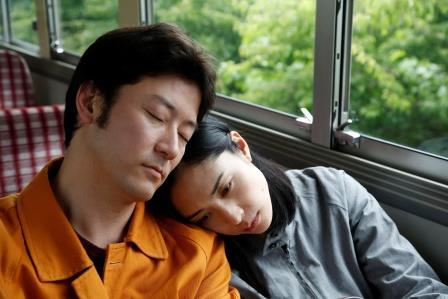 Tadanobu Asano (Yusuke) and Eri Fukatsu (Mizuki)
in a scene from Journey to the Shore
Money is no problem, nor does Yusuke have any trouble fitting into a crowd or making conversation with people. Strangely, he discourages physical intimacy and refuses to have sex with his wife. The goal of this trip is to visit people who were kind to him earlier in his life and are now struggling with their transition to another spiritual plane.
One of the people he visits is Shimikage (Masao Komatsu), an elderly man who prints a newsletter and seems intent on distributing his work to the local community. When the old man invites Yusuke and Mizuki to stay with him for a while, she discovers that Shimikage's favorite pastime is cutting pictures of flowers out of magazines and pasting them to the wall behind his bed.
Yusuke explains that, although Shimikage can still ride a bicycle to deliver his newsletter and run errands around town, the old man does not know that he is already dead. One night, after he goes to bed, Shimikage makes his final transition. The next morning, when Mizuki enters his room, she is shocked to find it in shambles, looking as if it had been abandoned for years.
As they travel around the countryside, Mizuki keeps having strange encounters. In one village, they visit the Chinese owners of a dumpling restaurant -- Jinnai (Tetsuya Chiba) and Fujie (Nozomi Muraoka) --- where Yusuke once had a job making gyoza. When Fujie shows Mizuki a banquet room which has remained unused for several years, Mizuki notices an old upright piano with some sheet music.
Later, when she starts to sight read the sheet music, Fujie angrily re-enters the room and scolds Mizuki, explaining how that piece of music had been her daughter's favorite -- so much so that the little girl would never stop playing it. As they talk, Fujie confesses that she wishes she could have apologized to her daughter for saying something mean to her shortly before the girl died.
After Fujie gives Mizuki permission to play the music again, her daughter miraculously appears. Mizuki gets up from the piano bench, asks the girl if she would like to practice the song, and guides her through the music as a tear runs down Fujie's face. Shortly after that, the child disappears into thin air.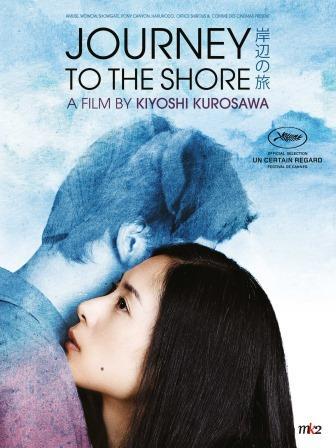 Poster art for Journey to the Shore
On another trip, the couple visits a farming village where Yusuke was the beloved teacher who explained physics and the universe to the community. His old friend, Hoshitani (Akira Emoto), welcomes them to stay with him and his widowed daughter-in-law, Kaoru (Kaoru Okunuki), who often seems dazed and confused. Kaoru's young son, Ryota (Daiki Fujino), frequently forgets to take his lunch to school. When Mizuki offers to bring it to him, Kaoru suggests that she look for Ryota by the local waterfall.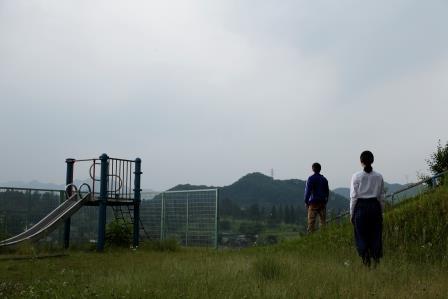 Tadanobu Asano (Yusuke) and Eri Fukatsu (Mizuki)
in a scene from Journey to the Shore
When Mizuki finds the boy, Ryota explains that if she looks carefully, she will see a dark patch in the water. Behind the waterfall is a cave that leads to the other world. Yusuke tells his wife that Hashimoto is one of the undead who doesn't want to die. After an emotional meltdown in the local woods, Hashimoto vanishes.
After returning home, Yusuke tells his wife that it's almost time for him to make his final transition. They make love one last time before going to the seashore, where Yusuke's soul is finally released from limbo.
Kurosawa's film finds its roots in Ohigan, a custom derived from a mix of Buddhism and Japanese Shintoism. The word (which derives from Sanskrit) means "reaching nirvana" and essentially indicates a respect for one's ancestors and the never-ending cycle of nature.
Journey to the Shore is a delicate and intimate film which depends on a lot of internal acting from its two leads. With a highly romantic musical score by Naoko Etô and Yoshihide Ôtomo, it aims for the sentimental without ever being overtly manipulative. Its running length (slightly more than two hours) may seem a bit long, but a film in which one learns to understand death through observance, introspection, and intuition demands that its chosen pace be respected.
It goes without saying that TheatreWorks Silicon Valley's new production of Cyrano is a much more rambunctious affair which is not the least bit concerned with Buddhism, Shintoism, nirvana, or peace and quiet. Back in 2010, when the San Francisco Opera presented Placido Domingo in Petrika Ionesco's massive production of Franco Alfano's rarely-performed operatic adaptation of Cyrano de Bergerac (1936), audiences were treated to a lavish spectacle with a musical score that matched the operatic passions of its principals.
Using a new translation of Edmond Rostand's famous play, Cyrano de Bergerac (1897) by Michael Hollinger and Aaron Posner, this TheatreWorks production pares down the spectacle, trims some of the text, and reduces the cast to eight men and two women (thus making it much easier to stage and a far more affordable enterprise for regional nonprofit companies operating on a tight budget). Directed by Robert Kelley (with help from fight director Jonathan Rider), this staging features costumes by Fumiko Bielefeldt and scenery designed by Joe Ragey.
For those who have only experienced Rostand's story in Steve Martin's 1987 film adaptation, Roxanne, it may come as a shock to see Cyrano's antics unfold on a small stage with a tightly-knit ensemble. Introduced to the audience by Le Bret (Michael Gene Sullivan), the production employs several skeletal scenic elements, but mostly relies on the work of an energetic cast to draw the audience into their description of how the versatile Cyrano (J. Anthony Crane) defeated 100 men in a recent battle.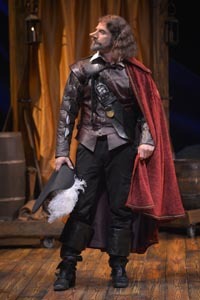 J. Anthony Crane as Cyrano de Bergerac
(Photo by: Kevin Berne)
In addition to being a fearsome fencing foe, Cyrano is also a prolific writer, poet, and political critic. The real man upon whom Rostand based his play was noted for pissing off the people he mocked. Acutely sensitive about his extra-large nose, Cyrano has resigned himself to loving his cousin, Roxane, in silence for fear that she would laugh at any declaration of love that he might proffer.
What Cyrano cannot bring himself to believe is that the well-read Roxane (who has a pretty strong mind of her own) could rise above the masses and see him for the beauty of his soul (rather than scorning him for the ugliness of his face). In this production, Sharon Rietkerk does a wonderful job of telegraphing Roxane's wit, intellect, feminine guile, and ability to mentally spar with someone when given the opportunity.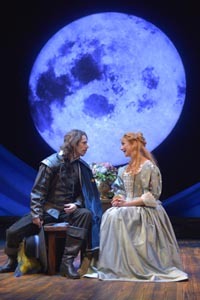 Chad Deverman (Christian) and Sharon Rietkerk (Roxane)
in a scene from Cyrano (Photo by: Kevin Berne)
The conflict at the heart of Rostand's play is that a handsome young chevalier named Christian (Chad Deverman) has fallen head over heels in love with Roxane. While Christian is a most attractive stud, he's also horribly inarticulate. When Roxane asks him to write to her, he becomes desperate for help.
Enter Cyrano, another member of the famed Gascony Cadets who offers his help in making the tongue-tied Christian sound mildly coherent (if not floridly romantic). The ruse works well for a while, enabling Christian to find his way into Roxane's arms. The play's balcony scene (in which Cyrano starts to feed lines to the stammering soldier and eventually simply speaks from his heart while remaining out of Roxane's sight) is a classic moment in romantic comedy.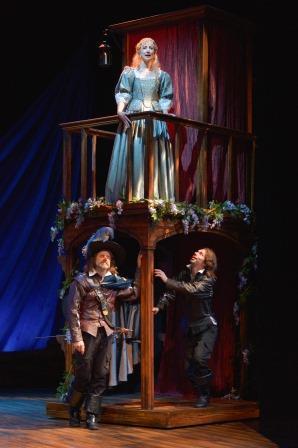 Cyrano (J. Anthony Crane), Roxane (Sharon Rietkerk),
and Christian (Chad Deverman) in a scene from Cyrano
(Photo by: Kevin Berne)
When the jealous Comte De Guiche (Peter James Meyers), who lusts after Roxane, discovers the identity of his rival, he sends the Gascony Cadets off to fight in the war against Spain. Roxane (who has successfully managed to thwart De Guiche's amorous advances) begs Cyrano to look after Christian and make sure that her husband remains safe. Never one to do things halfway, Cyrano promises that Christian will write to her every day and devotedly makes his way past the enemy's drunken guards to post a daily missive to Roxane.
All through their time on the battlefield, Christian has no idea of Cyrano's literary efforts on his behalf; nor does Roxane have the slightest inkling about who is actually writing the letters she treasures so deeply. When Roxane disguises herself as a young boy and makes her way to Arras (where the Gascony Cadets are encamped), she enjoys a brief reunion with her husband before Christian is killed by an enemy bullet. Luckily, Cyrano had planned for this possibility in advance and written a letter to be given to Roxane in the event of the young soldier's death.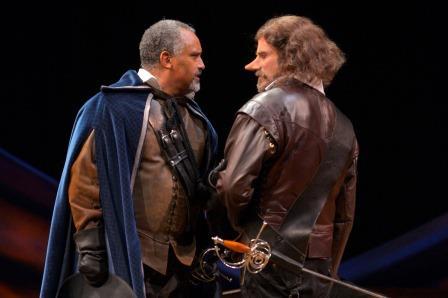 Michael Gene Sullivan and J. Anthony Crane
in a scene from Cyrano (Photo by: Kevin Berne)
The final scene takes place 15 years after the war has ended. Roxane has entered a convent and looks forward to weekly visits with her devoted cousin, who brings her all of the latest Parisian gossip. After word reaches the convent that Cyrano has suffered a severe head injury at the hands of one of his political enemies, he arrives for his weekly visit, painfully aware that it will be his last. His famous death scene (in which Roxane realizes who truly captured her heart) remains a genuine tearjerker, beautifully staged in this production by Robert Kelley.
As one listens to a live performance of Cyrano, one becomes acutely aware of the loss of poetry from our daily lives.
In a timely move, this new translation mocks Christian's arrival by having everyone in the Gascony Cadets refer to him as "the new guy."
As opposed to Montfleury's hammy efforts onstage, Cyrano's prompted phrases for Christian to use and the ardent letters he writes to Roxane bring audiences back to a time when poetic passion was an integral element in the act of wooing a lover.
Comparing Rostand's language to the texts sent in today's hookup culture via applications like Tinder and Grindr ("UR HOT," "STATS?") reveals how the ability to clinically swipe one's way through a catalogue of faceless torsos and available profiles has become an utterly dehumanizing experience that strips romance and spontaneity from the process of meeting someone new. As Tina Turner would say, "What's Love Got To Do With It?"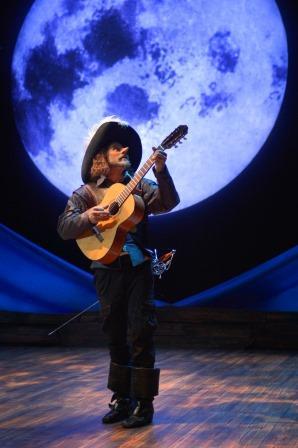 J. Anthony Crane as Cyrano de Bergerac
(Photo by: Kevin Berne)
All three principals (Crane, Deverman, and Rietkerk) excelled in their roles. They received sturdy support from Stephen Muterspaugh as the theatre manager, Bellerose; Christopher Reber as Ragueneau (a pastry chef who loves poetry); Kit Wilder as the narcissistic Vicomte de Valvert (who hopes to marry Roxane and makes the mistake of challenging Cyrano to a duel), and Monica Cappuccini as Roxane's chaperone, Desiree. Darren Bridgett did double duty as Montfleury (the overly emotive actor Cyrano had banned from performing onstage for a month) and as the drunken poet, Ligniere.
Calling all HuffPost superfans!
Sign up for membership to become a founding member and help shape HuffPost's next chapter