Is it me or is something in the air or water? I'm talking about the inordinate numbers of single people I know and work with -- at 50! I guess I'm not alone (no pun intended). It's true, I'm at that "age" where people who were married for many years, like myself, are now finding themselves newly separated, divorced or headed in that direction. It's also true that more and more men and women are opting for single life as opposed to becoming legally coupled. Who knew?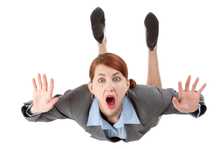 According to data used by the Bureau of Labor Statistics in its monthly job-market report, some 124.6 million Americans were single in August 2014 -- 50.2 percent of those who were 16 years or older. What's interesting is that percentage had been hovering just below 50 percent since about the beginning of 2013 before moving above it in July and August. In 1976, I was 12 years old and it was 37.4 percent, with obviously more adults being married than not.
Times change. Many make the point there's an economic implication for the large numbers of singles -- as renters, not home owners, etc. I'm more interested in the emotional impact, the pros and cons, of flying solo at midlife and dare I say . . . beyond. More often than not, I'm sought out by friends or through my coaching work to help women who find themselves suddenly single, usually not by choice, but due to their spouse or significant other being unfaithful, abusive, dismissive, passive-aggressive or no longer interested.
Most of these women are age 50+ who were raised during the women's right movement, but somehow didn't get the memo that we as women are capable of earning a living and having a family. I understand firsthand this is not always easy. It's tiring, exhausting sometimes, and compounded by the fact that most of us are also bearing the major responsibility for child rearing, etc., although dads have jumped in and rolled their sleeves up more and more when it comes to raising children.
Many of us can get lulled into a false sense of security if there's no strong "need" for us to work while raising children. However, as tempting as it may be, I don't recommend we fall out of the workforce altogether for several reasons.
Life happens. It does whether we like it or not, or are prepared for it or not. It happens. Things change. He was fabulous... until he wasn't. You loved your profession... and then the kids came along.
Your kids grow up. Then, what's a mother to do? So many of my clients are grappling with how to reinvent themselves after having more than full-time careers at home. Now, the kids are gone and they have no idea what the first steps are to increase their professional network, seek out opportunities to gain needed experience, and get a life of their own.
Unconditional love only happens between parent and child -- not spouses. Ok, I know this hurts. We want to believe in soul mates, true partners and the belief that regardless of what either of you do, love will prevail. I don't mean to be harsh here, but while diamonds may last forever, there's no guarantee love will. We live longer and healthier lives and a long-term marriage a generation or two ago, might have meant 10 - 20 years together. Today we have the opportunity to be married 50+ years if we're fortunate enough to make it that long. Don't get me wrong -- I love a good love story. My parents were married 51 years before my dad passed away and I witnessed true love between them.
The truth is there's a lot to be said for self-reliance and at the same time recognizing your own self-worth and the gifts you've been given at this age and stage in your life. Build a support system to help you through the transition and you can start to plot your plan. Assess your skill set and ask friends and family for honest and constructive feedback about your strengths and keep on keeping on. Whether you choose or have been placed in the category of "single" - find ways to enjoy the time you finally have to yourself. You might just find out you're your own best friend.
Remember, your reinvention begins the day you decide to forge a new path -
one baby step at a time.
PHOTO GALLERY
Post 50 First Date Ideas
Calling all HuffPost superfans!
Sign up for membership to become a founding member and help shape HuffPost's next chapter