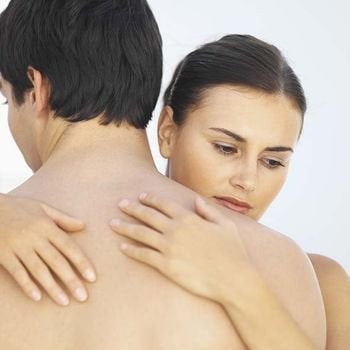 Love and fear are seemingly disparate emotional states, yet they seem to have a close relationship to each other. On the surface, love is a positive emotion that fosters a connection between people, whether they are parents, lovers, friends or family of any kind. Fear, on the other hand, does exactly the opposite. When we fear someone or something, we want to do anything other than connect with the feared person or object. In contrast, we want to stop the fear from inhabiting our bodies and we do whatever we can to avoid the feared person or situation. Yet, love often gives rise to fear, and fear has been known to give rise to love as well. Why can such apparently opposite emotions give birth to each other and what is the connection that keeps them alive in this "creative" relationship? In focusing on romantic love, I will discuss some of these bridges. In this, part I, I will focus on when love turns to fear.
When we are first in love, we feel the confidence of the attachment. We feel the great joy of being with someone and the good fortune of being able to see them again and again. But as this joy increases, so does the attachment. And for many people, this attachment creates a fear of loss. It is at this point that love comes to give rise to fear - when we lose the joy of the connection and want to hold onto it. This seems paradoxical, but is not. Rather than allowing the power of our whole beings to foster the connection, we invoke mainly conscious thought processes of "trying not to lose". Thus attachment or desire for ownership is the first bridge from love to fear.
In the human brain, the amygdala registers emotion. When we are afraid, the amygdala activates. When we trust, the amygdala becomes "calmer". When we are calm in love, this "trust" center in the brain is on cruise control, but when we start to deepen our connections, we sometimes create reasons to question the trust and the "trust" center becomes restless. How long will you actually be with this person? Will they always be in love with you? What if they leave once they get to know you more deeply? These questions disrupt the trust (and the amygdala) and the love that once was starts to turn into fear. The fear of being disappointed. Since love is a continuous negotiation of trust as the relationship gets deeper and deeper, any lessening of trust converts love into fear. Thus, trust (or the absence of it) is the second bridge that connects love to fear.
Love is also a flow state. It lightens one's burden in life and creates a feeling of freedom where we seem to appreciate things more and feel grateful for what we have. However, this lightness can also be unbearable, as Milan Kundera has noted in his book: "The Unbearable Lightness of Being". It is a bit like skiing and not knowing how to stop. When we question this flow, we effectively hit the brakes, and the brakes in this case are fear. Love becomes fear when we question the flow state. Effectively, we become uncomfortable with not "knowing" and when we start to analyze how we are doing what we are doing and ask other questions (Where is this going? What will happen to us?), we pull ourselves out of the power of the unconscious into the sludge of the conscious brain. Thus, questioning the flow state is the third bridge that connects love to fear.
With these bridges in mind, how do we close the gates to fear and should we? Whether we should or not, the truth is that we are often driven to. Conventionally, we do so in the following ways: To deal with the "ownership" anxiety we may, in the more extreme cases, marry, for example. But this seems to do little for protecting us from fear. To deal with "trust" fears, we try to be as self-revealing as possible, but this also compromises one's own personhood. And to deal with the flow state, we schedule times for flow: vacation, sex, or date-nights. But can you really schedule flow? When you give up the mystery, aren't you moving away from the original source of that positive emotion? Next week, we will take a closer look at strategies we can use to deal with these challenges, but here is an outline of what we will address: (1) Can we get over ownership by "detaching" spiritually? (2) Why should commitment precede trust? (3) How can we understand flow states more deeply so that we are less intimidated about them?

Related