Baja and Paso Robles compete as our place to unplug from Los Angeles.
Day 1: Our sweet spot has been a canine friendly casita named Villa Bella Guest House. It is midpoint between Rosarito Beach and Ensenada near El Descanso, a famous surf site with a stunning view of cliffs, coves and the sea below.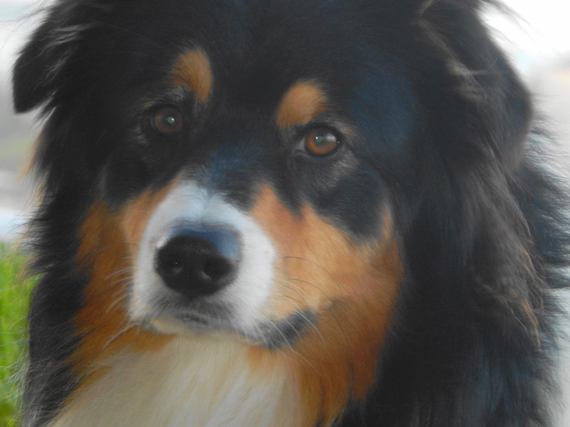 Barolo is a fine traveling companion. All photos courtesy of Lewis H. Perkins
The more we come here the longer we want to stay.
Once over the border, we tend to sidestep Tijuana which has been rightfully touted for its fine dining. We prefer to wait for Susannas Cuisine of the Californias nestled in a zeabra festooned courtyard of a vintage mini-mall close to the old market in Rosarito Beach. (Zeabra is a nearly extinct word meaning wood fence that was culled from a comic novel, The Clicking of Cuthbert, by P.G. Wodehouse started on this trip.)
The tamarind margaritas are to die for, as is the house made bread with tubs of scallion butter and tapenade served at each table soon after seated. The cilantro pesto is excellent as are the fish and seafood entrees I have sampled. Having been there at least a half dozen times -- and never once disappointed -- is no small feat in my world.
Day 2: Early morning awakening is necessary, along with coffee, if a beach hike is in order before the arrival of high tide. Yoga and Tai Chi warm ups accomplished with other beach combers and surfers alike is inspiring.
Foray into the closest town Primo Tapia for their quirky farmer's market for a few comestibles and a decent outdoor haircut. The butcher in the Mercado La Placita is great. La Cascada is an outstanding value for pints of hand packed gelato for later in the evening. A tamarind pop for now is perfect.
We should have planned better and reserved appointments at Las Rocas since we wanted to catch the sunset while having a pedicure. Instead we opted for Priscilla Aguilar who makes house calls. Ms. Aguilar works mostly through personal referrals, but can also be reached on Facebook.
Less lazy after sunset, we would have gone to hear a guitarist of local fame at Hotel Mission. Instead we opt to watch movies, play backgammon and read.
Day 3: Maybe you get the drift here, a repeat of yesterday morning's walk and stretch, this time going for a quick dip in the ocean. Back to Primo Tapia for extra groceries since new friends are coming over for Hoppin' Johns vegetarian style with hard boiled eggs. This paired nicely with a lovely Fume Blanc Sauvignon Blanc blend from L.A. Cite in the Guadalupe Valley Wine district aka Ruta del Vino.
Meaty Tacos El Poblanos or seafood at Ana Mar's or Allegria for a quick bite would have sufficed if we were not cooking. A step up in dining is Splash Cantina or Benny's in Rosarito. Further south is the fabulous harbor side Tres Muelle in Ensenada.
Today's variation on a theme is to take a hike into the neighborhood we overlook from our perch which feels like Topanga Canyon. We run into some nice people, one couple from San Diego and the other Orange County, who also use this place to unplug.
Why relatively unplugged?
This is a perfect place to get work done and relax at the same time; to rest, repair, write and catch up on reading. It is hard to be reached and reach others except through email and social media as the internet signal is strong. Google phone does not work and roaming charges on your smart phone can be expensive. We did not try Skype, but it could be a possibility, if motivated.
What is ironic with these folks -- whose opinions I take seriously -- they will regularly go further into Mexico to Puerto Vallarta, for example, or a third world country half way around the world, at the proverbial drop of a dime. Interesting, what is close to home is more suspect then what is farther away.
A compadre in unplugging, put it this way, "As long as you find clean restaurants with good reputations, refrain from getting drunk in public, driving too late and buying drugs on the street -- if you follow these general rules of civil conduct -- you will be fine."
Basic Logistics of Coming and Going to Mexico
Try to leave Los Angeles via the 405 south to the 5 south at the crack of dawn to get a head start on rush hour traffic, but no later than noon. After 12:00 p.m. you hit the evening rush hours, which will double the time to your final destination. In general we do not drive at night in Mexico. Returning to the U.S. try to cross the border before 10:00 am.
Google maps, will at times recommend the short cut, the 74 toll road Huntington Beach to La Jolla, though not every time. It you decide to do the toll road, it costs less than $10 round trip. Pay for it online, unless you are committed to having the transponder attached to your car. Be aware of the five day grace period after using the toll road before a fine kicks in.
On your way down call in your Mexican car insurance. Jackie Alameda provided invaluable help obtaining the Sentri card and car certification which allows the greatest ease for crossing international borders. Living in the States you sometimes forget how close we are to a 'foreign country.'
There is a rest stop with a view of the ocean called Aliso Creek -- Camp Pendleton north of Oceanside and south of Lego Land. If you have a kitchen in Baja, Tammarack Avenue in Chula Vista has a few choices for groceries. Vons just east off the exit is closest to the freeway.
We take the Tijuana (TJ) entrance down but prefer the Otay Mesa (OM) border crossing for our return. Returning home it is easier to walk over OM than TJ, for those who do not have a Sentri or Global pass.
As for Mr. B. (Barolo's nickname) we play it safe. He is now officially registered for interstate and international travel which involved a fee as well as a rabies and Bordetella vaccination.