Perched on an elevated plateau adjoined with soaring limestone cliffs, Alila Villas Uluwatu, a stunning eco-chic boutique resort with picturesque views of the cerulean Indian ocean, is an exquisite model of eco-modern design. Located on the parched savannah landscape of the Bukit Peninsula, the resort integrates dramatic design elements of the surrounding natural environment using locally-sourced materials.
Inspired by Bali's rocky terrace fields and lush gulleys, the buildings' low-pitched terraced roofs create an open atmosphere which gives way to spectacular views of gardens, cool reflecting pools and miles of deep blue ocean. The 86 villas and other buildings on the property were constructed using bamboo, hand-cut stone and volcanic batu candi rock to purposefully blend with the natural environment. (The volcanic rock was used in building the roofs due to its natural insulating properties and ability to support local ferns and succulents.)
The most striking feature about the villas is the seamless integration of wood, water, flora, stone and air -- rather than indoor living quarters, the rooms were designed to be inhabited garden sanctuaries. Walkways and bridges connect relaxation pavilions and pools to spacious living areas creating a sense of freedom and fluidity that wafts throughout the property -- from the one bedroom villas to the expansive pool and cabana area.
Craftsmen from Java and Bali designed the villas' minimalist interior furniture and lighting fixtures using local materials, which eliminated the environmental impact of importing and transporting foreign materials while supporting local communities and artisan trades.
The eco-resort offers several "journey" experiences so guests can explore the surrounding villages and natural landscapes. An adventure trek through the alleys and gangs of the Pecatu region showcases pastures, local farming, houses and food stalls, and continues on to a steep hike down a narrow path leading to a beach with torrent waves and miles of deserted coastline. A traditional Balinese lunch of nasi jinggo is provided as you soak in the mesmerizing contrast of verdant limestone cliffs and deep blue ocean. The trek ends with a climb (nearly vertical at times) back up the cliff and an optional walk to the sacred Uluwatu Temple.
Other excursions include half-day or a full-day cooking classes, which introduce organic gardening, local ingredients and cooking methods used in preparing basic recipes, or a guided tour through the hotel grounds, which explores the operations of maintaining environmental and social sustainability for the resort along with an educational session on how guests can become more conscious about the environment.
Alila Villas Uluwatu is the first resort in Indonesia to receive the highest level of certification from EarthCheck for Best Practice Building Planning and Design development. The certification was achieved through the application of environmentally sustainable design (ESD) measures including water conservation with soaks and rain gardens, and a waste water management system using local plants from the savannah ecosystem; the deliberate use of sustainable/recycled, local materials; protection of the natural environment; and measured work practices throughout construction.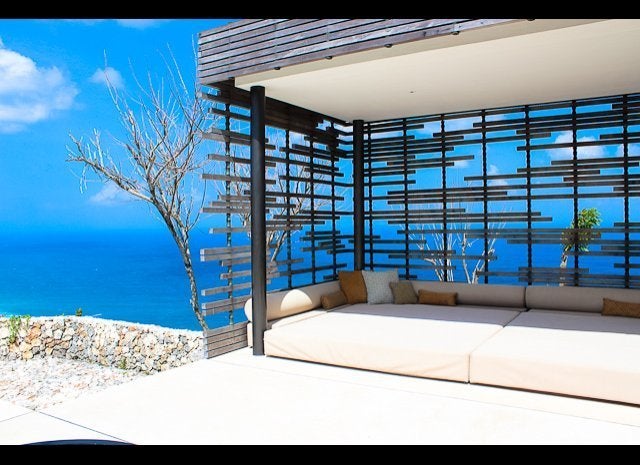 An Eco-Modern Balinese Sanctuary