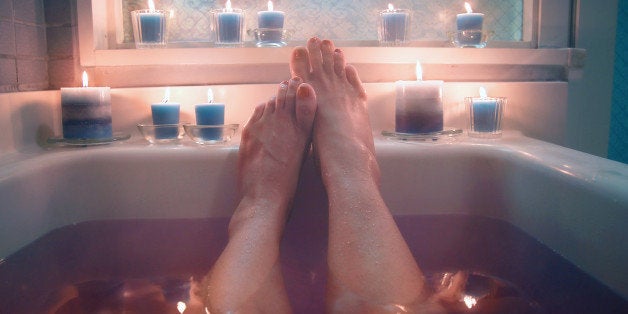 Busy, busy, busy -- sometimes, it can seem like the mantra of our times. But no matter how jam-packed our schedules are, taking time to unplug and recharge is essential for our health and well-being (not to mention that it makes us more productive, creative workers when we are on the clock).
"Can we start taking as good care of ourselves as we take of our smartphones?" HuffPost president and editor-in-chief Arianna Huffington asked at The Huffington Post's Thrive conference last week. Think about it: We rush to charge our devices when their batteries dip below 20 percent, but rarely do we acknowledge when our internal batteries are running on low.
Need a little inspiration? We asked some of the speakers at the Thrive event for the one thing they do to relax and recharge. Here are some of their best strategies:
I love to go for a run. I'm the world's slowest runner, but I love it because that's the only socially acceptable thing left where you can unplug. If people can't reach you, you say, "Oh, I was out for a run!" It's my time for myself. --Randi Zuckerberg, Founder and CEO, Zuckerberg Media; Editor-in-Chief, Dot Complicated
Bubble baths, yoga, sitting and doing nothing.--Katie Couric, Award-winning Journalist, TV Personality and NY Times Best-selling Author
To recharge, I plug in all my devices! [laughs] But really, I try to get away when I can, and try to go within. I actually did a very provocative tweet recently, that said that everyone should meditate for 15 minutes every day, unless they don't have time. Then they should do it for an hour.--Kenneth Cole, Chairman & CEO, Kenneth Cole
There's no question that for me a long, slow, steady bike ride, run, swim … flow is where you're in a rhythm and don't have to think about muscles or what they're doing. That kind of rhythmic movement helps me meditate. It gives me this safe space; it's almost like going into a bubble -- it's like a shower for my brain. After, I have to sit at my computer and data dump. It can be anything from 45 minutes to an hour-and-a-half. It's not long long.--Lucy Danziger, Former Editor-in-Chief, SELF Magazine; Well-being Lifestyle Expert
I would say cooking and gardening -- anything related to food! When I am cooking, I play music that I love, I light candles. And that sets the scene.--Laurie David, Author and Producer
Taking a walk with the family and the dog -- a half Bernese mountain dog, half Pyrenees -- and playing tennis. I wanted to choose a sport that I could actually play into my ninth or 10th decade.--Dr. David Agus, M.D., Professor, USC Keck School of Medicine and Viterbi School of Engineering; CBS News Contributor
To relax and recharge, I need to sleep. I exercise. I like active things; I run, bike, swim, skate and do Bikram yoga -- but most importantly, I need to kiss my son. He's 6.--Federica Marchionni, President, Dolce & Gabbana Inc.
I have an array of activities that I use to help my body reset and to get connected to my source, including yoga, meditation, [and] running. And I like to do hot baths at night before I go to bed.--Dr. Mark Hyman, M.D., Authority in Functional Medicine; Founder, The UltraWellness Center
I rest in the awareness of my breath. [Breathing] has transformed life into a living meditation.--Panache Desai, Spiritual Teacher
I put my feet up and I meditate, even if it is two or three minutes during the day. The other thing is taking baths, I love taking baths at night with lavender salts and oils. And I just find that a bath before you go to sleep is amazing.--Agapi Stassinopoulos, Best-selling Author and Speaker
Reading, exercise, TV.--Adam Grant, Ph.D., Author and Professor, The Wharton School at the University of Pennsylvania
I have three: I meditate, but that's a bit predictable, given what I do. Surfing is the big one -- I try and surf every single day. And then at the moment, I spend a lot of time with my wife, putting my hand on her stomach. [Puddicome's wife is six months pregnant.]--Andy Puddicombe, Headspace Co-Founder
I watch TV! And then before I get back to whatever it was that was driving me crazy, I make a list of everything I have to do. First the TV, then I make the list because otherwise I'm just going back into the chaos.--Maysoon Zayid, Actress, Professional Standup Comedian and Writer
These interviews have been edited and condensed for clarity and length.
Related