This summer, I found myself at an early morning networking event on a day that my inner extrovert had decided to remain in bed. I can be bubbly, sure. Most days, I actually enjoy it. But this particular morning, I was fighting the urge to take my muffin, my coffee, and my name tag, and walk right back out the door. It was 7:32am and the event had begun at 7:30am. Deep breaths.
I stood there for a few moments scanning the room for an opportunity to join a conversation, double-dutch style. No such opportunity came. It felt like I was standing in the middle of a high school reunion, and I was that one kid who didn't enroll until the second half of senior year, and who no one bothered to remember. Sip your coffee. Bite your muffin.
Since I couldn't find an opening in a conversation, I looked for the next best thing - an empty seat at a table. I made a beeline to the closest one I could find, which happened to be beside the one person who looked almost as stoic as I did. I put down my coffee and muffin, fumbled around with my pocketbook for a few seconds, sat down, and finally turned to my left to introduce myself. Turns out, my stoic acquaintance was Bill Waller, owner of Dynacon Event Center in Greensboro, NC.
Before the morning ended, Bill and I had hit it off so comfortably that we made plans to meet again at Dynacon a few weeks later to continue the conversation, and to see how we could support each other's businesses.
Around that same time, I'd been attending monthly meetings of the Greensboro Chapter of the National Association of Professional Women (NAPW). At one such meeting, I heard the Chapter President, Pat B. Freeman, mention the need for an event space as the group was planning to host a fundraiser in support of breast cancer awareness. After hearing that Pat had never been to Dynacon, I knew that it made great sense to make an introduction. When I got home, I wrote a quick email introducing her to Bill. It took all of 2 minutes to compose.
What followed was nothing short of amazing.
Bill and Pat did, in fact, meet. They got together for the first time on July 4, which is worth mentioning because, apparently, the annual fireworks display paled in comparison to the celebration that was being manifested as these two conversed.
She'd already secured a place for the fundraiser, but there was something else brewing. After taking a tour of Dynacon, she took the time to describe to Bill the kind of red carpet soirée she had in mind.
What if they could host an event to show appreciation for the exceptional service, hard work, and leadership that professional women contribute to their communities every day? What if there was absolutely no agenda? What if women could leave their "work mode" at the door, and be completely relieved of their responsibility to offer to help? What if there was no expectation to network? What if there was food, wine, music, and the freedom to be as formal or as leisurely as one would please? And what if it could all be offered to them for FREE? Ummm... yes, please.
Bill loved the idea, and immediately agreed to have Dynacon Event Center serve as the host and sponsor.
Pat got to work convening a diverse group of women, most of whom she'd only met one time. Despite my selective extroversion and occasional awkwardness, I somehow made the cut. Pat wanted the Planning Team to represent a variety of backgrounds and industries, as each woman leveraged her community connections to bring scores of others to the event.
"There is nothing more powerful than teamwork to make a dream work!" - Pat B. Freeman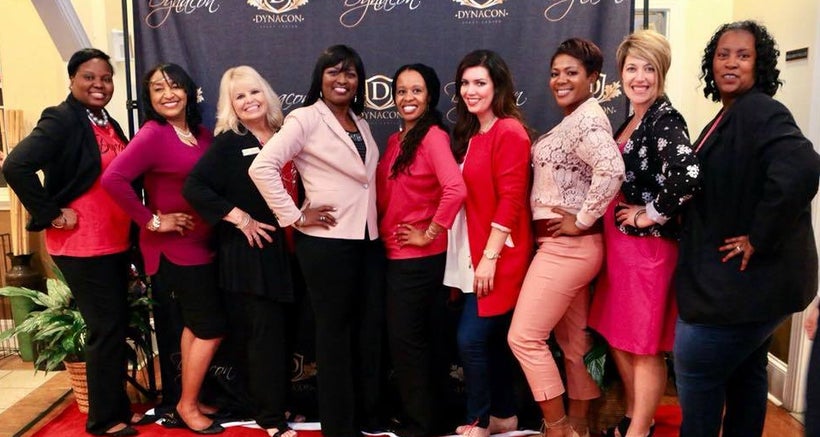 On Thursday, October 12, one day after the International Day of the Girl, hundreds of women gathered together at Dynacon to do what many have desired, but few have been able to pull off en masse. There were no panel discussions, keynote speakers, concurrent breakout sessions, or expectations of orderly conduct. No, this group of women got together to eat, drink, and be merry.
They convened to collectively relax.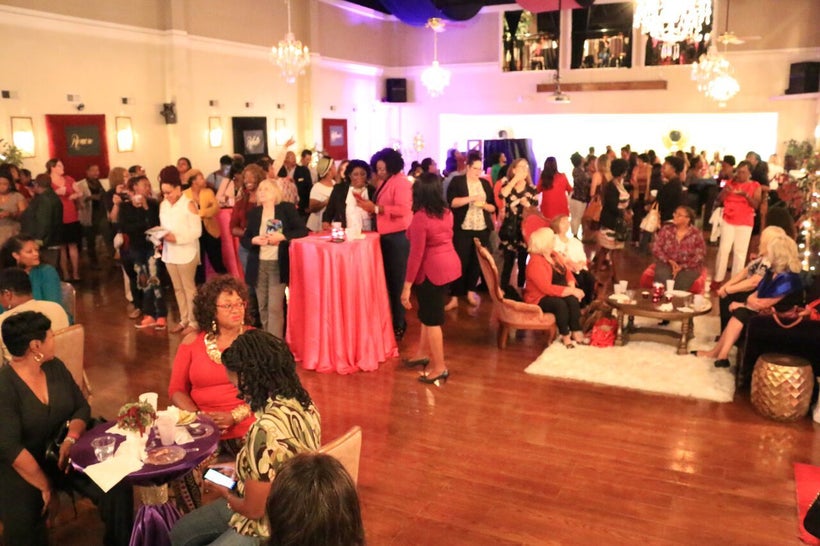 On the night of Relax | Refresh | Recharge, ladies arrived at the Dynacon Event Center and were met with smiles, welcomes, and an organized registration process that methodically guided them into the event space. A team of bow-tied young men (Juan Langford, Tony Casas, Justin Kennon, Kolby Fleming, and Styles Freeman) oversaw check-in at the registration table, and escorted them to have their photos taken by a professional photographer - Kendall Williams of One Vision Studios, LLC. They were, then, accompanied down a red carpet and into the dimly lit, music-filled ballroom.
As they turned the corner, they saw cocktail tables draped with pink and black tablecloths, and a large room decorated with candles, couches, chandeliers, and several tables of food - fruit, pasta, and a mysteriously tasty array of cheesy dips that were the talk of the night. I'm pretty certain I heard the words, "What was in that dip?!?!" at least 27 times.
A wait staff walked around the room, offering sliders and other appetizers to supplement what was available at the food tables. Friendly bartenders managed the open bar where water, soda, sweet tea, and wine flowed freely. There were no drink tickets or plate limits, so ladies could visit and re-visit to their hearts' content.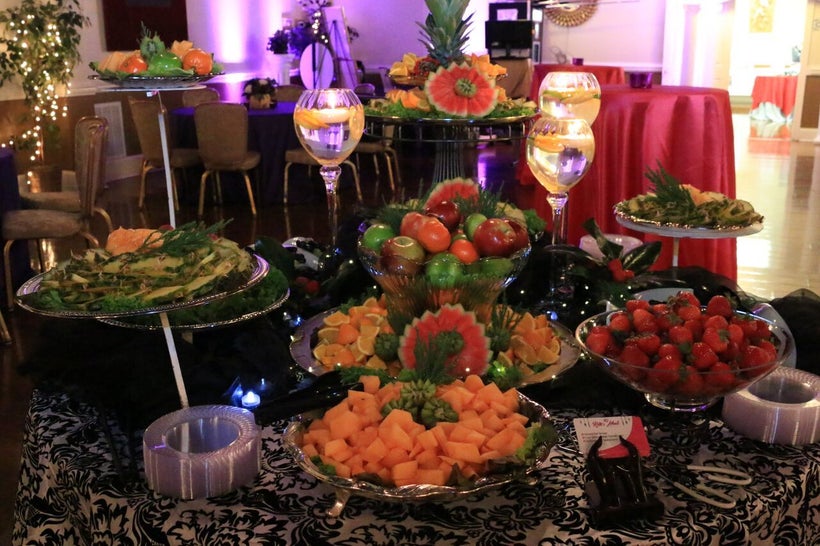 Upstairs, there were additional tables decorated with candles and centerpieces made of glass and smooth pebbles. Two massage therapists were signing women up for 5-10 minute sessions on the spot! A photo booth managed by Trevor Bethel and Ron Carter of Cool Cliq Photo Booth invited attendees to unleash the many sides of themselves - silly, sultry, somber, or shy.
At 6:30pm, Style Encore held their fashion show, displaying a range of ensembles that appealed to women of all tastes and budgets. There was lots of howling, twirling, and clapping... minus the crippling pressure you might find at, say, New York Fashion Week. The lovely models moved with ease, pleasance, and smiling faces.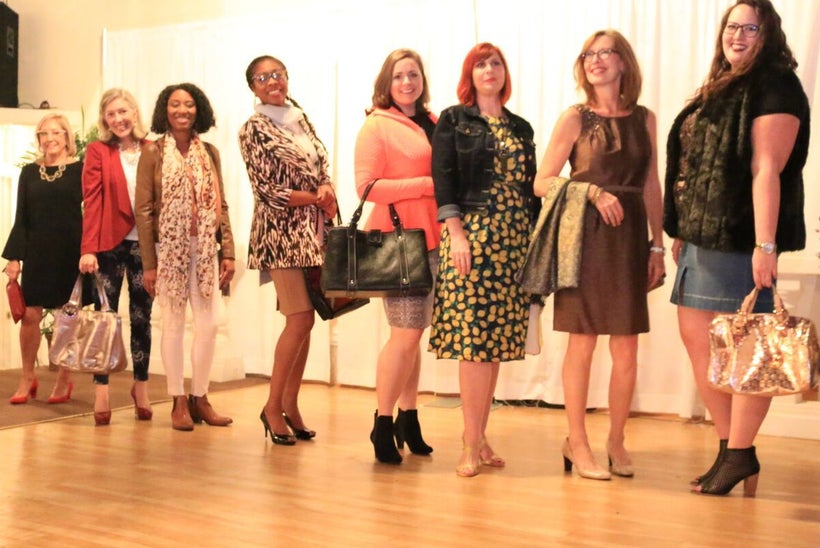 Throughout the night, door prizes were given away as ticket numbers were called. Women left the event with massage gift cards, gift baskets, jewelry, and coupons for discounts off of everything from office space to videography services to make-up sessions to floral bouquets to smoothies. Several of the Planning Team members also contributed door prizes, adding to the overwhelming generosity of other area business owners.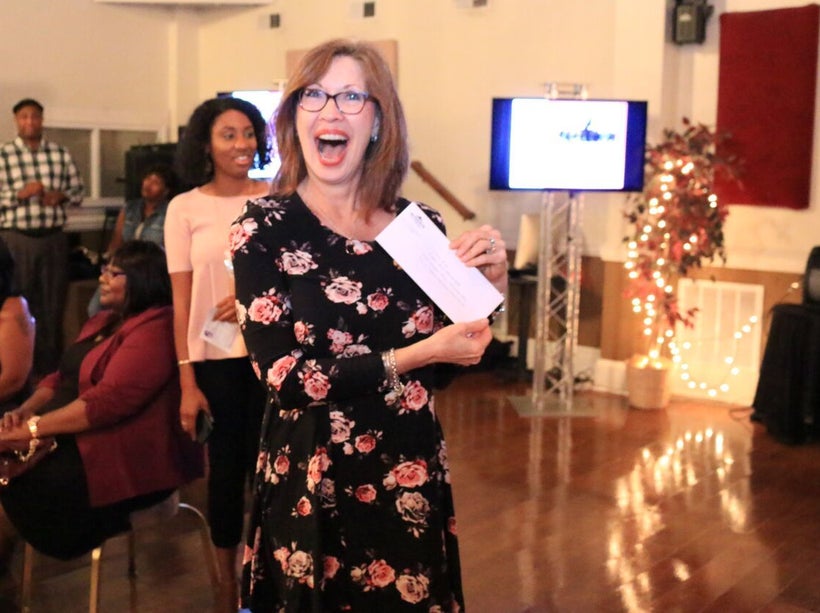 There was also a guest appearance by Julian Brittano of Oprah Winfrey's Greenleaf. Brittano shared some encouraging words to the women in attendance, after which he took his time working the room. He took quite a lot of pictures with individuals and groups of friends, many of whom found themselves reuniting after weeks and months of being so entrenched in work and family obligations that the friendships had fallen by the wayside. Brittano's presence added to the lightheartedness and excitement of the evening.
Translation = Eye Candy. Don't judge. The night was ours.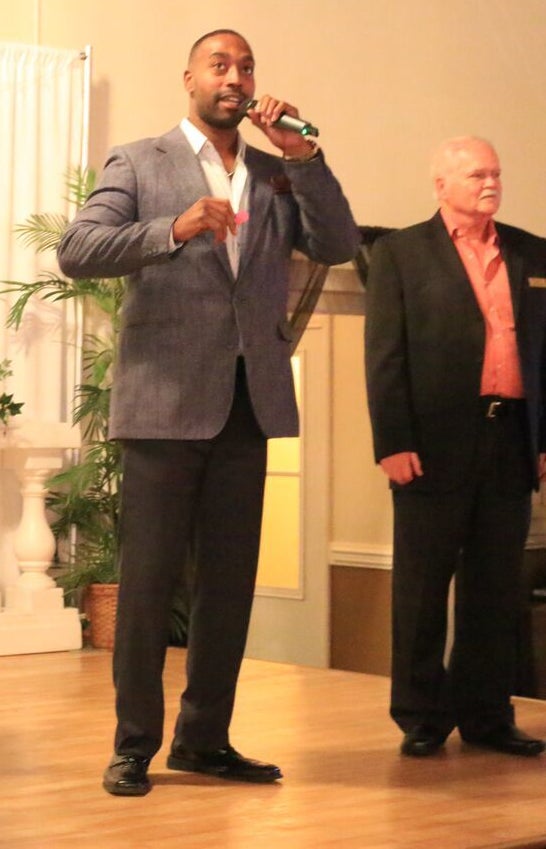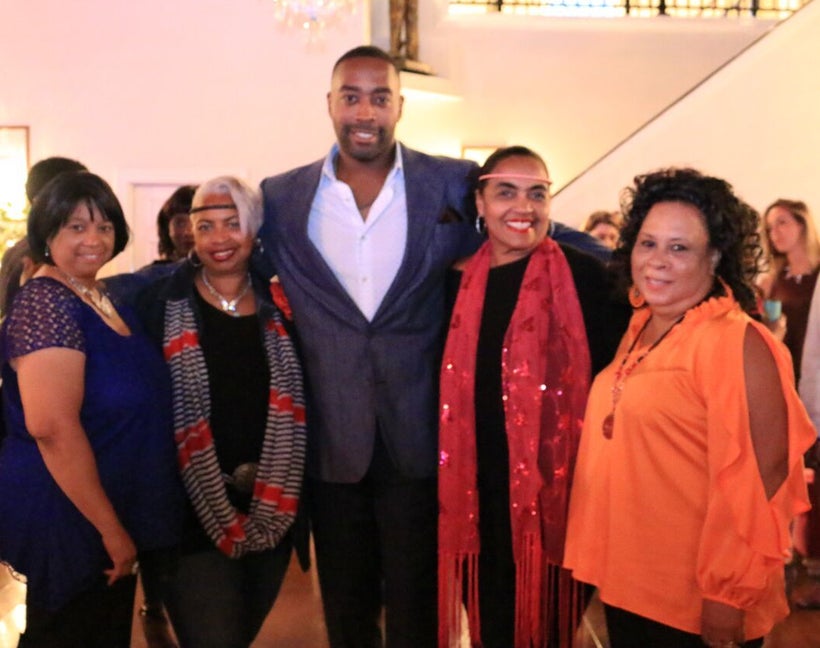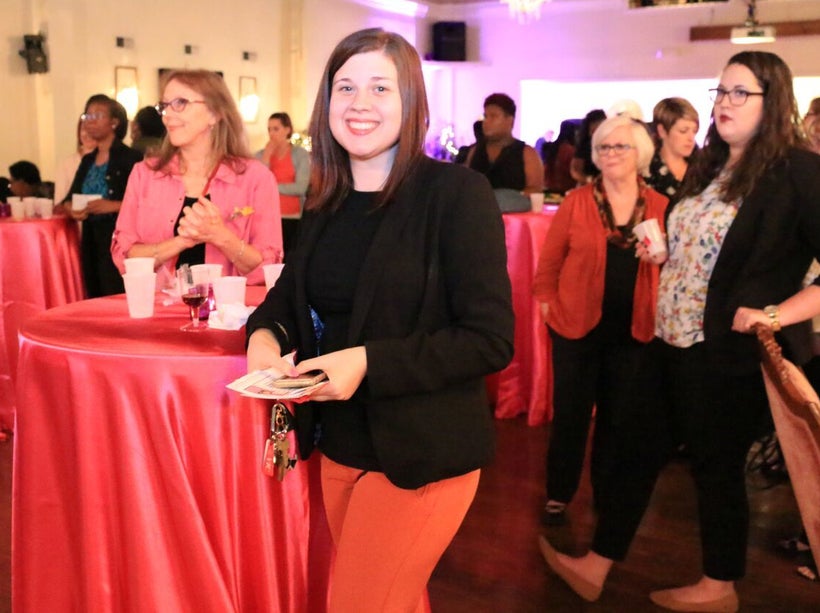 Music was provided by Neris Patterson of Face the Music DJ Services and Tyson Carr, Saxophonist. Although it was scheduled to end at 8pm, I can definitely confirm that at 8:15pm, there were still several people participating in an enthusiastic Wobble. It was fabulous.
According to Pat and the other members of the Planning Team, this is the first of many to come. Between wage gaps, raising families, and breaking glass ceilings, even the concept of self-care can feel like another task to add to the list of a woman's "to do"s. Relax | Refresh | Recharge made it easy for us to set aside a couple of responsibility-free hours to just let loose and enjoy ourselves and each other. The team's goal was to have 400 professional women registered for this first celebration. We achieved the goal and had to close the Eventbrite registration 2 days before the event. Others came anyway, and were able to register at the door.
Here are the morals of this story:
Go. This all began as a reluctant, early morning conversation between hesitant networkers. If you're thinking of whether or not to attend that thing you barely want to go to, but feel a nudge to show up anyway... go. You just might surprise yourself with the impact of your decision to simply show up.
Dream. When Pat described her vision, she had no idea how it would actually happen. She met Bill, a leader as committed and passionate as herself, and quickly learned that he was more than willing to extend himself to help her dream come to life. Acknowledge the vision, write it down, share it with those whose energies align - and faithfully watch it come together.
Ask. Sometimes people will offer. Other times, you're going to have to ask. Sitting in meetings with Pat was like attending an Assertiveness Boot Camp. Pat is a woman on a mission, and she is certainly not afraid to ask for what is needed. What's more inspiring is that the outcome of her boldness extends far beyond herself. She asks for the community.
Do. Nothing happens without people being willing to take action. You don't have to do everything, but make sure to do your part. I've witnessed the tangible results of collective consciousness more times than I can count. Find the right team, and y'all go make magic together.
An extra special THANK YOU to the following vendors and businesses who graciously donated products and time to make this event an enormous success:
ABBA Design
Above & Beyond Catering
Applespice Junction
A to Zen Massage
ATTO Entertainment
Back in Balance Professional Massage
Cool Cliq Photo Booth Rental
Dress for Success Triad
Dynacon Event Center
Face the Music DJ Services
Flower Child Productions
Genuity Concepts
Go Head Over Heels
Hawthorne at the Meadows Apartments Kernersville
Images by Icel
Irvin Roberts Salon & Day Spa
The Jewelry Lady
The Keen Bee Calligraphy Signage
Kippy Jones Boutique
Live2Lead Greensboro Encore Simulcast
Mary Kay - Karen Link
National Association of Professional Women, Greensboro Chapter
Office Evolution
One Vision Photography
Paper 2 Film Digital Storytelling Program
Party Makers Event Makers
Perfected Gift by Kiani
Play It Again Sports
The Prettiest Pieces - Lounge Furniture
Rita's Meals By Design
Royal Limousine
Snap Shot Photo Booth Rental
Style Encore
Summerfield Farms
Touch of Serenity Massage
Triad Bowling Lanes
Triad Integrative Wellness Center
Tyson Carr - Jazz Artist
Visions Catering
Wingate by Wyndham Greensboro
Zibster Business Websites
Plans for the next event are already in the works. If you're a professional woman, you won't want to miss it!
Calling all HuffPost superfans!
Sign up for membership to become a founding member and help shape HuffPost's next chapter
This post was published on the now-closed HuffPost Contributor platform. Contributors control their own work and posted freely to our site. If you need to flag this entry as abusive,
send us an email
.