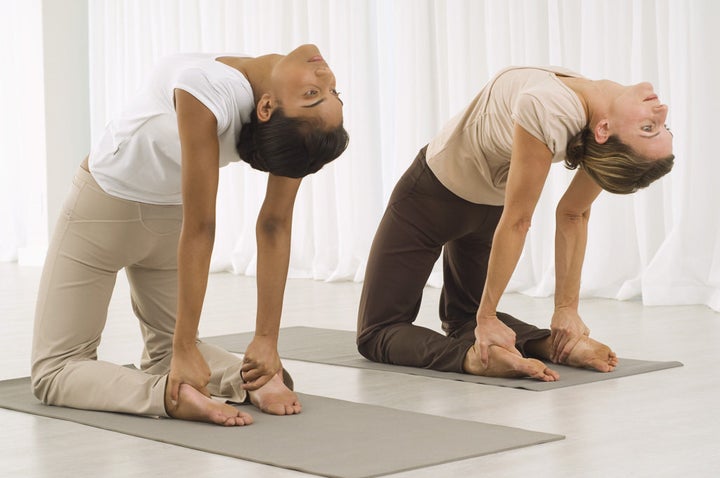 I'm sprawled in a Nashville hotel room contemplating the physical and psychological relationship between hip and mental tension. By hip I mean the upper thigh, booty, pelvis, region of the body. Not as in "hip to be square," although it should be hip to have tension-free hips. Ah ha, get it? Ok, I'll stop with the corny stuff for now.
I flew in for the day to teach a couple yoga classes and talk about healthy living with the employees of Nissan. I am the yoga master (I know. . . big title) for the Master the Shift program that includes running super star Ryan Hall, cycling staple Chris Carmichael, and football legend Eddie George. I am humbled to be included in that roster. I get to travel around to a lot of the big races (and cool cities) during the year and teach fun yoga classes to athletes, professional and recreational alike. It's exciting and rewarding to meet lots of different people, hear their stories about life, health, and yoga. I always go home with a few new Facebook friends.
With these big group classes the experience level is always all over the map. Some people are yoga teachers or long time practitioners, some have done a class or two, and some are trying for the first time. A nice benefit of being in a big class is to learn from, be inspired by, and breathe with others, while at the same time having patience and compassion with your self. It's easy to compare and to look outside ourselves for what we don't have. Group practice teaches us to notice, discern, and return to our own breath. There is something pretty awesome about a group of strangers breathing and moving together.
What you see in the physical pose is just a part of the practice. What's going on in your mind is another part. Bringing the two together is useful. I was talking with a nice Nashvillian about some of this body/mind stuff. He had done martial arts and said he was frustrated by his flexibility level. He wanted to know if there were certain poses that would help to improve his flexibility in addition to what he was doing. Before I could think I found myself pointing at my head. I stopped myself from thinking just long enough to contribute something useful to the conversation. Relax your mind and your body will follow. My new friend caught on from my head pointing that his hamstrings weren't in his way, it was his thoughts about his limitations. I didn't mean to come off as a self-appointed guru, but my instinct saved me. He got it. I got it and we both got it. An actual real moment happened, as Ram Dass likes to say, a soul connection. When we connect with each other on a soul level, thinking can settle into its place of usefulness and stay out of the way of effective communication, leaving space for awareness to emerge into the present.
My mind was on the hips and tension so we worked on some of that in the class. That's the fun part about teaching yoga. It's like a game of Simon says, and when you're Simon you can say whatever you are in the mood for that day. Most people enjoy a good hip opener anyway. We need relief from our chair-bound, mentally and physically stressed lives. When the hips are released, the flood gates of tension can pour on through and get out of the way of the good stuff, leaving us feeling great and staying healthy.
This video is part of a 4 week series. If you are following the routines add this on after you've done the abdominal one. You can also try this routine by itself anytime to loosen up tension in the hips. Stay with your breath and hopefully the floodgates will be open soon! If you are interested in more de-stressing videos check out a series of them we put together for Master the Shift.