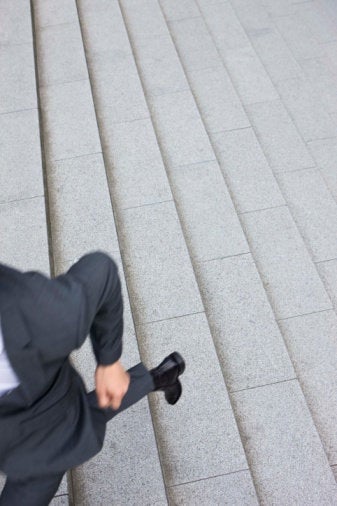 I asked a group of New Radicals to take the Unplug & Recharge Challenge along with me this month - here's the first post. (New Radicals put the skills acquired in their careers to work on the world's greatest challenges - for more about this powerful movement, please see archived articles).
It was an interesting challenge and really stirred things up -- including for me. Reading through the report from a personal branding exercise I did last year (conducted by the clever Spark Ideas), I saw that I'd talked about needing "reverie" and that I get grouchy when I don't get it. It was a reminder that I already know what I need, and now I have to practice it. Regularly. And if I need a reason other than "because", it's this: it feeds me and gives me energy for the thing I love best, my work. So, I've done more than a little dangling of my foot off the end of the couch this month. And came up with the idea for my fourth book.
Here's what our New Radicals were thinking about in May.
A timely call to attention
"I can't believe a month passed by in a blink of an eye," wrote Philip Haid of Public Inc. (they create innovative initiatives that engage people in small, daily acts of good that raise money for social causes). "The positive spin is that time flies because I love what I do. The bad is that I haven't given much thought to the longer term things I need to be thinking about, including how to rejuvenate!" But the challenge did get him thinking. "It helped me confirm three things. That quality time with my wife and family is essential -- and that means ignoring the iPhone and focusing on them. That spending time with friends fuels me. And that getting out for an hour to jog or play hockey releases tension and stress."
Find out what works for you
John Mighton, playwright, mathematician, and founder of JUMP Math, has discovered something that helps him step away from the world -- and connect with it in a much deeper way at the same time. "I refresh myself by reading or thinking about mathematics. I'm as inspired by these elegant ideas as I am by a beautiful landscape. And I'm comforted by knowing that the world is full of things that are more important than my daily concerns. In my charitable work, I help children learn math -- when they learn it without fear or frustration, they display a deep joy in solving puzzles and exploring patterns. They have a sense of wonder about the world that most adults can barely remember." (I've written about John before -- JUMP Math believes that all children can be led to think mathematically, and that with even a modest amount of attention every child will flourish. Read my post, Math Is Not Hard.)
Laughter is good, good medicine
Betty Londergan is the brains (and wit) behind the wildly popular blog whatgives365 (in a nutshell: Betty's dad left her some money and she's giving it away and writing every day for a year about all the great causes she's encountering in the process). "I've figured out what's missing from my "relaxation" schedule: children! Once my daughter, Lulu, got home, I was forced to come out from behind my computer and engage, which usually means watching "Basketball Wives" or some other drek on TV with her. Replacing my nonstop work on my blog with Teenager Anxiety may not exactly be a quantum leap forward, but she does make me laugh!" Betty was also inspired by an example in my first Unplug post, and tried "a long cooking session for a nice meal with my husband ... but that turned into an extra-extended cocktail hour, which was also kinda fun since he didn't notice I hadn't actually made anything for dinner!"
Remember what you once loved
Last time, Andrea Knight, managing editor of the Azrieli Holocaust Survivor Memoirs series told us about how her iPod changed her life -- she's walking every day and having more energy for everything in her life. But she's also had some important insights since then. "I started remembering that when I was in my teens I listened to music all the time. And somewhere along the way, I lost all that. I read and watch TV and talk with friends over a glass of wine, but I don't listen to music. Now I can't wait to get out and walk and listen to the music that touched me all those years ago. Listening to music makes my public transit commute bearable, even enjoyable. And I now love something I used to dread: grocery shopping. I literally dance down the aisles. Recently a clerk stopped me and said that I was the best thing she'd seen in weeks. I'm going to carry on listening, walking -- and dancing!"
Reach for it nearby
Ian Yolles told us in the first post that he'd recently moved from Portland to New York City to run a cool new organization, RecycleBank (we earn points if we reduce, recycle, and reuse - and can redeem them for rewards). This month, he's discovered ways to care for the nature-lover inside. "Even in small doses nature provides me with spiritual sustenance. This past weekend I rode my bike from our apartment on the upper west side of Manhattan across the George Washington Bridge and from there up the Hudson River to Nyack where we spent the weekend at a friend's place. Their house is adjacent to the river. The tranquility of the setting stands in sharp contrast to the urban realities of Manhattan. On Sunday I woke up at 5.30 am to the sound of birds and a hooting owl. That, plus a short hike along the banks of the Hudson River and a convivial dinner with our friends, was altogether renewing."
The work itself feeds us
Liz Alderman co-founded the Peter C Alderman Foundation with her husband, Steve, when their son, Peter, died in the World Trade Center on 9/11 (the foundation works to heal the emotional wounds of victims of terrorism and mass violence by training health care professionals and establishing clinics in post-conflict countries around the world). "I find it nearly impossible to take time for myself. My work is therapy for me, driven by a passion to leave a mark on this earth for my son. None of the things that gave me pleasure before -- like painting and quilting -- please me now. I put my creative urges into the materials I design and write for the foundation. I also make sure to read for an hour each night. More than anything, I am rejuvenated by the people I meet and those we are helping. At the age of 68, I'm learning something new and meaningful every single day."
Limit your choices
Claire Williams is a young woman I met while at Oxford University for the Skoll World Forum in 2009. She co-founded Hope Runs, which works to empower AIDS orphans in Africa, and has just published her first book, The Choice Effect. "Why do we feel so overwhelmed, overworked, and overstressed all the time? Partly because we have way too many things to choose from. And not just negative things -- positive choices can cause extreme anxiety, too. 'Was skiing in Tahoe really a better use of my three-day vacation than going to the beach in Santa Barbara?' We live in a culture of huge expectations and hefty tools to help us meet those expectations. I'm trying what I call the 'Choice Diet' -- for 48 hours, I'm reducing the number of options in my life. Not turning anything on or going anywhere to eat or hang out. Just staying home. And giving myself a chance to get bored. I predict that it will give me the energy I need to take on the world."
Just do it
Riders for Health co-founders Andrea and Barry Coleman recently took a week's holiday (RFH works to ensure that all health workers in developing countries have access to reliable transportation so that they can reach the most isolated people). Andrea: "There have been times when we've booked one only to have to cancel it because there's been some crisis. Now we've got a great organization in place so that we can actually go away. We went to Cornwall, in southwest England, quite beautiful, with the sea all around. We did a lot of walking. And Barry learned how to sail. He took me out at the end of the week and because he had taken the course and knew what to do, I was in the unusual position of having to do as I was told without questioning! That was relaxing in its own right. During the holiday I was able to switch off enough to think about strategic things for Riders for Health. That's a big step forward." Barry: "Not working has a funny, dizzy feeling. Sailing around Falmouth Harbor, I was the social entrepreneur defying the deeps, as always. We were buffeted and becalmed but working together as we sailed. And to elaborate a strategy without it mattering at all whether we did it or not -- ever. Grand."
Let others help
David Peck's organization, SoChange, has the kind of tiny mission that would make me lose sleep: they believe that every person has the right to a livelihood that provides not only for basic physical needs, but also is full of cultural and spiritual dignity (they work with individuals, organizations and NGOs on event planning, proposal writing, project design, and awareness building). "There is so much going on in the world -- from amazing opportunities to devastatingly great need -- that it makes my life feel insignificant and small. So, I keep working. When you ask me if I find it tough to stop, my mind turns to projects I'm working on like the Mosquitos Suck tour, which we're doing with Unicef, and the potential it has to get youth involved in the issues of malaria and potable water. To step away takes concerted effort: my family helps, and going swimming or catching a great film with them restores me. I am also nourished by relationships that both affirm what I'm doing and help me take care of myself."
It works!
Joel Greenberg, artistic director of Studio 180 (a Toronto-based company producing socially relevant theatre that provokes public discourse and promotes community engagement), wrote to me from the Berkshires, where he's taking an actual holiday. "This should affirm my growing need and focus on taking myself and my non-professional life more seriously. I know that the life and my pro-life are inextricably linked. Why has it taken me so long to give them fair and proper attention?"
Although we don't speak with one voice, it's clear that the challenge worked. One of my correspondents ended her email with this thought, "Twice this month someone told me that I'm a workaholic. Each time, I objected strenuously. 'There's so much to do - I HAVE to work all the time!' And then it began to dawn on me that my work, which I love, is also what I really know how to do. When everything is humming, even when I've been working all night, I feel great, alive, competent. It's the rest of my messy life that's hard. So, yes, I probably do use work as an escape. I'm new at it, but I'm determined to find a new rhythm that gives time for me and my work."
I second that. I've come to realize that my workaholism is a kind of greed. Yes, there are always millions of things to do and so much need on our troubled planet. But I also take on too many things -- I want to do everything, meet everyone, and be everywhere. I want it all. One of the best parts of getting older is the dawning of this idea: greed isn't good (sorry, Gekko).
Have you learned anything that will help you unplug and recharge this month? Please share your thoughts by commenting below. As always, I invite you to email me: julia (that familiar symbol) wearethenewradicals (punctuation) (suffix).

Julia Moulden is somewhere on this planet, talking about the New Radicals. Her third book -- on boomers and meaningful work -- will be published in 2011. Stay tuned.

Related