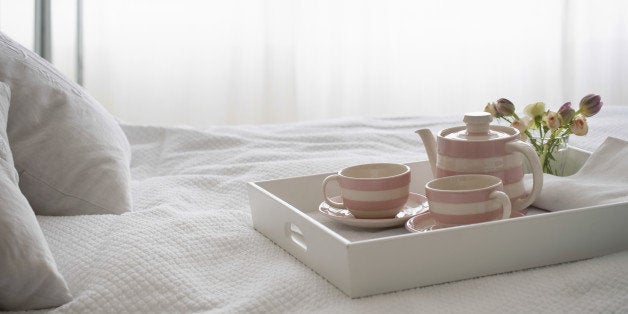 The fabric you choose for bed linens is ultimately a personal preference. Cotton, which is soft and breathable, keeps warm during cold seasons and stay cools in the summer.
One of the biggest misconceptions about bedding is that higher thread count means softer, better quality sheets. This is not always the case. Look for sheets that are at least 200 thread counts or more, but once you get over a 800 thread count, it really doesn't matter anymore.
You'll spend a third of your life on it over the next 8 to 10 years. There are three main types to choose from: Innerspring, air-filled and foam. Check out these
on deciding between the three.
Yes, it's a big investment, but silk is known to be extremely breathable, making it a good material for transitioning climates since it stays naturally warmer during the winter and cooler in summer. You will have to always dry clean it, however, since laundering silk in the washing machine will damage the fibers and ruin its softness.
If you're a back or side sleeper, pick a dense foam pillow, which is more stable; if you tend to sleep on your stomach, opt for a down pillow. But if you're an allergy sufferer, note that dust mites like to burrow into down. Keep them away with a miteproof cover.
For mattresses, you'll know it's time when you're not sleeping as well as you have in the past, you're waking up with aches and pains (especially in your lower back and spine) or the mattress looks saggy or lumpy. Woman's Day has some advice on
.
If you want to give your mattress a pillow-top look and feel, buy either a featherbed or a polyester fiber bed. They're soft and luxurious and give your bed that "lofty" look. They're also less expensive than a new mattress.
You want to touch sheets and see how they feel. Once you know what brands you like, then you can buy online. And remember: If you
, they'll last longer.
No matter the bed sheet, you have to treat them well in order for them to last long. Steer clear of fabric softeners, which eat away at fabrics. Also, washing sheets in hot water and over drying them in high heat will cause the threads in the material to expand and shrink, loosening the weave and causing it to break down faster. To extend the life of your sheets, always use lukewarm water and avoid drying on high heat.
Wash duvet covers weekly, once a month if you use a top sheet. Launder down comforters twice a year, or every three to five years if covered.