New York and Paris fashion weeks may be over but Canadian fashionphiles are teeming with excitement for Toronto Fashion Week, which kicks off this Monday. As e-invites to the shows and parties came flooding into my inbox I knew I'd have to mentally and physically prepare for this jam-packed week of fun and fashion.
I think it was a serendipitous coincidence that Spa Week launched in Toronto on October 12th, offering decadent treatments at 750 different spas for only $50. Hoping to make spas more attainable to the masses, Spa Week's goal was to inspire a healthy lifestyle, promote the concept of "wellness" and encourage people to look their best despite current economic woes.
The Holt's Salon and Spa, nestled in the Bloor St. location of Canadian shopping mecca Holt Renfrew, offered me a delectable Sugar and Spice Hydrating Treatment. After my body was slathered with deliciously scented lotion and wrapped like a mummy in a heating pad and blankets, I received a wonderfully calming head and neck massage that relieved all the tension I had been carrying there. While I could have laid there forever, thigh-high boots were calling my name from the Holt's shoe department that sits just above the spa and so I got dressed, smelling deliciously of vanilla, thanked Angela Cavanagh, the salon & spa manager, and went on my merry way.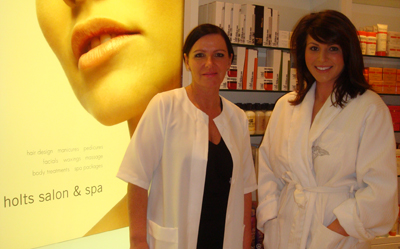 (Angela Cavanagh & Marissa Bronfman)
Never content to stay away from Holt's too long when I'm town, I'll be back there on Monday for the Holt Renfrew Media Cocktail to celebrate the launch of Toronto Fashion Week 2009. Sure to be one of the week's most stylish and exclusive soirees, check back here next week for the dish.
Just a couple blocks down from Holt's on Toronto's Million Dollar Mile (the stretch of Bloor St. from Avenue to Yonge), I entered the elegant Windsor Arms Hotel for a visit to their little gem of a spa to get a manicure with my favorite dark color, OPI's Lincoln Park After Dark. Another participant of Spa Week, I was lucky to get in at the spa as they were, unsurprisingly, fully booked. Chatting with the Spa and Wellness Director, Mehnaz Ahmad, I was delighted to hear about their focus on wellness and to see the wonderful product lines they carry - for instance, they're now introducing vegan nail lacquers from Spa Ritual. I'll be sure to tell Pamela Anderson, long-time animal activist, about this line at the exclusive vegan "Feed Your Soul" dinner in benefit of PETA on October 22nd (she's also in town to strut down Richie Rich's runway as a model for his eco-friendly collection A*Muse.)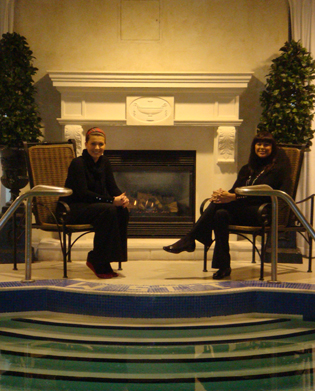 (Marissa Bronfman & Mehnaz Ahmad)
To find out more about the Windsor Arms Spa and their involvement in Spa Week click here. To find out more about their country retreat, the Eganridge: Inn, Country Club & Spa, go here.

My body was relaxed and my nails looked fabulous but there was one more thing I wanted to do before Fashion Week descended onto the city: create a custom-blended fragrance with the charming and effervescent girls of Aromachology: The Science of Scent. In their pop-up shop across from Toronto celebrity haunt The Four Seasons Hotel, founders Kirsten Menkes and Ashlee Firsten asked me to fill out a brief "What Is Your Fragrance" questionnaire that would reveal what base notes suited me. Turns out that Totally Edible: Gourmand, with a touch of Bold & Brisk: Woodsy were my base notes, and I added the Sexy top note to create a scent that I totally adored. How cool to have a totally unique, one-of-a-kind fragrance made just for me! Kirsten and Ashlee have already enjoyed fantastic success with Aromachology, having been featured in magazines and on blogs and TV, even the Jonas Brothers stopped in to create scents for their lady loves (they're in Toronto filming Camp Rock 2 and staying at The Four Seasons). From October 26-Nov 1 the ladies will be setting up shop at Henri Bendel's in New York City and I have no doubt they'll woo stylish and savvy New Yorkers just as they did with Torontonians.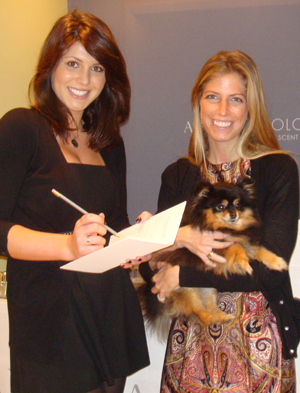 (Marissa Bronfman, Kirsten Menkes and my dog Roxy)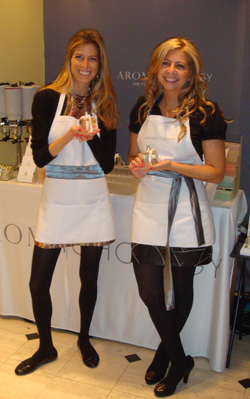 (Founders Kirsten Menkes & Ashlee Firsten)
Toronto Fashion Week is almost here and I couldn't be more excited! How else have I been prepping? By choosing outfits! Aside from a fantastic (and comfortable) new pair of black thigh-high boots (sure to be ubiquitous on the fashion flock next week), I plan on channeling Balmain with my mini collection of vintage sequin blazers and ... what else? You'll have to check back here next week for my reports on Toronto Fashion Week to find out!
Related