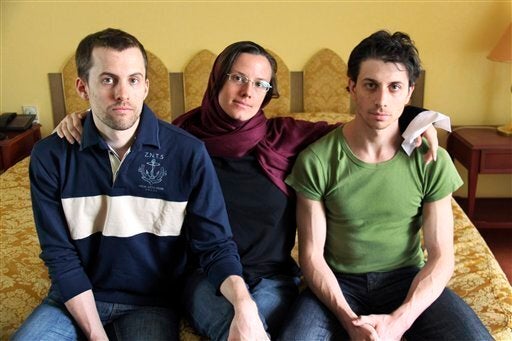 WASHINGTON -- Seven months after she was released from the Iranian prison where her fiancé and close friend remain in solitary confinement, American hiker Sarah Shourd says she is still too traumatized to return for a trial in Tehran next week.
Shourd's fiancé, Shane Bauer, and their close friend Josh Fattal, both 28, are due to go on trial May 11 for espionage. They say the charge is "completely baseless." Iranian officials say they will try Shourd in absentia if she doesn't appear in court.
The three Americans, tourists who strayed too close to the ill-defined Iranian border, were detained on July 31, 2009 while hiking in Iraq's Kurdish region. Given that none spoke Farsi at the time and Shourd wasn't wearing a headscarf, the travelers hardly bore the marks of would-be spies hoping to blend into the local population.
"I've put a lot of thought into this for many months now and just decided that I can't go back," Shourd told The Huffington Post in an interview Wednesday. "There's a part of me that would like to be with them and be able to stand by them and defend our innocence in court but I'm afraid that it would be too traumatic for me after what I've already been through."
In September, after 14 months of incarceration, Shourd was released from Iran's notorious Evin Prison. Iranian officials called the release a humanitarian gesture, albeit one that required posting $500,000 in bail. At the time, Shourd was reportedly suffering serious health problems, including a lump in a breast and precancerous cervical cells.
Shourd credits her freedom more to her gender than her physical condition. A physical exam after her release revealed she was cancer-free.
But she is hardly healthy. Her 410 days of solitary confinement and the continuing incarceration of her friends, still held for more than 21 months, have had detrimental effects.
"I have insomnia. I feel emotionally numb. I think about Shane and Josh obsessively and worry about their safety, their health, when I'm going to see them again," Shourd said. "I replay the moment that I left prison in my head constantly, saying goodbye to Shane and Josh, seeing how hopeful and excited they were about my release and now I can't imagine how desperate and hopeless and depressed they are" still waiting to be released.
"We know from Sarah's experience that they will bear the mental scars of this senseless ordeal for a long time to come," said Laura Fattal, Josh's mother, in a statement. "It's time for them to come home, heal and rebuild their lives."
Shourd, who turned 32 in prison, suffers from depression and has been diagnosed with post-traumatic stress disorder (PTSD).
In a five-page evaluation sent to the Iranian Revolutionary Court, forensic psychologist Barry Rosenfeld, a professor at New York's Fordham University, concluded that Shourd would risk aggravating her depression if she returned to Iran.
"Given the clear link between her capture and incarceration and the emergence of severe psychological symptoms (both during her incarceration and continuing, even seven months after her release) there is little doubt that Ms. Shourd's symptoms would worsen substantially if she were forced to return to Iran and face criminal sanctions," Rosenfeld wrote.
This is the second time Shourd has refused a summons to return to Iran to face charges. The hikers were scheduled to be tried in November 2010 but the trial was postponed when Shourd refused to return.
Bauer and Fattal appeared in a closed court hearing February 6. Their lawyer was not allowed to attend and the men were left to testify on their own behalf, each pleading not guilty to the charges. The prosecutor presented no evidence against them.
Iran has said it might put off the men's trials again if Shourd doesn't show up next week.
Despite a personal plea last September to Iranian President Mahmoud Ahmadinejad when he visited New York to attend the United Nations General Assembly, Shourd is still waiting for his promise of "expediency" to be made good.
"We are hoping and praying that this will be the end of our nightmare, that a resolution is in sight," she said of next week's court date.
Bauer and Fattal spend 23 hours a day in 10-by-14-foot cell. They have not been heard from since November, when they were allowed the second of only two brief phone calls home since their captivity began. Shourd writes to them every day but is uncertain whether they receive her letters.
"All of us have been damaged by the worry and suffering that the Iranian authorities have inflicted on our families," Cindy Hickey, Bauer's mother, said in a statement. "Our sons are innocent and we're innocent too, but Iran is making all of us pay a terrible price for nothing. We want this over and we want it over now. The Iranian authorities have said time and again that this case would come to a quick end. This time, we expect Iran to keep its promises."
For Shourd, freedom means only being "one-third free." Life "will not resume" until her friends are freed.
The three friends all graduated from the University of California, Berkeley, and were on vacation together in Kurdistan when their lives were upended at the border. Shourd and Bauer had been living together in Damascus, Syria; she as a teacher and peace activist, he as a journalist. Fattal, an environmentalist, was visiting them.
Shourd taught English to Palestinian refugees and Iraqis who wanted to attend U.S. colleges. She remains idealistic about the Middle East and life in general.
"I'm more determined than ever to be a bridge to show people the beautiful side of the Middle East and I feel an even stronger responsibility in helping oppressed people," she said. "Part of the healing from this will be returning to the Middle East that I love. I hope that someday I can go to Iran. I've never been in Iran as a free woman."
In the meantime, she has traveled only within the United States, a constant nomad speaking out about the plight of Shane and Josh and rounding up testimonials for their release. In TV interviews and on their Free The Hikers website, she and the men's families work to ensure they are not forgotten.
The public relations campaign isn't easy. PTSD makes it "very hard for me to connect with people," she said. But she forces herself to keep going for them.
And especially for Shane. It was nearly a year ago that he proposed to her, slipping on an engagement "ring" made of threads from his shirt as they stole a few moments together in an exercise yard.
Shourd wore the ring when she was released from prison. Now, though, her slender fingers are bare.
"I lost the ring. It fell off early this year," she said. "So I'm really waiting for the real one" when Shane comes home.
Calling all HuffPost superfans!
Sign up for membership to become a founding member and help shape HuffPost's next chapter