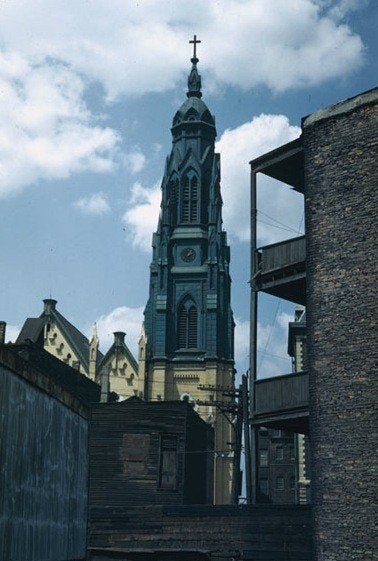 CHICAGO, Dec 28 (Reuters) - Tiny fragments said to be from the manger that held the infant Jesus, the veil of his mother, Mary, and a thread from the cloak of St. Joseph will be displayed by a Roman Catholic church in Chicago when it celebrates its 155th anniversary on Sunday.
The fragments, released by the Vatican in 1972, were a gift to the Holy Family Church from the Shrine of Our Lady of Pompeii, also in Chicago. Displaying them now has particular significance because of their association with Christmas, which marks the birth of Jesus.
The Rev. Jeremiah J. Boland, administrator of the church, said on Friday that he is "not that interested" in carbon testing the items to see if they are from the beginning of the Christian Era.
"The Vatican has its own process to determine the authenticity of things," Boland said. "I'm more concerned with it as an object of faith."
The manger relic has "more authenticity" since it was brought from the Holy Land to the Vatican in the 5th century, Boland said.
"One could argue how real the relics of Mary or Joseph are, but there were all sorts of objects over the centuries that have been venerated and are based on faith rather than on scientific explanation," he said.
Holy Family, built in 1857-1860, is the city's second-oldest church and one of only five public buildings that survived the 1871 Great Chicago Fire.
The fragments will be on display in a crystal reliquary, a vessel in which relics of saints are preserved.
Boland said that Our Lady of Pompeii had been founded as an Italian parish, while Holy Family had been an Irish parish. In the past in Chicago as in other U.S. cities, immigrant Catholics tended to stay in parishes that reflected their ethnic backgrounds.
"In the history of the neighborhood there was a lot of tension between groups," said Boland. "The parishes weren't immune to some of these difficulties." The gift of the relics, he said, "is a healing gesture."
The mass celebrating the transfer of the relics will be held on Sunday morning, and the relics will be displayed during the afternoon.
The church will also exhibit manger scenes from around the world, including Kenya, Ireland, Italy, France, Poland, Peru, Vatican City, Mexico, Egypt and Jerusalem. (Reporting By Mary Wisniewski)
Calling all HuffPost superfans!
Sign up for membership to become a founding member and help shape HuffPost's next chapter
BEFORE YOU GO
PHOTO GALLERY
Weirdest Sacred Sightings: 2012