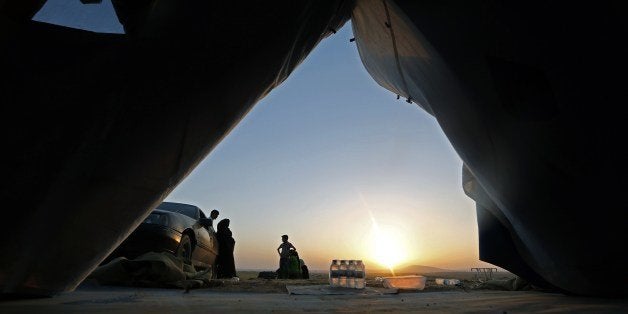 Next week, there will be an informal meeting of US relief agencies in Washington, D.C. to discuss Iraq. Among those likely to attend the meeting will no doubt be a number of agencies which struck it rich in federal grant money during the 2003 invasion of Iraq which deposed Saddam Hussein....or which came into being as nonprofits as a result of so much money being made available.
I recall being a fly on the wall in a similar meeting in 2002 (as my own organization does not accept any taxpayer funding) as the former Bush-appointed USAID Administrator, Andrew Natsios, briefed those who attended. Paraphrasing him: "Those of you who are used to $1 million federal grants for relief activity will need to ramp up your capability as you will be expected to be able to handle $10 million+ grants. The US needs our civil society institutions [e.g., nonprofit US aid agencies and private contractors] to play a central role in rebuilding Iraq... not just our military." Natsios also responded to a mild complaint expressed to him that private for-profit contractors should be creatures of the Pentagon not the US civilian Foreign Assistance program. Again paraphrasing: "I don't see any of you relief agencies running a power grid or fixing an airport; and, I have a window of about 18 months and a budget of $1.8 billion so I have to hire whoever is best qualified to accomplish the task at hand."
I thought then, and certainly think now, that an executive decision to involve the US in any conflict situation could be significantly impacted by whether or not our civil society institutions elected to participate in cleaning up the mess created by both the pre-war actions of the targeted government or the post-war mess created by bombing and boots on the ground. I wish that the major relief agencies had spoken in unison in 2002 stating that just because Bush and his inner circle wanted to depose Saddam Hussein, it does not mean the automatic participation of groups whose overriding humanitarian mission should be to build and enhance lives.
That said, my organization, Operation USA, flew the first civilian airlift of medical aid into Baghdad on a donated DHL cargo plane with a TV crew from ABC's Nightline on board. We gave the supplies to another private US nonprofit to distribute to hospitals in the Baghdad area. After doing so, we left for good feeling that despite not being part of the US war effort, we were in a place of man-made destruction caused in no small part by US actions.... however odious the Iraqi regime we deposed was to its people. Since Iraq was not in the bottom 50 countries in need of humanitarian assistance, having oil wealth and now US funds in what became unlimited amounts, we left without any qualms except for not having opposed the participation of all US relief agencies more effectively.
I am hoping that money won't trump morality in the current conflict and that US relief agencies will weigh in on the Obama administration that picking up the pieces from someone else's civil war is not the job of US humanitarian relief agencies. This hope is not a likely result as too many of my colleagues now resemble defense contractors and not the charities which their private fund raising appeals claim them to be.
REAL LIFE. REAL NEWS. REAL VOICES.
Help us tell more of the stories that matter from voices that too often remain unheard.