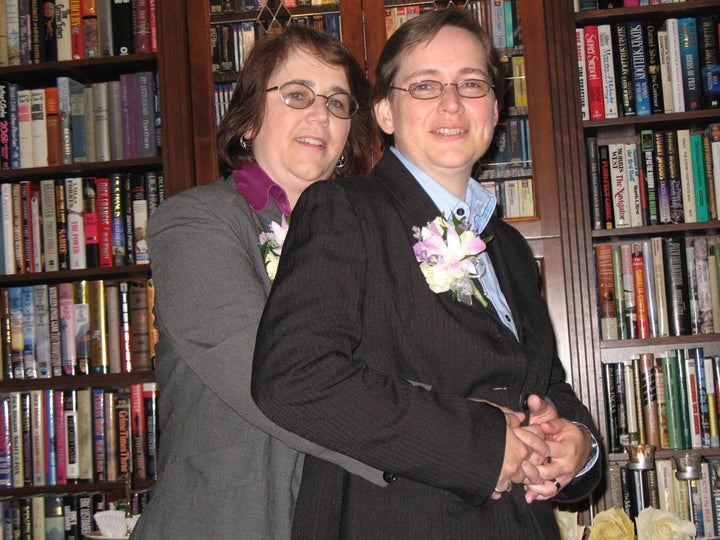 "Set me as a seal upon your heart, as a seal upon your arm; for love is strong as death, passion fierce as the grave. Its flashes are flashes of fire, a raging flame. Many waters cannot quench love, neither can floods drown it. If one offered for love all the wealth of one's house, it would be utterly scorned." -- Song of Solomon 8: 6-7
"I, Candace, now take you, Wanda, to be my Life Partner, to laugh with you in joy, to grieve with you in sorrow, to grow with you in love, to be faithful to you alone, as long as we both shall live. And now, to you and to God, I make this solemn vow and promise."
It was May 11, 2002 when I spoke those words to my partner, Wanda. We stood before God, our families and our friends and vowed to love and cherish one another until death do us part. I quickly ruined the solemnity of the moment, however, by insisting on singing a woefully unrehearsed song to my new spouse. The gathered loved ones were kind in their assessments of my performance later, but the videotape never lies. It was awful. Unless you're Barbra Streisand, I don't recommend singing at your own wedding.
But, the levity provided by my tuneless rendition of the Indigo Girls' "Power of Two" is quite indicative of my partnership with Wanda. The sublime and absurd go hand in hand. Profundity and comic relief mark our relationship. We laugh with each other in joy and we grieve with each other in sorrow, sometimes within moments of the other. It is in these times, these thin places, where our relationship grows even stronger -- where we experience those moments of grace as a couple.
In our ceremony we vowed to love one another, to support one another and to be not only lovers but friends. As we exchanged rings we made this promise: "I offer you my love, I offer my strength, I offer my support, I offer my loyalty, I offer my faith, I offer my hope ... that in all the changing circumstances of life, we shall always live together in love."
Our union has been marked by all of these qualities. We love one another beyond measure. We don't always have to say it, but we say it often -- while embracing, while riding in the car, while talking on the phone, while shopping. We have been each other's strength in times of weakness. We have been each other's support in times of challenge. We have been loyal to one another, faithful and the source of each other's hope for an even better and more loving future together. We are partners in every way, through all the changing circumstances of our life.
Our love does not go unnoticed. In stores, we are often mistaken for sisters, even though we don't exactly favor one another. People recognize the love we share, but in our conservative Southern state, they can't bring themselves to put the "lesbian" label on us. "Sister" is the first thing they grasp for when faced with a deep love shared by two women.
A member of Wanda's family, and one of her friends, remarked at a party at our house that they believed gay and lesbian couples had better relationships. "Y'all never fight," her family member said. "You always get along and look really happy together."
Now, we're no poster children for lesbian relationships. We have our ups and downs like anyone else. But, our love for one another is what gets us through it all. We simply can't imagine life without one another. We share an intimate connection marked by open communication and a deep and abiding concern for each other's well being.
We're not joined at the hip, by any means. We let one another go and pursue their interests. We each have our own opinion on things and feel free to express ourselves to one another. We are content to be individuals even as we join together as "one flesh" in the bond of marriage.
Aren't all marriages like that? I thought so, but apparently not if our heterosexual counterparts are marveling at our compatibility, friendship, love and mutuality.
Perhaps our definition of marriage differs. For me, the marriage relationship is meant to mirror our relationship with God -- both the profundity and the absurdity of that divine -- human connection. Unity in marriage is meant to be an earthly replica of our search for unity with God. The mutuality, the unconditional love, the surrender to one another, the seeking after one another's heart, the discerning of one another's will, the sting of the absence of the other, the disconnection experienced in times of crises or disagreement. These feelings, emotions and states of being happen in every marriage, don't they? If they don't, what does it say not only about the state of our marriage, but about the state of our union with God?
Marriage is a seal upon our heart that no one can break. Our spiritual marriage to God is the same and should be reflected in our earthly union. If it is, then no waters or floods of crisis can prevail against it - not even a society that says gays and lesbians have no right to either union with one another, or with God.
Calling all HuffPost superfans!
Sign up for membership to become a founding member and help shape HuffPost's next chapter