Male voices dominate many discussions about religion so two realities can be overlooked: that religion is important to many women, and that women are vital to religious institutions and practice.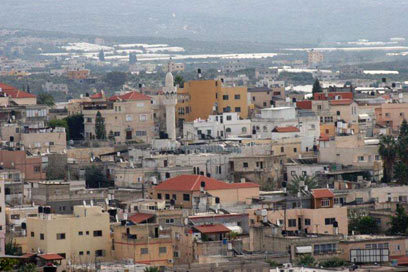 I celebrated International Women's Day 2015 in Baqa al Garbiyya, Israel, with a remarkable group of mostly Muslim women from universities and local community and rights associations from across Israel. The theme of the event, organized by Al Qasemi College of Engineering and the American Jewish Committee (AJC), was women, faith, and development in a time of upheaval. The often unheard voices of women like those I met there, who take much inspiration from religious beliefs and communities, are too rarely part of the international conversation.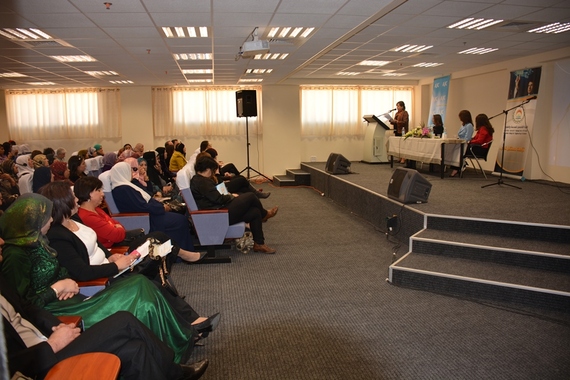 The women who participated indeed live with upheaval every day. They face immediate political, social, and economic challenges, not least contentious Israeli elections this week. Their perspectives and lived experience mirror the international issues that were the topic of countless parallel celebrations across the world on March 8 - women in peace processes, lack of opportunities, and domestic violence, for example. But, in the setting of a meeting of Arab Israeli women, the question of why and how religion matters for these topics was front and center.
The complex interplay of negative and positive aspects of religion, gender, and development was very much on display. Religious elements are both "part of the problem" and "part of the solution." It does no good to deny or downplay the negatives. Nor it is sensible to ignore the positives. There is no "faith silver bullet" any more than there is any faith "poison pill". There are awful cases of faith gone amok. Violent extremism is an obvious example but so are patriarchal attitudes that blight the dreams of women in many places. And there are stunningly positive examples of religious courage, creativity and inspiration. Ebola volunteers are an example. Quiet, unsung leadership is exemplified by women like Dr. Dalia Fadila, president of Al Qasemi, and Ibtisam Mahameed, who is working to transform the Arab Muslim community of Fureidis from a foundation of women's core values and concerns.
Different understandings of human rights are closer to the heart of the matter than we would like to believe. Human rights, as articulated in the 1948 UN Universal Declaration on Human Rights, are a foundation, even a sacred text, for many who work for development. We believe that all people have an equal right to opportunities like education, health care, and jobs. Some religious actors are among the most passionate advocates of human rights and human dignity.
But we face a backlash against human rights in various settings, often couched in religious terms. Women's rights and equality, especially where reproduction is concerned, are in the spotlight. The fight for the rights of LGBT people has unleashed a fierce opposition surrounded by religious rhetoric. We need to stick more closely than ever to the fundamental core of human rights as a basis for development work, bearing in mind "red lines" of principle as we navigate a diverse, plural, and religious world. That means addressing concerns provoked by what is seen as "secular" development that include unease at changing gender roles provoked by modernization. We need to underscore that human rights involve, at the core, deeply ethical, spiritual, and modern understandings of what human life is about.
We also need the courage and intelligence to tackle the tough issues and make space to do so. Truly difficult topics abound in this field. There are difficult texts on both religious and development sides. Past examples include religious support (explicit or implicit) for slavery and women's subordination. Development institutions have voiced quite uncritical support for cost recovery or blanket privatization. Practice does not always follow ideals. Current touchy topics include family planning, proselytizing, and a numbing faith in government led development strategies. For development institutions, women's full equality (and their presence) at the table is a litmus test of commitment. For religious actors acknowledging the evils of some market forces and focusing on the strength of families are similar character tests. What's needed is safe space to address the tough topics and seek better solutions.
To do so we need to get concrete about what comes next. Focusing sharply on international and national goals for maternal and health and sanitation is a good place to start, as progress has not yet matched promises and they matter greatly to women. Religious communities and leaders can make a real difference in the changes in attitudes that alone can make a difference. And finally, we need to raise the heat sharply on violence against women, rape in war, domestic violence, and harassment.
There are awesome women working on all these issues. Celebrating them and smoothing paths to their success is something that we should do each and every day.
Related
Popular in the Community