Spirituality in Cuba today reflects the country's diversity and colonial roots. Despite the communist government's previous repression of religious expression, Cubans are now "free to practice whatever they want," according to the Cuban guide of a cultural tour I took of Havana, just a week before the arrival of Roman Catholic Pope Francis.
Spanish settlers brought Catholicism to Cuba in the early 1500s. Within a century, colonial germs and activities had wiped out the native population and most of its cultural practices. By the 1700s, Africans were being brought to the island and enslaved. Their work soon became essential to Cuban commerce.
While slaves, Africans were often made to attend Catholic mass. Over the years, Catholic practices blended with African religious traditions, including the worship of numerous deities. An example is Ochun -- symbol of motherhood and water. Our guide describes the goddess as open-hearted and sensual, adding, "All men are in love with Ochun."
The melding of Catholic and African beliefs became known as Santería. In 2010, the Pew Forum estimated that about 60% of Cubans are Christian ("mainly Catholics"), 23% are unaffiliated, and 17% practice "folk religions," such as Santería.

As of 2015, according to our guide, many Cubans don't have a religion, per se, but have faith and "do [spiritual] things to help you achieve your goals."
Since the revolution in 1959, Catholic popes John Paul II, Benedict and now Francis, have acted as envoys between the U.S. and Cuba. On a trip to Rome in May, Cuban president Raul Castro thanked the Pope for his help in bettering relations.
While on his tour of Cuba, Pope Francis will say mass in Havana's vast Revolution Square. From the altar, the pontiff can gaze over the crowd at dramatic monoliths including the towering Jose Marti memorial and the Ministry of the Interior, which bears a huge image of the revolutionary, Che Guevara.
From Cuba, the Pope flies to Washington, D.C., where he'll meet with the president and address Congress. Among the many other activities on his U.S. tour is a speech in New York to the United Nations.
Considering what could soon be happening for their country, Cubans' hopes are buoyant. Our guide did not mince words about her compatriots' view of the Francis visit:
"The Pope is coming to help."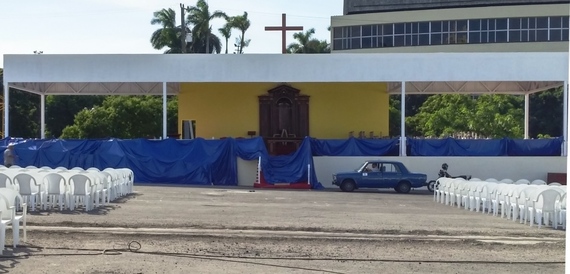 Reposted with permission from DurableHuman.com
For more of the author's newfound secrets of Cuba, sign up here.
Calling all HuffPost superfans!
Sign up for membership to become a founding member and help shape HuffPost's next chapter